Malacca, 23 November 2012 – Honda Malaysia Sdn Bhd today rolled out the very first 'Completely Knock-Down' hybrid vehicle in Malaysia – the CKD Honda Jazz Hybrid at its Pegoh Plant in Alor Gajah. The historic launch ceremony was graced by Dato' Mukhriz Tun Mahathir, Deputy Minister of International Trade and Industry (MITI).
Speaking at the milestone event, Mr. Yoichiro Ueno, Managing Director and Chief Executive Officer of Honda Malaysia said, "We are very pleased and honoured to introduce the first CKD Honda Jazz Hybrid today. This is a significant achievement for Honda Malaysia to further reinforce our position as the pioneer in hybrid technology in Malaysia. Since the first Honda hybrid car arrived on Malaysian roads in 2007, we have sold a total of 12,194 units of hybrids as at October 2012. This would not have been possible without the support and efforts by Malaysian government to promote energy efficient vehicles and green technology. Honda Malaysia remains committed to support the government's green efforts. Our mission is to continue providing advanced technology products with speed and affordability that maximize the joy of our customers for them to enjoy the freedom of mobility while contributing towards a greener earth."
Honda Malaysia is the first car manufacturer in Malaysia to lead the way in green mobility by assembling hybrids locally. The CKD Jazz Hybrid is built from the Jazz Hybrid platform, which debuted in Malaysia in March 2012. The CKD Jazz Hybrid is an eco-friendly yet practical compact 5-door naturally driven hatchback. It is a great practical package that targets at eco-conscious independent young professionals who are interested in a compact hybrid that caters to their fun driving, active lifestyle; and who seeks to experience the value of advanced technologies.
The CKD Jazz Hybrid is equipped with Honda's Signature 1.3L i-VTEC engine and Integrated Motor Assist (IMA) hybrid system while retaining all the practicality and spaciousness in an attractive package. The stylish exterior of the CKD Jazz Hybrid consists of Chrome Grille with Blue Reflector, Chrome Rear License Garnish, Rear LED Taillights with Blue Highlight and 15-inch Alloy Wheels. Overall, the CKD Jazz Hybrid further reflects the advanced and clean design of the Jazz.
The driving experience is further enhanced with easily accessible information on the Multi Information Display (MID). The Charge Assist Indicator and the fun ECO Assist System provide alerts on the driving style in an interactive and fun way.
The CKD Jazz Hybrid also retains most of the functions of the imported CBU version such as the highly acclaimed Ultra Seat and a large boot space that emphasizes great practicality and space. The boot's capacity (above floor) is up to 831 litres and allows the Ultra Seat to transform, flip and adjust easily to different modes for different purposes.
The safety features of CKD Jazz Hybrid include Dual Front SRS Airbags, Vehicle Stability Assist (VSA), Anti-lock Braking System (ABS), Immobilizer System and 4-Corner Reverse Censor which all add to the great value of the vehicle. It is capable to keep its driver and passengers safe while minimizing harm to pedestrians.
Mr. Yoichiro Ueno added, "The market acceptance of hybrid vehicles in Malaysia has been monitored since 2007. With our broad line-up of hybrid vehicles, I am proud to announce that 69% of the Hybrid cars in Malaysia are from Honda. These encouraging figures show that more and more Malaysians are becoming committed to the environment and Honda is playing a leading role in energy efficient technologies. Honda Malaysia targets to sell 4,800 units of CKD Jazz Hybrid in 2013."
In producing the hybrid vehicle locally, Honda brought in the latest technology to Malaysia and provided training for local associates to ensure that the quality is at par with the global Honda standard. Every Hybrid battery pack in the CKD Jazz Hybrid is tested using the Intelligent Power Unit (IPU) inspection machine which was recently installed to ensure the integrity and performance of the key part of the hybrid vehicle. In addition to installing new machinery to the plant, Honda Malaysia is also committed to the transfer of technology and know-how to its local associates who have had the opportunity to be trained in Japan and Thailand on the intricacies of producing hybrid vehicles. The introduction of this CKD Jazz Hybrid into the current manufacturing system has been the shortest development of a New Model in the history of Honda Malaysia.
The new 2.15-kilometre test track in the Pegoh plant provides an excellent test ground that simulate normal road with various conditions and every Honda CKD model is put to the test here before it is delivered to the customer.
Furthermore, the factory is designed to adopt the "Green Factory" concept. Honda Malaysia's environmental commitment is not limited to the products, but it is also extended to overall corporate activities and factory. Improvement in energy management such as energy saving lights, natural air ventilation and waste reduction have been introduced to the factory.
Following this exciting development, Honda will set up a Research & Development Centre (HRAP-MA) at Honda's Pegoh Plant by December 2012. The R&D Centre aims to develop parts design that best match the local suppliers and to further increase the local content.
Malaysia's first ever locally produced hybrid model will be available at all showrooms starting today. The CKD Jazz Hybrid comes in five colours - Tafetta White, Sparkling Brown Metallic, Alabaster Silver Metallic, Polished Metal Metallic and Crystal Black Pearl. Customers are able to enjoy 5-years or 140,000 km warranty for the battery.
Customers can test drive the CKD Jazz Hybrid and place their booking at any authorized Honda Dealers nationwide. For more information, please call Honda Toll Free number at 1800 88 2020, or log on to www.honda.com.my.
Encik Ramli bin Md. Ali highlighting the expansion of Honda Malaysia's Pegoh plant to the VIPs.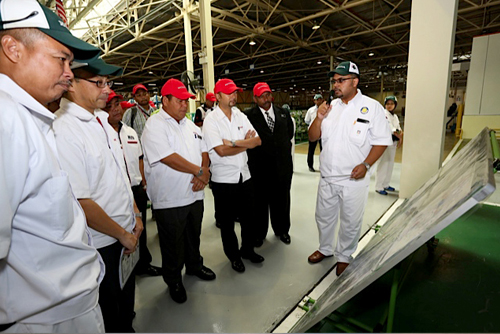 VIPs being briefed on the Jazz Hybrid production line in Melaka
(L-R) Datuk Azhar bin Abdul Wahab, Manufacturing Senior General Manager of Honda Malaysia
Yoichiro Ueno, MD and CEO of Honda Malaysia
Dato' Wira Ghafaar Atan, Malacca State Exco
Dato' Mukhriz Tun Dr Mahathir, Deputy Minister of International Trade and Industry
Mr. Ramli bin Md. Ali, Director of Invest Malacca (black suit)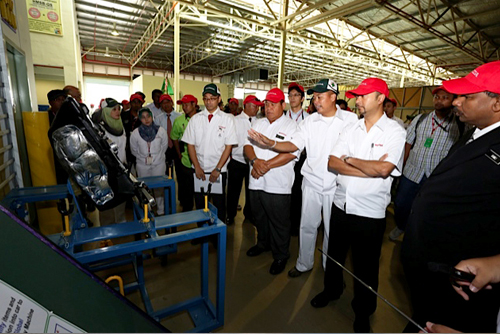 VIPs being briefed on the IPU system by Datuk Azhar bin Abdul Wahab, Manufacturing Senior General Manager of Honda Malaysia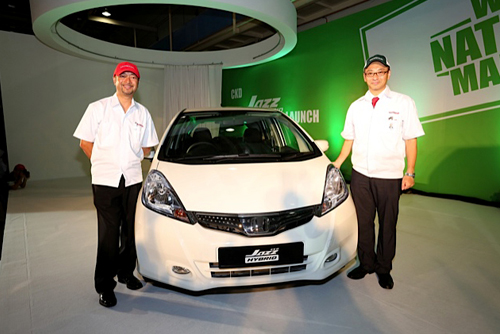 MD and CEO of Honda Malaysia, Yoichiro Ueno and Dato' Mukhriz Tun Dr Mahathir with the newly-launched CKD Jazz Hybrid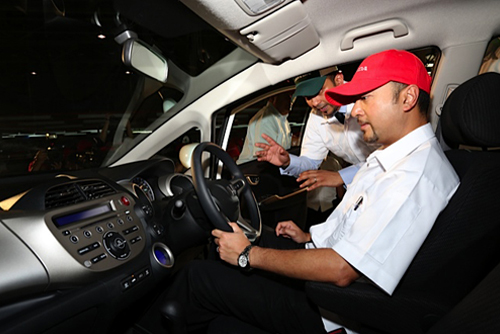 Akkbar Danial, Senior Marketing Manager of Honda Malaysia explaining the CKD Jazz Hybrid to Dato' Mukhriz Tun Dr Mahathir