Petaling Jaya, 6 May 2010 - Honda has been announced the Gold winner of the Reader's Digest Trusted BrandsTM proprietary research study for Automobiles category in Malaysia. Winning for 12 consecutive years, Honda Malaysia attributes its favourable standing to its customers for their unwavering trust and loyalty.
Speaking on the occasion, Mr. Toru Takahashi, Managing Director and Chief Executive Officer, Honda Malaysia Sdn Bhd said, "We are pleased to receive the Reader's Digest Trusted BrandsTM Gold award for Automobiles category in Malaysia. This recognition from the consumers will continue to drive Honda Malaysia in its endeavour to be the most trusted and admired automobile brand in the country."
On the six parameters viz. Trustworthiness & Credibility, Quality, Value, Understanding of Customer Needs, Innovation, and Social Responsibility, Honda has been rated as the Most Trusted Brand by the upper class, well-educated readers of Reader's Digest.
Mr. Takahashi added that, "Relationship based on trust is an important commodity in today's competitive marketing environment. We at Honda, will continue to reinforce and strengthen our relationship with customers."
The survey is based on responses to questionnaires distributed via Reader's Digest copies as well as telephone interviews of randomly selected, upscale consumers. All survey work is carried out for Reader's Digest by Synovate, a leader in global market intelligence, to ensure results are compiled in an objective manner using proven statistical techniques. The findings reflect affluent adult consumers' most preferred brands among the thousands available in the market.
Reader's Digest Trusted BrandsTM award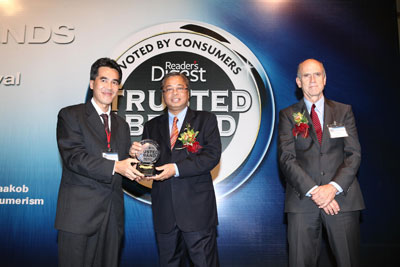 Encik Rohime Shafie, President & COO of Honda Malaysia receiving the award from Y.B. Dato' Sri Ismail Sabri bin Yaakob, Minister of Domestic Trade, Co-operatives and Consumerism while Mr. Thomas Moore from Editorial, Asia Pacific Magazines Reader's Digest looks on.