Sepang, 24 November 2009: Honda Malaysia today hosted an adrenaline pumping test drive aptly themed Driving the Honda's DNA in Sepang International Circuit (SIC). Conducted in four (4) separate stages, the specially-designed tracks aimed at testing the maximum potential of Honda's renowned i-VTEC engine, along with its advanced safety technology.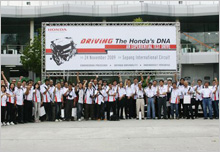 'Go, Honda, Go!' - 45 Motoring & Lifestyle Media, together with HMSB associates, taking a group shot before test drive starts.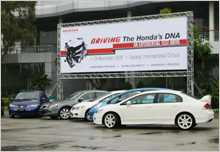 The handsome line-up of Honda's full range model at SIC.
Mr. Toru Takahashi, Managing Director and Chief Executive Officer of Honda Malaysia said in his opening speech, "As we park all eight models side by side, we see a consistent character in the lineup that suggests: Performance, Style and Practicality. And we take pride in being able to fulfil the needs and demands of different market segments with 1 Honda DNA that is Engineering Precision, Defined Drivability, and Ingenious Versatility."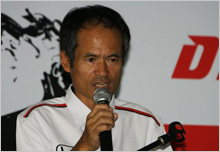 Mr. Toru Takahashi, MD & CEO of HMSB welcoming the media during his opening speech.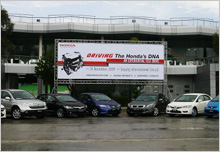 Driving The Honda's DNA - An Experiential Media Test Drive at SIC.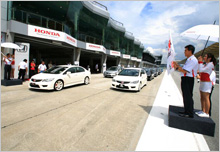 Mr. Takahashi & En. Rohime Shafie, President & COO of HMSB flagging off the media at the track course.
He later added, "Throughout the stages, we trust that you will truly experience the core of Honda's advanced technology that promises you superb performance, best-in-class handling and safety standards. In other words, Honda is using this world motorsport heaven to test its technology made for the layman."
The unique test-drive event was made up of two main categories: On Track and Advanced Driving.
On Track, four models were put on test. Besides Civic Type R, a model that is literally born on track, Accord, Civic and City were also prepared to prove their worth.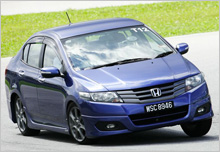 Stylish, Practical and PERFORMANCE - 3rd Gen City countering a sharp turning at the On Track course.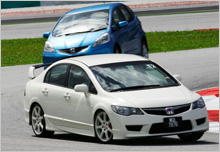 Civic Type R at its birthplace; Jazz following closely during the On Track Course.
Measured at 2.75KM, half the renowned race track became the testing ground for all four models' acceleration, response to throttle, cornering ability, braking system as well as overall stability. The key impression in this track was high speed performance.
In Advanced Driving, three stages namely Slalom, Wet Track and Skid Control had been designed specifically to highlight Honda's best-in-class safety features, agility, maneuverability and overall handling of Accord, CR-V, Jazz and the new Stream RSZ.
The U-shaped Slalom was a zig-zagged track that simulated a tight and narrow driving condition. CR-V, a SUV that is bigger and taller than normal sedans took centre stage in this section. The key objective of the track was to assess the unbeatable advantages of CR-V in handling sharp turnings, narrow lanes and tight cornering, despite the size. Simply put, CR-V was there to prove that its drive, maneuverability and handling are like that of a sedan, only bigger.
Size does not matter - the spacious SUV handles sharp turnings, tight cornerings & narrow lanes well at the Slalom Challenge.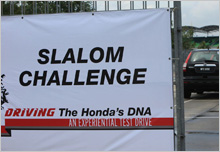 3rd Gen CR-Vs lining up at the Slalom Challenge drive.
Covered with plastic sheets sprinkled with water, the Wet Track, as its name suggested, simulated a wet and slippery track. The track aimed to test the safety technology offered by Honda: the Vehicle Stability Assist (VSA) and Antilock Braking System (ABS) through two models including Accord 2.4 and the new Stream RSZ. Without these two crucial safety features, a driver is most likely to lose control over the vehicle in such unpredictable driving condition.
Safety Assurance with VSA & ABS - Accord 2.4L during the Wet Track challenge.

Wet Wet Land Media & HMSB Associates checking out the Wet Track in SIC.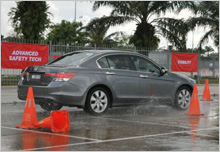 ABS at test - Honda's safety feature promises stability under wet situation.
Skid Control was the final section within the Advanced Driving category that featured an internationally known 'Half Circle' test. Accord and Jazz were the demo vehicles used to demonstrate Honda's technology in countering such emergency situation. Media members were also given a chance to learn the technical know-how on how to counter a skid using opposite lock steering.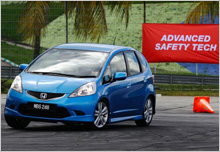 The Premium Hatchback doing its best at a Skid Control challenge.
Stability at ease - Accord 3.5L turning at the 'Half Circle' test during the Skid Control in Advanced Driving category.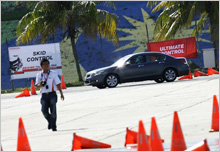 Advanced Safety Tech Test Drive - Wet Track & Skid Control Challenge.
In conclusion, although each and every model was made to fulfill different target markets' needs and demands, Honda had however successfully embedded its singular powerful DNA in its products that spelled best-in-class performance, practicality and style.