Alor Gajah, Melaka, 27 July 2009 - Honda's Pegoh Plant in Alor Gajah, Melaka marked the shipment of its 2,000,000th Constant Velocity Joint (CVJ) set recently. The celebratory event was graced by General Manager of Honda Motor Co. Ltd Tochigi Plant, Mr. Masafumi Suzuki and Managing Director and Chief Executive Officer of Honda Malaysia, Mr. Toru Takahashi. The historical benchmark shipment is scheduled for the Thailand market.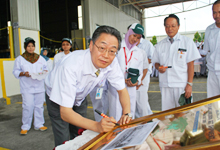 Mr. Masafumi Suzuki, General Manager of Honda Motor Co Ltd Tochigi Plant during the plaque signing.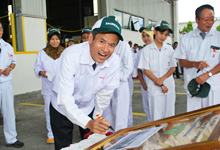 Mr. Toru Takahashi, MD and CEO of HMSB posing before signing the plaque.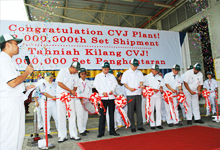 (L-R), En. Azhar Abd. Wahab, Senior General Manager of Manufacturing, Mr. Toru Takahashi, Mr. Masafumi Suzuki, Mr. Ikuo Kanazawa, Vice President of HMSB, Mr. Etsuo Nakayama, General Manager of CVJ and En. Syahril M. Azmi, Manager of CVJ launching the 2 Millionth CVJ ceremony.
While speaking at the momentous occasion, Mr. Toru Takahashi paid tribute of the historical milestone to all Honda's valued associates. He said "This remarkable achievement of CVJ is by abiding to our company principle in supplying products and services of the highest quality at reasonable prices. This helps us to ensure worldwide customer satisfaction".
While addressing the associates, Mr. Masafumi Suzuki remarked that the Pegoh Plant in Melaka is the biggest CVJ exporter in the region. During his annual visits to Honda Malaysia, he always noticed and is impressed by the continuous improvements performed on the production.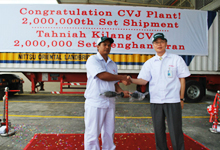 Mr. Masafumi Suzuki passing the No. 2 millionth CVJ to a HMSB associate before loading it onto the lorry.
(L-R) Mr. Ikuo Kanazawa, Mr. Masafumi Suzuki, En. Azhar, En. Syahril, Mr. Toru Takahashi and Mr. Etsuo Nakayama posing with the plaque.
CVJ, or more commonly known as the driveshaft, is an integral mechanical device, which transfers the power from the engine to the wheels. Manufactured under stringent controls, CVJ is instrumental in ensuring the safety for all Honda cars as it allows the driver to have the ultimate control over the car's movement.
Having begun its production back in 2002, Honda Malaysia's Pegoh Plant in Melaka is the 4th production base after Japan, USA and China. Since its first shipment, the production capacity of CVJ has increased from 20,000 sets per year in 2002 to 540,000 sets per year in 2009, of which 90% were exports.
The CVJ manufactured in the Pegoh Plant was initially produced for Honda City and Honda CR-V back then in 2002. Today, the production of the CVJs have increased to include 4 other models namely Honda Jazz, Honda Accord, Honda Civic and Honda Freed. In 2007, Honda Malaysia made its first millionth shipment.
Honda Malaysia's CVJ is currently being exported to eight countries namely the United Kingdom, Turkey, Pakistan, India, Thailand, Vietnam, Philippines, and Indonesia. It is Honda's vision to meet worldwide customer's expectation by striving for continuous quality improvement.