Johor Bahru, 18 February 2009: Honda Malaysia has officially unveiled its 56th dealer with 3S centre, Wang Loo Motor Sdn Bhd (Wang Loo Motor) today in Kulai, Johor. Officiated by Mr. Atsushi Fujimoto, Managing Director and Chief Executive Officer of Honda Malaysia, the momentous occasion had expanded the family of Honda Malaysia further. The initiative is part of the company's commitment to uphold its Customer Satisfaction No. 1 policy, as well as to meet the increasing market demand.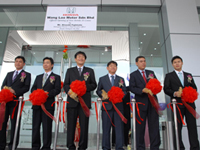 Mr. Francis Hon, Mr. Tony Hon (Director of Wang Loo Motor Sdn Bhd), Mr. Atsushi Fujimoto, Managing Director & Chief Executive Officer of Honda Malaysia, Mr. Hon Wan Fatt, Managing Director of Wang Loo Motor Sdn Bhd, En. Azman Idris, President & Chief Executive Officer of Honda Malaysia, Mr. Henry Hon, General Manager of Wang Loo Motor Sdn Bhd.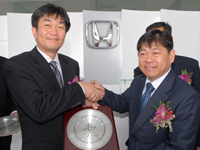 Mr. Atsushi Fujimoto presenting a momento to Mr. Hon Wan Fatt.
Mr. Atsushi Fujimoto speaking at press conference.
Mr. Fujimoto commented in his speech that, "Last year, Johor contributed 12% to the total sales volume of 32,486 units. Despite the challenging time, our newly launched All-New City has received close to 7,000 bookings nationwide. We are pleased by the positive response from the market despite the economic slow down. We appreciate the confidence shown by our customers and it will certainly be the key motivation for us to do better in the future."
"As the demand in Johor is increasing rapidly, it is our responsibility to meet the increasing demand of the customer in the region in terms of sales and after-sales service." he added.
Honda's long term brand reliability remains the choice of the people, more so in testing times like these. Hence, Wang Loo is set to seize the market potential and joined Honda to expand the existing customer base of approximately 16,000 in Johor.
Mr. Hon Wan Fatt, Managing Director of Wang Loo Motor expressed his gratitude during the launch, "It is indeed our pleasure to be part of Honda Malaysia's family and to be tagged as one of its authorised dealer with 3S Centre. We will certainly do our best in joining hands with Honda Malaysia in its mission to delivering the best sales and after-sales services to all Honda owners in Johor."
The 3S concept is a constituent of Honda Malaysia's policy of prioritising customer satisfaction while creating an enjoyable customer experience. Honda believes that on purchase of a car, a life-long relationship with the customer is forged and therefore it is utmost important for Honda to build an on-going relationship through high quality after-sales services.
Since its establishment, Honda Malaysia has been equipping and training its dealers to acquire the 3S status so as to provide a total package of service and convenience to customers nationwide.
To date there are a total of 56 Honda Dealers, of which 53 of them operate Honda 3S Centres nationwide. Honda Malaysia's plan is to increase this number to 60 dealerships by 2010. To this end, the opening of the 3S Centre in Johor will be closely followed by new dealerships in Penang and Sarawak.
For those who would like to make appointment with Wang Loo, customers are advised to call 07-5982288 or 07-5983388, a simple procedure aims to shorten customer's waiting time. Wang Loo Motor also serves a range of other auto related services such as handling of insurance claim, renewal of insurance and road tax.