Johor Bahru, 19 September 2008 - Six hundred forty students in Johor Bahru have had the opportunity to learn a new lesson in their studies when Honda Malaysia reached schools in Johor Bahru today to share on the environment and the Save Our Sumatran Rhino project.
Filled with dreams of a greener tomorrow, Honda Malaysia reached out to four schools in Johor Bahru i.e. SK Nang Chik, SK Taman Perling, SK Taman Suria and SK Taman Impian. The talks are part of Honda's ongoing effort under its Save our Sumatran Rhino project to create more awareness on the environment and to urge public to give Mother Nature a hand.
The school talks included interactive activities such as visual presentation, footages of Sumatran Rhino and spot quizzes. The quiz sessions focused mainly on what the students can do to help the environment to help ensure that this generation-of-tomorrow think of proactive actions in doing their part to help conserve the environment.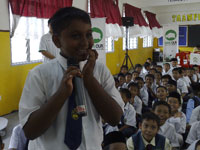 Standard 4 student of Taman Impian Emas trying to answer a Spot Quiz on Environment.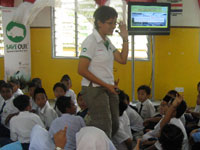 Students interacting excitingly with invited speaker on environment, Ms. Daisy Poh.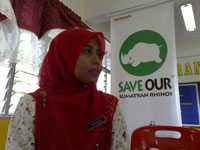 Cikgu Razilla, Science Teacher at Sekolah Kebangsaan Taman Impian Emas.
"This talk on environment is very good and educational for students. It creates a lot of awareness amongst these children, and we welcome more talks of this kind. We hope the children will understand the issue and will practise good habits that care for the environment in their daily lives. We hope after this they will use the recycle bins more", said Pn. Razilla Sorbanim, Science teacher of S.K Taman Impian Emas.
Honda Malaysia Managing Director and Chief Executive Officer, Mr Atsushi Fujimoto said, "We hope our children learn to care more for the environment and take proactive steps to help conserve it. Every single one of their small gestures and good habits such as using less plastic bags and disposing waste and rubbish properly goes a long way in helping to preserve the environment. We believe that when each of us do our own small part, collectively we will have a positive impact on preserving a home for the Sumatran Rhinos."
Began in early 2006, the talks on environment and Sumatran Rhino have reached nearly 5,000 students in 24 schools in Malaysia. To further encourage school children to learn about the environment, Honda Malaysia organized the "Environment & I" Essay and Photo Contest earlier this year. Students were encouraged to share their ideas on conserving the environment in the essays. The contest received overwhelming supports from the public with almost 620 entries from the locals.
School children throughout Malaysia stand to benefit from these activities on the environment and Sumatran Rhino as Honda continues in its efforts to create more awareness amongst the future generation. The school talks have so far been conducted in Klang Valley and Penang. The next round of the talks will be held in Melaka. In addition to this, there are regular roadshows and promotional activities to raise awareness amongst the general public and to motivate them to do their part towards caring for the environment such as advertorial and media participation activities.
Save our Sumatran Rhino campaign hopes to achieve maximum public awareness and to educate future generations on the importance of preventing extinction by caring and preserving the environment.
Honda Malaysia continues to challenge itself to reach greater definition of corporate citizen. The "Save Our Sumatran Rhino" campaign and other Corporate Social Responsibility programmes such as the "Honda Dreams Fund" manifest Honda's long-term commitment to the society as it strives to become a company that society wants to exist.