Petaling Jaya, 28 May 2008 - The panel for the Honda Dreams Fund (HDF) has shortlisted 66 candidates as possible scholars for the second year of this scholarship. These candidates will be coming from every corner of Malaysia to attend an all-expense paid 3-day motivational and assessment workshop from June 6 - 8, 2008 where the final 20 HDF scholars will be chosen at the end of the workshop.
Talk at Sukau, Sabah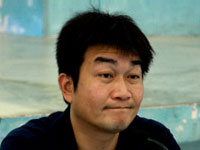 Sukau - Fujimoto listening to a question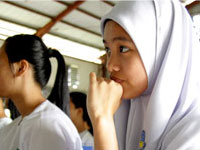 Students paying attention to the talk
The HDF roadshows in February and March 2008 reaching out to the indigenous groups of Sarawak, Sabah, Pahang and Perak reaped much fruits as half of the shortlisted candidates were a result of this effort by Honda Malaysia associates and representatives from United Nations Development Programme (UNDP).
Amongst the groups from Sabah represented in the shortlisted candidates were the Orang Sungai, Kadazan Dusun, Bajau, Murut, Penampang, Tambunan and Rungus. Candidates from the Kelabit, Kenyah, Iban and Penan groups in Sarawak and the Orang Asli (Semai) from Perak were also shortlisted.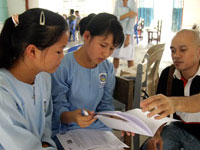 HMSB associate explaining HDF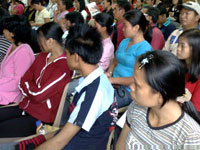 Attendance of the HDF roadshow at Penampang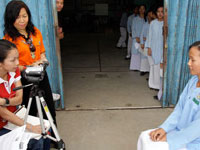 Video application at Tambunan
Some of the dreams of these youths are indeed noble. Many from this group of candidates want to become teachers so that they can go back to serve their people in the hope of bringing their families out of poverty and change to their community.
The task of short-listing these candidates were conducted by HDF's independent Advisory Panel which comprises members from Human Rights Commission (SUHAKAM), All Women's Action Society (AWAM), Malaysian Youth Council (MYC) as well as UNDP and Honda Malaysia.
Commenting on the list of shortlisted HDF candidates, Managing Director and Chief Executive Officer of Honda Malaysia, Mr. Atsushi Fujimoto said, "I am very pleased that this year we received many applications, including those from the rural areas of Malaysia. The people and the students we spoke to during our roadshow to the indigenous groups were all very deserving. It is our hope to be able to help turn their dreams into reality via education through the Honda Dreams Fund. We hope to help the talented and less fortunate youths realize their dreams and achieve a better future through education and at the same time, contribute to the human capital development in Malaysia."
The Honda Dreams Fund (HDF) is birthed from a vision passed on by Honda's founder, Mr. Soichiro Honda. He believed in the "Power of Dreams". Much of Honda's achievements today stems from simple dreams that materialized into real life accomplishments. This is also the vision behind the Honda Dreams Fund - giving underprivileged young Malaysians who dare to dream, a chance to fulfill their dreams and achieve a better future through education.
Twenty young Malaysians who were the inaugural batch of HDF scholars are already on their way to realizing their dreams last year. At the HDF workshop in June 2008, twenty more will be selected from the shortlisted list of 66 candidates.
For Honda Malaysia, the Honda Dreams Fund is a long term commitment in giving back to the Malaysian society. Honda's ultimate goal is to become a company that society wants to exist, and it is the same here in Malaysia.