Kuala Lumpur, 20 August 2008 - In what is possibly the first of its kind here, the 2nd Generation of Honda Jazz was introduced to the Malaysia market via an exclusive and unconventional fashion presentation inspired by the car's outstanding features and styling.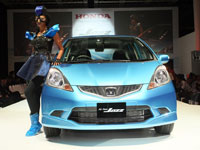 The All New Jazz in Cerulean Blue Metallic together with a model showcasing a design piece from Melinda Looi (Themed 'Performance')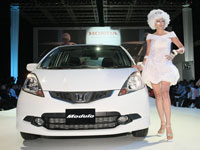 Taffeta White All-New Jazz with Modulo accessories together with a model showcasing a design piece from Khoon Hooi (Themed 'Space')
Titled the All-New Jazz Fashion Show, the limelight of the fashion presentation is the premium Jazz, which rolled out on a customised 'car-size' runway, along with fashion collections themed Performance, Space and Style. These collections were designed and created by Malaysia's top fashion designers Melinda Looi, Khoon Hooi and Jonathan Cheng respectively. Together with stylist Cris Yong, and make-up artists and hair stylists from Monica Lee's Face Art Academy, the designers were commissioned earlier this year with the ambitious task of developing a 20-minute fashion show that brings out the premium image and characteristics of the car.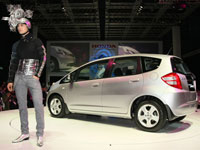 The All New Jazz Alabaster Silver Metallic together with a model showcasing a design piece from Jonathan Cheng (Themed 'Style')
(Left - right) Hair & Makeup Stylist, Monica Lee, Stylist; Cris Yong; designer, Melinda Looi, designer, Jonathan Cheng; designer, Khoon Hooi; Mr. Fumihiko Ike, Mr. Kohei Hitomi, Mr. Atsushi Fujimoto, En. Azman Bin Idris, Mr. Ikuo Kanazawa
The All-New Jazz is a compact 5-door hatchback with an exhilaratingly exterior, best-in-class interior space and utility, dynamic performance and drivability, and enhanced safety features - all befitting of its new and premium image.
Mr. Atsushi Fujimoto, Managing Director & Chief Executive Officer of Honda Malaysia explained that only an extraordinary introduction is befitting of the All-New Jazz premium and unconventional characteristics. "We found fashion to be a form of expression that can represent and convey the image of the All-New Jazz very aptly. It also relates very well to our target audience both male and female, aged 25 to 39 years old, determined young singles and families who seek to be discerned and unconventional, and yet enjoy a car that is highly practical and reliable," he said.
"It is the first time that Honda Malaysia is launching a Honda car via a fashion show. Neither have any of the creative people we have engaged been involved in a fashion project that is entirely inspired by a car," added Mr. Fujimoto.
Responsible for putting together the fashion creations of the three designers, Cris Yong said that the fashion show is a pioneer showcase in Malaysia that involves a car brand and three top designers. "It presents a brand new experience for the audience, where the car launch is not just about a car, and the fashion show is not just about fashion apparel," he said.
When asked about his role as stylist and choreographer of the show, Cris remarked that the key challenge was to create a good balance between the designers' vision and creations and the elements or 'DNA' of the All-New Jazz. "Imagine incorporating mechanical and functional elements of a car into fashion - this has indeed turned out to be an amazing work of art combining fashion and automobile," said Cris.
"What we have achieved was to present the All-New Jazz as not just a car, but a reflection of premium taste and quality; and to present the designers' fashion creations as not just apparel, but a representation of the All-New Jazz's performance, style and spaciousness," added Cris.
Melinda Looi who based her collection on the Performance theme said that she is inspired by the power and torque of the compact All-New Jazz. "My designs are sharper, distinct and more edgy; while still dramatic, it is not like the normal evening or formal wear that are in my collections. It is more sexy and seductive to convey a powerful fiery look just like the torque of the car," she said.
Khoon Hooi who is known for his beautiful, pure and yet practical and wearable fashion collection, is deemed most suitable to design for and illustrate the practical aspect of the All-New Jazz - that is its class-leading spaciousness. He said: "I try to incorporate the 'Spacious' concept into each of the eight pieces of my collection. The overall look is lots of fabric and free flowing with lots of ease for the wearer, but still practical and wearable."
"For this project, I am responsible for designing the Style collection. My concept is inspired by the sleek silhouette of the car and my designs are very fashion forward, futuristic and streamlined, representing the advanced styling of the All-New Jazz," commented Jonathan Cheng simply of his collection.
Despite the differences in concept and inspiration, all designers' collections were created to look elegant and high-end to align with the premium image of the All-New Jazz.
Following the fashion presentation, the three fashion designers will be commissioned once again by Honda Malaysia to design 300 pieces of exclusive polo t-shirts, which will be given to the first 300 All-New Jazz owners. Each piece will have its own unique design.
In addition to introducing the All-New Jazz via a thematic fashion show, Honda Malaysia is reaching out to its target audience via an Internet portal at www.defyconvention.com.my. To create a buzz and excitement leading to the launch, visitors of the site could subscribe to the weekly e-newsletter to get latest updates and information on the All-New Jazz, such as interviews with the creative team behind the launch and fashion show and its themes. Starting today, visitors will also get to see first-hand the television commercial of the All-New Jazz on the website, before it broadcast on TV on 27th August.