Melaka, 18 August 2008 - In a ceremony that was simple yet fired with intensity and passion, Honda Malaysia officially sent off this year's Honda Malaysia Racing Team (HMRT) together with the Civic Type R race cars number 26 and 27, which were proudly built locally at Honda's Pegoh plant, for the upcoming Merdeka Millennium Endurance Race 2008.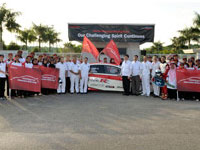 Group photos of HMRT members with Honda Management.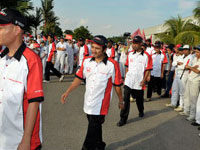 Introduction of HMRT members.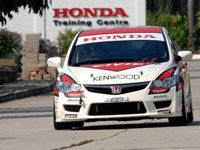 Driven by En. Irwan bin Abdul Hamid, Chief Mechanic of Car 27.
Both cars 26 and 27 were presented in all its full livery to thunderous applause by all present. The sense of pride and achievement were evident especially in all the HMRT members who have poured in months of hard work to build the race cars.
Last year, Car 27 was a Civic Type R while Car 26 was a mass-produced Civic tuned to a race Type R. This year, both cars competing in the MME are complete with full Type R specifications. Car 26 has been upgraded to a Type R and the team has worked hard to ensure Car 26 rises up to the same level as Car 27. Car 26 is now equipped with 18-inch wheels, a new brake system and a new suspension system.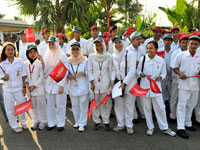 HMSB associates cheering for the HMRT Team.
En. Ismail, Runner of HMRT.
Sending off Car 26 accompanied by HMRT members.
Guided by 7 senior members from last year, and armed with a spirit to overcome all obstacles, HMRT members came together to build quality race cars fit for the 12-hour endurance race.
In his speech during the send off ceremony, HMRT Team Principal who is also Honda Malaysia Managing Director and Chief Executive Officer, Mr. Atsushi Fujimoto said, "Honda's DNA and racing heritage challenges us to compete at the highest level of motorsports technology. We are very glad to have a fully local and independent HMRT team this year. Preparation for this year's MME was even tougher as we are independent of assistance from our Japanese counterparts. HMRT is the embodiment of the spirit of challenge of Honda and what this spirit can achieve."
Mr. Fujimoto also took the opportunity to thank all the sponsors for their support and confidence in the team. He added that endurance tests such as the MME provide an excellent opportunity for Honda associates to continuously improve and challenge their own limits. The skills they hone in being a HMRT member are carried onto their daily jobs.
HMRT this year consists of 7 seniors and 33 new members. All the new members went through a round of stringent selection process before being qualified to become a member. This was even more commendable as the work in HMRT was above and beyond their everyday job and sacrificed needed to be made on their personal time in the preparation for MME 2008.
In the spirit of 'Merdeka', the drivers for this year are all proudly Malaysians. The two new drivers to the team are Victor Cheong and Honda Malaysia first associate to be MME driver, Faisal Asri. Both new drivers will join four returning drivers, Eddie Lew Kar Wai, Rueben Wong, Aaron Lim and Fahrizal Hasan.
Car 26 will be driven by Rueben, Faisal and Fahrizal while Eddie, Aaron and Victor will team up as drivers of Car 27.
The sponsors for HMRT this year are KENWOOD, Modulo Honda Custom Performance, Eastern Car Liner, Ltd, Cobra, V-Kool, Alesco Kansai Paint, Idemitsu, Nistrans, Nakagawa, Hilton Hotel Petaling Jaya, JM Chuo Senko Sdn. Bhd., Bates 141, Premiums Prints Promotions (PPP), STING, Honda Autoparts Manufacturing (M) Sdn. Bhd, YOKOHAMA and MUGEN POWER.
Racing and motorsports are in Honda's DNA. It is Honda's Reasons to Exist. Honda's Challenging Spirit and racing heritage will once again be the catalyst for the team to strive for the Overall Title while retaining the Class A Title for the 6th consecutive year!