Petaling Jaya, 2 June 2008 - Celebrity Zainal Abidin, well known for his love for the environment and his song 'Hijau' performed at the Honda Malaysia Rhino Discovery roadshows at Ikano Power Centre last Saturday in support for the cause and to help create awareness on environment conservation.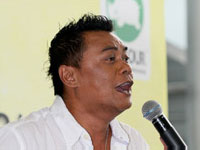 Dua Dunia and Hijau.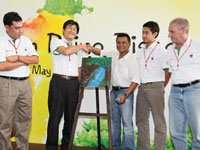 En. Zainal Abidin presenting his masterpiece to Mr. Atsushi Fujimoto, MD & CEO of Honda Malaysia.
At the roadshow, the Malay pop star performed two of his famous songs, Hijau and Dua Dunia. He also gave away autographed albums to the public which received overwhelming response. Apart from that, he did a sketch on his idea about environment and the creation was later presented to Honda Malaysia as his token of appreciation.
A Japanese artist, Akiba was present at the roadshows to conduct environment-related coloring as well as short story telling sessions for children. Both the activities attracted many children and parents.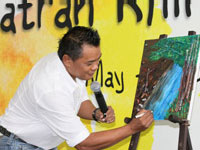 Encik. Zainal Abidin autographing his art piece during the Rhino Essay and Photo Contest prize giving ceremony.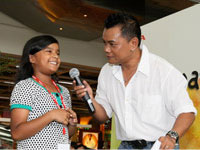 One of the winners answering a question.
Honda Malaysia is currently conducting an educational Roadshow in the Klang Valley in two shopping malls, namely Ikano Power Centre and Sunway Pyramid. Catch Zainal Abidin again at the next roadshow at Sunway Pyramid from 6 to 8 June, 2008
The objective of the Rhino Discovery Roadshow is to create greater awareness and understanding amongst the public of the need to care for the environment and the plight of the Sumatran Rhino in Malaysia. The Rhino Rescue Project was initiated by Honda Malaysia in January 2006 as a commitment to save the Sumatran Rhino, a Malaysian natural heritage.