Kuala Lumpur, 11 June - Rumble in the jungle, candlelight warrior, the champion's hunt amazing race - these are some of the exciting activities lined up for the 60 shortlisted candidates of the Honda Dreams Fund (HDF) workshop which is taking place from June 10-13, 2010. The 4-day motivational and assessment workshop entitled "Dare to Dream" will be the platform to seek the final 20 youths to be awarded the HDF scholarship for 2010.

The HDF workshop this year has been given a different twist. Held both indoors and outdoors at COPE Adventure in Hulu Langat, Ampang, the shortlisted candidates will be put in a "camp environment" as they go through interactive and participative activities such as lectures, role-plays, skill practices, discussions and reflective exercises. The activities are designed to help them understand themselves and their capabilities while testing their skills in leadership and teamwork.

"Honda Dreams Fund is in its fourth year and for the past 3 years, the shortlisted candidates underwent their activities in an indoor setting. This year, we decided to bring them back to the basics as we believe that this will truly bring out their personalities and develop their leadership, creative thinking and team player skills", said Mr. Toru Takahashi, Managing Director and Chief Executive Officer of Honda Malaysia Sdn. Bhd.

The 60 HDF hopefuls vying for the scholarship came to the workshop from all over Malaysia with a story to tell and a dream to fulfil. Some of the dreams of these shortlisted candidates are NGO worker, physiotherapist and optometrist.

Commenting on the list of shortlisted HDF candidates, Mr. Takahashi said, "This year, we have another group of enthusiastic and passionate youths that are here to take on the challenge to ensure they fulfil their dreams. We hope that all 58 shortlisted candidates, irrespective of the results of the final selection, will take home with them a valuable and memorable experience from the HDF workshop".

The scholarship which is in its fourth year since its official launch in April 2007 opened for applications in January 2010 and received a total of 1,700 applications. Throughout the month of January to March, Honda Malaysia used various communication channels such as radio, newspapers and online to reach out and inform truly deserving youths around Malaysia about the scholarship. Going the extra mile, Honda associates together with representatives from the United Nation Development Programme (UNDP) travelled to villages in Kelantan, Terengganu, Kuantan, Sabah and Ipoh where more than 600 youths got to know about the opportunity that HDF has to offer them.

Thus far, the Honda Dreams Fund has brought hope into the lives of 60 scholars, and they have become an example and an inspiration to the people around them, especially the youths in their villages and hometowns. Honda Malaysia is proud to note that three scholars from the first batch have already graduated.

Since its inception, UNDP has been involved in the project to manage and oversee the awards of the scholarships to ensure transparency. The organization works with an independent advisory panel comprising members from various NGOs such as the Human Rights Commission (SUHAKAM), All Women's Action Society (AWAM), Malaysian Youth Council (MYC) in the screening and selection processes.

HDF is among the projects that Honda is extremely passionate about. Worldwide, Honda's vision is to become a company which society wants it to exist. And with that vision in mind, the Honda Dreams Fund hopes to impart and empower the talented and less fortunate youths to realise their dreams and achieve a better future through education.

In its commitment towards corporate social responsibility efforts, Honda Malaysia in partnership with WWF Malaysia is also sponsoring the "Save Our Sumatran Rhino" project since 2006, an environmental conservation effort focusing on a rhino species found mainly in Malaysia.

For more information on the Honda Dreams Fund, please visit the website at www.honda.com.my/hdf .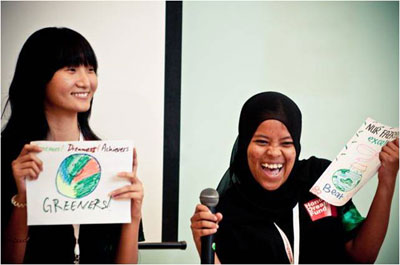 Energetic HDF hopefuls explaining their team concept at the Workshop.
Candidates paying attention during a group session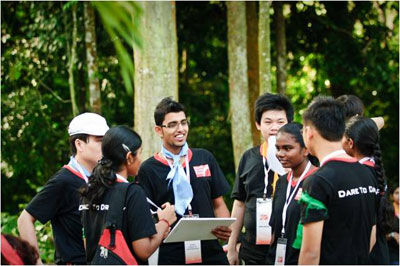 Leadership skills to the fore at the outdoor session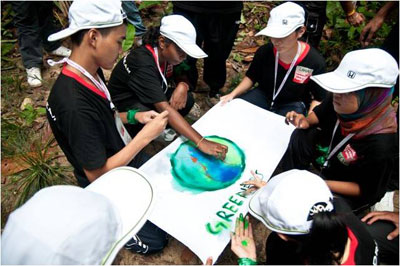 One of the groups creating their group flag using just fingers and given water colour paint.
One of the performances the candidates put together
The HDF 2010 hopefuls in their jungle activity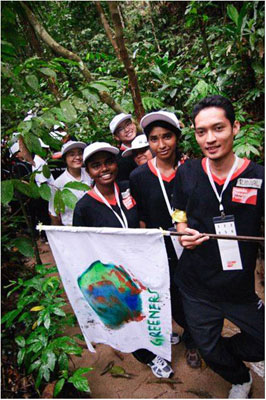 Trekking was part of the outdoor team activities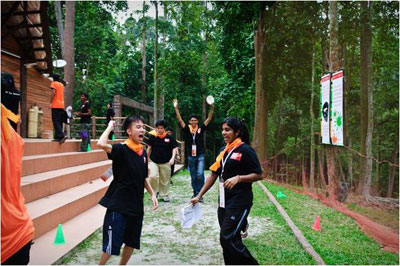 Candidates in action during one of the workshop activities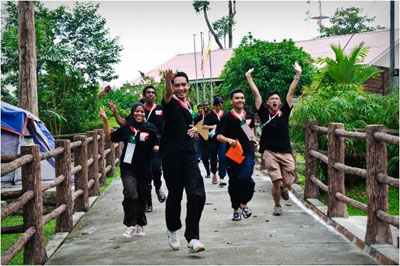 HDF candidates showing their high energy and team spirit at the workshop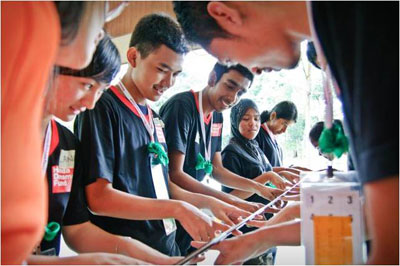 Team work is all it takes. Candidates working as a team to bring down a flexi-rod
HDF candidates giving a group cheer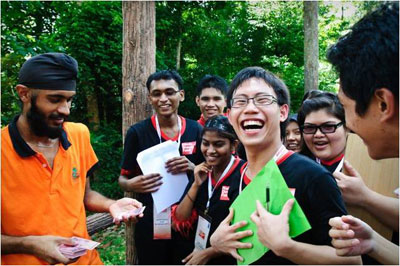 Having fun while learning at the HDF workshop