A kart race might not be your cup of tea to de-stress. However, the adrenaline-pumping act worked just fine for Honda Malaysia team and a group of motoring media members.
In the name of pure fun, Honda Malaysia recently rounded up some enthusiasts from the automobile media at Sepang International Karting Circuit, and had an evening of competitive fun.
Attended by more than 40 media members, the pure-play-no-work event was just the place to let the hair down, unwind and chill.
Having said that, the participants did have an agenda in mind, which was to clinch home some form of title from the fun and yet competitive race, in the endurance style.

Below are the pictures with captions that would walk you through the race and event details of the night:
Media signing in for a night of endless fun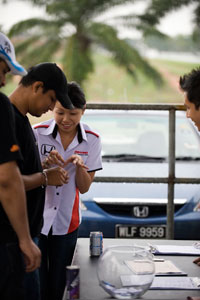 Head of PR (HMSB), Monique Low helping Harvinder Singh from Driven TV at the registration counter.
More contenders in the line.
Strategy is the key in winning, so say some. L-R: Khai Ning (Wheelers Weekly), Christopher Ng (Top Gear) & Danny Tan (Paultan.org) discussing the strategy during briefing.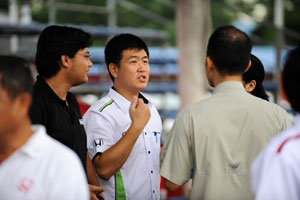 Ray Leong (in white) from PR department (HMSB), has a mission.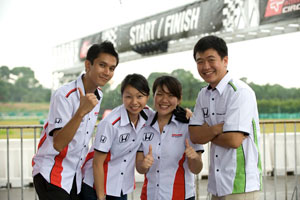 PR Team (HMSB) is all set! L-R: Jordhatt Johan Shihtra, Monique Low, Anna Ng and Ray Leong.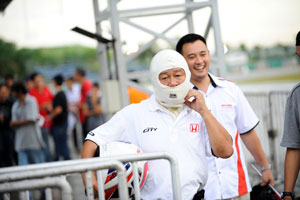 Industry veteran, YS Khong is all geared to show his true color.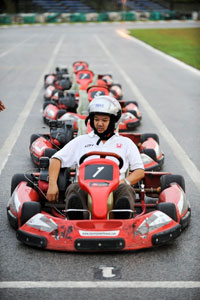 Lawrence Chong from Feminine Magazine looks confident.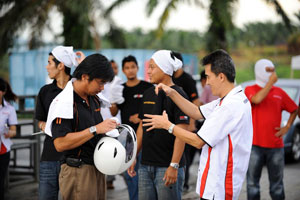 President & COO (HMSB), Encik Rohime Shaffie, looks excited too.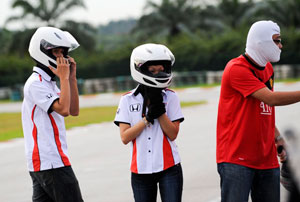 PR team(HMSB) teaming up with media.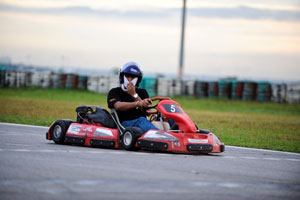 Harvinder from Driven is ready for the race!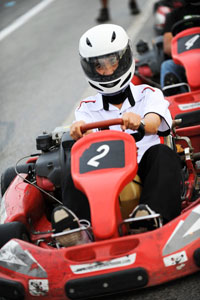 Encik Rohime shows the other side of him.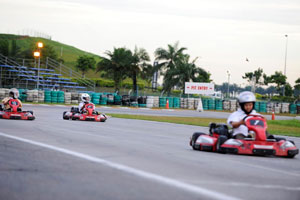 Action time!
More action.
Full concentration from Syahfril of The Star.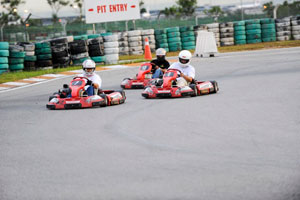 3 Musketeers trying to outrun each other.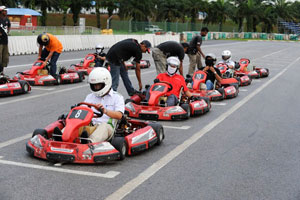 Driver Change for the next session.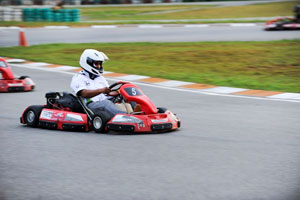 Mr. Akkbar Danial, Manager of Marketing Department, joined in for the race.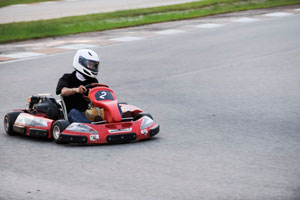 Justin from Shift Magazine tackling the sharp corner of the circuit.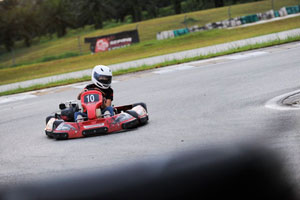 Ms. Aliana Roslan from A&P team of HMSB, trying her best to control the machine.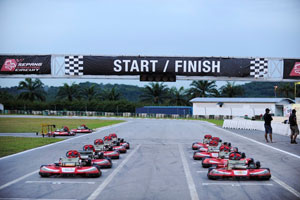 Preparing for the night Endurance Race. All teams were strategizing and analyzing their qualifying results at this point.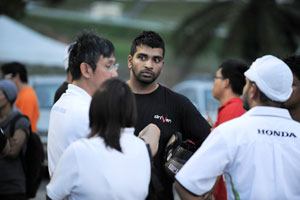 Team strategizing - Jacob from Driven Media listened attentively to team member's discussion.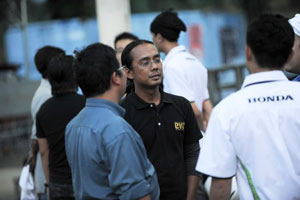 Team Leader, Ahmad Zulizwan from EVO & F1 Plus Magazine, briefing his team on the next strategy.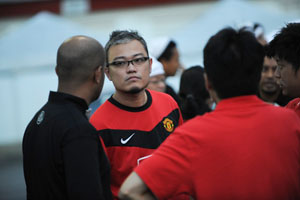 Team No.5 in serious discussion with the aim of winning the race.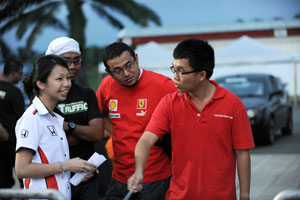 This is how you do it - Kon Wai Luen from Autoworld.com showed his team mates the proper way to flag in during driver change session.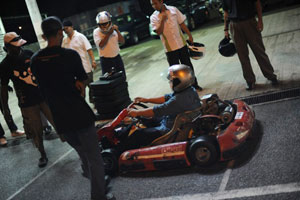 Eugene from Motorsportschannel.com gearing up to go for the night race.
It's time for the next driver change! - Keshy Dillion from Zerotohundred.com flagging his team mate.
Mr. Toru Takahashi, MD & CEO of HMSB (second from left) sharing a light moment with YS Khong (with helmet).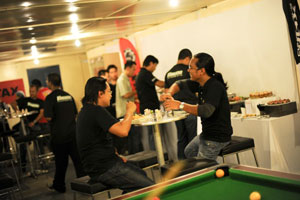 Dinner was served after the race. Here, Syukran from Kosmo and Ahmad Zulizwan helping themselves with the scrumptious meal.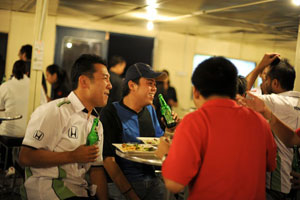 Mr. Go Suzuki, Head of Sales & Marketing Department (HMSB), chilling with motoring journalists.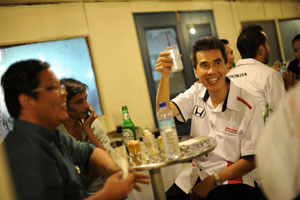 Encik Rohime: Cheers!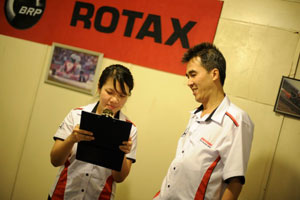 Results time! Anna Ng from PR (HMSB) announcing the results while Encik Rohime looked on.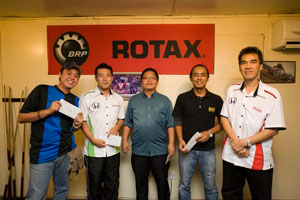 3rd Prize Winners! From L-R: Khai Ning (Wheelers Weekly), Go Suzuki (HMSB), Eugene (Motorsportschannel.com), Ahmad Zulizwan (EVO Malaysia) and Encik Rohime (HMSB).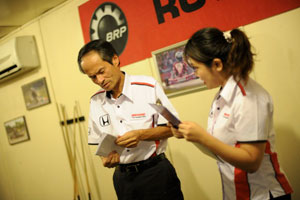 Mr. Toru Takahashi (HMSB) getting ready to announce the remaining winners.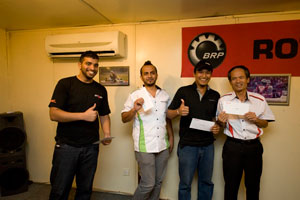 2nd Prize Winners! - From L-R: Jacob (Driven Media), Akkbar Danial (HMSB), Harvinder (Driven Media) & Mr. Toru Takahashi (HMSB).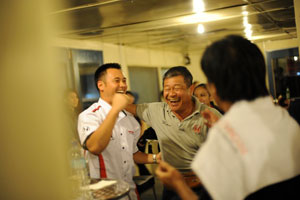 Team 1 members reacting happily when they were announced as the Grand Prize winner.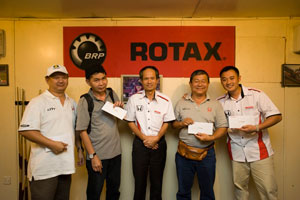 We are the champion! From L-R: Lawrence (Feminine), Ricky Lai (The Star), Mr. Toru Takahashi (HMSB), YS Khong (Autoworld.com) & Tengku Ezan (HMSB).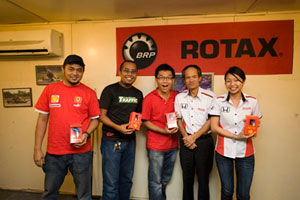 Surprise prize for the slowest team! From L-R: Shazrin (The Star), Syafril (The Star), Kon Wai Luen (Autoworld.com), Mr. Toru Takahashi & Monique Low (HMSB).