Anyone who plays golf knows that a golfer needs to focus on the right direction and swing the ball to the right hole. Yet for the group of 128 Honda Malaysia suppliers and associates at the 7th Honda Classic Golf Tournament, the swing this time around is not just for fun or competition, but a swing that will provide 120 underprivileged students from 12 schools with school uniforms for the new school year!
On a bright Saturday afternoon on the 7th November, a group of enthusiastic golfers all geared up with uniformed T-shirts, caps and golf bags gathered at A'Famosa Golf & Country Resort for a time of bonding while fulfilling their social responsibility.
The objective of this annual affair is to create fun environment for Honda associates and suppliers to strengthen their relationship. The annual Honda Classic promises a day of exercise, fun, competition and even prizes. The theme for this year's tournament was "Swing on the Charity" which is part of Honda's efforts to contribute towards helping the urban poor.
Speaking at the ceremony, Managing Director and Chief Executive Officer of Honda Malaysia, Mr. Toru Takahashi said, "I am glad to see Honda's associates and suppliers supporting and participating in this annual Honda Classic Golf Tournament. 2009 is one of the most challenging years for many carmakers. However, we managed to overcome the challenging economic environment, achieving a growth of 15.6% compared to last year, for sales between January to October 2009. For this, we thank all our business partners for their continuous support rendered to us all this while."
"Ultimately, as we swing our golf sticks and have a good time, we also want to remember the less fortunate within our society," Takahashi added.
All 128 players emerged as the 'big winners' for the evening for their contributions to charity. A total of RM6, 260 was collected at the 7th Honda Classic, which will benefit 120 deserving urban poor students from 12 schools in Malacca!
As these golfers reflect back on the day, indeed all the aching muscles and sweat were worthwhile. In fact, everyone is already looking forward to the 8th Honda Classic Golf Tournament!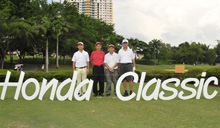 (L-R) Mr. Koji Inada of Enkei (Malaysia), Mr. Toru Takahashi, MD & CEO of HMSB, Mr. Rajan Chitty of Johnson Control Automotive and Mr. Peter Lim Yoke Cheong - United Sanoh Industries.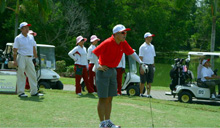 "How did i perform?" One of the winners, Mr. Masato Saito, General Manager for Mfg Services HMSB, checking out his swinging skills during the tournament.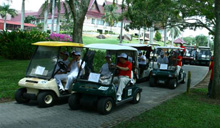 Participants and HMSB VIPs arriving at the golf course in golf buggies.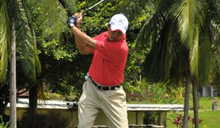 En. Azhar Abdul Wahab, Senior General Manager (SGM) of Manufacturing, Melaka Plant, in his backswing position at the tee-off ceremony to officially launch the tournament.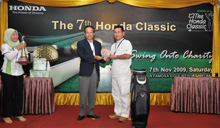 Mr. Toru Takahashi presenting the Grand Prize to Winner, Mr. Keiji Sakai of Panasonic Industrial Company.