In the continuous efforts to educate Malaysia's future custodians on the Sumatran Rhino, Honda Malaysia and WWF-Malaysia embarked on a second round of educational talks at four primary schools in Klang Valley in September 2007.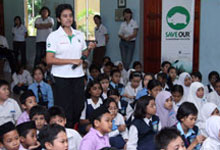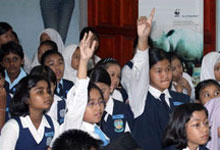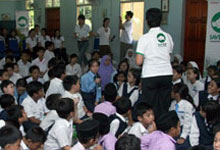 Between 10 to 13 September, the Honda-WWF team went to four different schools to reach out to 800 students with the environmental message. The urgency of the need to care for the environment and thus, contributing towards saving our Sumatran Rhinos were communicated through lively interactive sessions at S.K Sungei Wey, S.K Seri Petaling, S.K Seafield and S.K Bandar Sunway.
These special talks were organized with the aim of building awareness and understanding of environment conservation and the plight of the Sumatran Rhinos. The speaker, Ms. Carrol Marie Lawrence, Honda-WWF Rhino Project Consultant, used the opportunity to teach the students how they can play a role towards saving the Sumatran Rhino through practical ways which the students can practise at home.
"Honda Malaysia being the first corporate to initiate rescue efforts for the Sumatran Rhinos, are pleased to sustain this meaningful program through a 5-year commitment and partnership with WWF-Malaysia," said Mr. Atsushi Fujimoto, Managing Director and Chief Executive Officer of Honda Malaysia.
Apart from supporting in WWF-Malaysia's research and conservation activities, Honda Malaysia has also taken the initiative to embark on awareness building programmes through school talks, roadshows as well as advertisements.
During the talks, students thoroughly enjoyed the video clips, footages of Sumatran Rhino and quiz sessions that brought much educational fun for them.
It was indeed encouraging to see the students participating and rushing to shout out the answers and showing their understanding of caring for the environment and being more aware of the race to save our Sumatran Rhinos.
One of the students from SK Seafield, Wong Ee Shan, 10 years, commented, "I loved the video very much and that rhinos are cute. I know about all the species now and my favourite is the Sumatran Rhino because it has two horns."
Another student, Shalyla Anbalagan said that she will make posters to promote environmental preservation and put them up in her school, when asked what she would do to help in the effort.
Commenting on this programme, one of the teachers from SK Sri Petaling, Pn. Anu said that the students gained a lot of environmental knowledge from the talks and they now know more about the Sumatran Rhino.
"Based on feedback from the students, I know they enjoyed the talk. This is actually a very beneficial educational programme," added Pn. Anu.
Each school talk ended with a presentation of books to the school principal by Honda Malaysia. Besides that, goodie bags containing Rhino stationery were also given away to all the students who attended the talk.