Serdang, 9 November 2017 – The wait is finally over! Honda Malaysia (or the Company) today officially launched the All-New Civic Type R, the most powerful Honda model ever to be introduced in Malaysia. This Honda hot hatch was crowned 'Champion of Champions' title for having successfully set a new benchmark lap time record of 7 minutes 43.80 seconds at the Nurburgring Circuit in Germany in April 2017.
At the launch ceremony being held at Malaysia Autoshow 2017, Managing Director and Chief Executive Officer of Honda Malaysia, Mr Toichi Ishiyama said, "At Honda, we are committed to offer products that are of high value and also advanced in technology to provide joy to our customers. But we have also taken pride in ensuring we retain the core fundamental value in all our products which embodies the elements of 'Fun to Drive.'
"The All-New Civic Type R is a global model that not only carries the most advanced of automobile technology, but also expresses Honda's Racing Spirit & 'Fun to Drive' DNA. This is what makes Honda unique – we strive to ensure all our models provide the Joy of Driving to our customers," added Mr. Ishiyama.
The Type R is Honda's iconic racing and sports model whose name and reputation is almost cult-like. The Type R has built quite a reputation over the last 25 years since the model was first introduced in 1992. Its development characteristic has always been dynamic performance and mechanically simple in order to achieve best performance both on the road and on the race track.
The All-New Civic Type R will be powered by a 2.0L VTEC Turbocharged engine that offers high output of 310PS and maximum torque of 400NM, representing Honda's motorsports DNA perfectly with its powerful performance on the road as well as on the tracks. The high performance engine is mated with 6-Speed Manual Transmission, enabling drivers and Honda fans to experience a close ratio and precise shift feel.
The 3-Way Driving Mode offered in the All-New Civic Type R allows drivers to experience different dynamic performance in various driving environment. The COMFORT, SPORT and +R modes provide drivers and car enthusiasts with both the race car-like performance and the desired comfort that is required as a daily commute car. The 3-Way Driving Modes controls the Adaptive Damper System (ADS), Drive-by-Wire throttle (DBW), Electronic Power Steering (EPS), Vehicle Stability Assist (VSA), traction and brake system.
At a glance, the exterior of the All-New Civic Type R indulges in every sense with its defined body of racing perfection. Designed as a hot hatch with low and wide stance, the All-New Civic Type R was developed on the Honda Civic Hatchback platform with high rigidity body frame. The outstanding exterior symbol that sets the All-New Civic Type R apart is none other than the iconic red H badge which is the embodiment of Honda's "Challenging Spirit" and racing legacy.
An icon in its own right, the All-New Honda Civic Type R is designed to be race-ready from the inside out in order to meet the car enthusiast's desires. The D Spoke Leather Steering with Titanium Silver Trim gives the feeling of grip to tackle the toughest turns on any track. Its most Lightweight Bucket Front Seats comes in red panel pin stripe, combined with carbon deco panel to complete the racing package. Every All-New Civic Type R is built with its own special serial number plate positioned strategically on the center console – which stands as a constant reminder of the Type R's exclusivity.
To provide the driver with racing feel, the soft-touch switchgear of the All-New Civic Type R is designed to deliver high-quality feel and positive action. It comes with standard features including the 3-Way Driving Mode integrated with 3 types of Meter Display. The illumination light and meter design changes based on the selected mode to offer three distinct looks as well as to indicate Throttle Response and Brake Input, Turbo Boost Meter, REV Indicator, G-Meter Display and Lap Time depending on which drive mode has been selected using the console-mounted switch.
Equally well-equipped safety wise, Vehicle Stability Assist (VSA), Anti-Lock Braking System (ABS), Traction Control, Electronic Brake Distribution (EBD) and Dynamic Guidelines are made available in the All-New Civic Type R. This latest Civic Type R is also equipped with ISO Fix and a total of 6 Airbags.
The All-New Civic Type R is an import model from Honda's plant in Swindon, United Kingdom while the engine is being produced in Anna, Ohio (Honda of America Manufacturing Inc). The warranty for the All-New Civic Type R is 5 years with unlimited mileage at 10,000km service intervals at any of the 20 authorized Honda Sport Dealer nationwide.
The All-New Civic Type R will be offered in the exclusive Championship White colour and is priced at RM320,000 (excluding insurance). In the past one month, Honda Malaysia has received 60 bookings for the All-New Civic Type R, which surpassed initial target of 30 units per month.
Customers can visit any of Honda's 20 Sport Dealers** to view and place a booking for the All-New Civic Type R. Sport Dealers are Honda's appointed authorized dealers that carry the All-New Civic Type R in Malaysia. Customers can also view the All-New Civic Type R at Malaysia Autoshow 2017 in Malaysia Agro Exposition Park Serdang (MAEPS) and stand a chance for a Taxi Ride*. For more information on the All-New Civic Type R, please call Honda's Toll Free number at 1-800-88-2020 or log on to www.honda.com.my.

*Terms and Conditions apply
List of Honda Sport Dealers
**Customers can place their booking for All-New Civic Type R at the listed dealership below.
| | | |
| --- | --- | --- |
| No | Region | Honda Sport Dealers |
| 1 | Central | Autoworld Asia Sdn Bhd |
| 2 | Central | Botanic Auto Mall Sdn Bhd |
| 3 | Central | Global Amity Sdn Bhd (Bangi) |
| 4 | Central | Kah Motor Co Sdn Bhd - Selayang |
| 5 | Central | Sri Utama Auto Sdn Bhd |
| 6 | Central | USJ Car Express Sdn Bhd |
| 7 | Central | MH Prestige Auto Sdn Bhd |
| 8 | Central | Peringgit Sri Motor Sdn Bhd |
| 9 | Central | Tenaga Setia Resources Sdn Bhd |
| 10 | Central | The Millenium Auto Carriage |
| 11 | East Coast | Syarikat Tan Eng Ann Sdn Bhd |
| 12 | East Malaysia | Syarikat Labuan Automobile Sdn Bhd |
| 13 | Northern | Ban Hoe Seng (Auto) Sdn Bhd |
| 14 | Northern | Formula Venture Sdn Bhd |
| 15 | Northern | Kah Motor Co Sdn Bhd - Sg Pinang |
| 16 | Northern | Lee Motor SP (Car Div) Sdn Bhd |
| 17 | Northern | Yooi Cars Sdn Bhd |
| 18 | Southern | Ban Lee Heng Motor Sdn Bhd (Seremban) |
| 19 | Southern | Syarikat Motor GS Tay Sdn Bhd |
| 20 | Southern | Yong Ming Motor Sdn Bhd |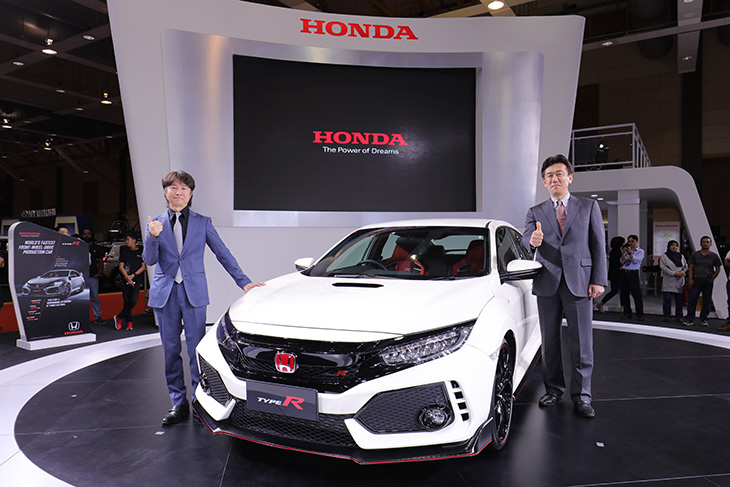 (Left to right) Mr Hideki Kakinuma, Assistant Large Project Leader of the All-New Civic Type R and Mr Toichi Ishiyama, Managing Director & Chief Executive Officer of HMSB with the All-New Civic Type R
(Left to right) Mr Hideki Kakinuma, Assistant Large Project Leader of the All-New Civic Type R and Mr Toichi Ishiyama, Managing Director & Chief Executive Officer of HMSB and En Roslan Abdullah, President & Chief Operating Officer of HMSB with the All-New Civic Type R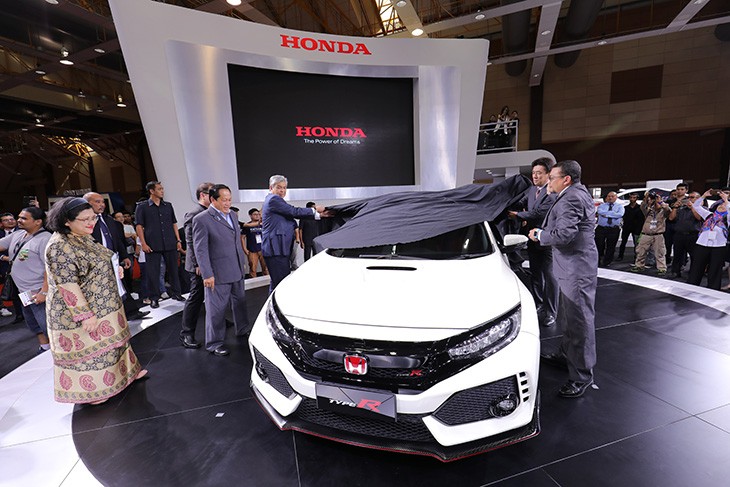 DPM Dato' Seri Dr. Ahmad Zahid Hamidi and Mr Toichi Ishiyama, Managing Director & Chief Executive Officer of Honda Malaysia officially unveiled the All-New Civic Type R at Malaysia Autoshow 2017. Accompanied by Y.B. Datuk Haji Ahmad Haji Maslan, MITI Deputy Minister and En Roslan Abdullah, President & Chief Operating Officer of HMSB and Ms. Wan Suraya Wan Mohd. Radzi, Deputy Secretary General of MITI
Honda Malaysia Launches World's Fastest (FWD) Production Car, The All-New Civic Type R