Kuala Lumpur, 22 November 2018 – Honda Malaysia is once again spearheading the introduction of advanced technologies to Malaysians through its showcase at the Kuala Lumpur International Motor Show 2018 (KLIMS 2018). Clustered under the mega theme of "Frontier of Innovation", Honda's booth No.1001 on Level 1 of Malaysia International Trade and Exhibition Centre (MITEC) of KLIMS 2018 is ready to warmly welcome visitors with an experiential set-up of the technology revolutions that Honda has pioneered for future mobility.
Honda Malaysia will be displaying new and concept model for the first time in Malaysia, including the most advanced Fuel Cell Vehicle (FCV), Clarity Fuel Cell. Visitors will also be treated to models and technologies that include the Sport Hybrid i-MMD cut body system, Jazz and CR-V Mugen concepts alongside the popular models of Accord, CR-V, Civic, Civic Type-R, City Hybrid and new model HR-V RS. Special Sport Hybrid and VTEC Turbocharged game towers have also been set up for visitors to experience the efficiency and performance of both hybrid and turbo. Honda enthusiasts will also be able to purchase exclusive Honda merchandise at the booth.
Honda Malaysia Managing Director and Chief Executive Officer, Mr. Toichi Ishiyama said, "We are delighted to be in KLIMS 2018 as it is a great platform for Honda to showcase our advanced technologies. Honda continuously challenges to develop Next Generation Advanced Technologies to ease mobility by making lives more comfortable while being environmentally friendly. We want to share our breakthroughs through our "Frontier of Innovation" showcase, which is inspired by our No.1 position in the Non-National segment and pioneering spirit in introducing hybrid cars to Malaysians as early as 2004. "Since then, Honda Malaysia has also introduced turbocharged and Honda SENSING technologies in our models. We aim to provide greater driving performance with improved safety for everyone and hope visitors will enjoy the new models while taking time to understand the technologies demonstrated", Mr. Ishiyama added.
List of Honda's Advanced Technologies and models that will be showcased in KLIMS 2018
1. CONCEPT MODEL
Fuel Cell Vehicle (FCV) - Clarity Fuel Cell
The Clarity Fuel Cell, an advanced model developed by Honda that powers the electric motor by converting hydrogen into electricity, giving instant acceleration with zero emission. This is in line with Honda's Vision 2030 strategy that aims to tackle the global market with more enhanced electrification technologies in its models. Visitors will have the chance to get up close with a model that has taken the technology of mobility to a whole new level.
2. Honda SENSING
Another advanced technology that will take centre stage at KLIMS 2018 is Honda SENSING. Honda SENSING offers intelligent assistance for drivers while on the road by providing warnings and aiding them to avoid or mitigate the severity of a collision. This technology is uniquely designed as it uses both monocular camera and millimeter wave radar for a more complete view of the road and as an added safety measure. There are seven safety features in Honda SENSING, which are Adaptive Cruise Control (ACC), Low Speed Follow (LSF)*, Forward Collision Warning (FCW), Collision Mitigation Braking System (CMBS), Lane Keep Assist System (LKAS), Road Departure Mitigation (RDM) and Lane Departure Warning (LDW). This Next Generation Advanced Safety Technology was first introduced last year in the CR-V, followed by Accord and Odyssey. Visitors can experience the real-time Honda SENSING functions at Honda Malaysia's booth in KLIMS 2018.
3. VTEC TURBOCHARGED
High-grade performance is the essence for Honda. In 2016, Honda became the first Non-National Japanese mass manufacturer to introduce the turbocharged engine in a Civic to Malaysians, and extended it to the CR-V in 2017. The brand has developed the turbocharged engine that can offer powerful acceleration and driving satisfaction for drivers who enjoy a thrilling ride. Honda combined the turbocharger with a direct injection system and variable valve timing mechanism for more power even from low revs, delivering power equivalent to that of a 2.4L engine in a 1.5L VTEC Turbocharged engine. Despite the downsize in engine, Honda managed to achieve superior performance without compromising fuel efficiency.
Also set to wow crowds is the record holder for the Fastest Front-Wheel-Drive (FWD) Production Car in the world - the Civic Type R, which broke the Nürburgring record in April 2017. When it was launched last year, it made waves among Honda enthusiasts; it has the most powerful engine among Honda Malaysia's models. The Civic Type R is powered by a 2.0L VTEC Turbocharged engine that provides 310PS and 400Nm of torque and is one of the best engines Honda has ever developed. Visitors are welcome for closer look at the Civic and Civic Type R.
4. SPORT HYBRID
Intelligent Dual-Clutch Drive (i-DCD)
To encourage the continuous healthy growth of hybrid technology acceptance, Honda introduced the Intelligent Dual-Clutch Drive (i-DCD) in Malaysia in 2017, making Malaysia the only country outside Japan to offer this technology. The Sport Hybrid i-DCD system integrates a 1.5L DOHC i-VTEC, electric motor and Lithium-ion battery with a 7-Speed Dual Clutch (DCT) Transmission for an exhilarating drive. The DCT employs Shift-by-Wire electronic gear shifting system for sportier and quicker response feel and feedback without lag or clutch slip.
Intelligent Multi-Mode Drive (i-MMD)
Pushing the advanced technology envelope, Honda developed the Next Generation Hybrid System, the Sport Hybrid i-MMD (Intelligent Multi-Mode Drive), which will also be on display in a cut body system at KLIMS 2018. Honda Sport Hybrid i-MMD consists of five world-leading systems working together. This technology will offer superior acceleration in terms of performance and higher efficiency.
5. JAZZ AND CR-V MUGEN CONCEPT
Honda Malaysia will feature two models, the Jazz and the CR-V with Mugen concept at KLIMS 2018. Jazz, the leader in the Compact Hatchback segment, which has carved a name for itself as a versatile hatch will make its appearance with Mugen concept bodykit, enhancing its sportiness. The Sports Utility Vehicle (SUV) segment leader CR-V, will also be featured with Mugen concept bodykit extending its dynamic design while looking tough and bold. Both the Jazz and CR-V with Mugen concept will be displayed in the new Passion Red Pearl colour.
6. HR-V RS
The popular compact SUV, the HR-V, will be making a public appearance in the RS variant with an exciting new exterior. The 'RS' also known as Road Sailing, appears sportier and bolder with a range of new features including Honda LaneWatch. Visitors can get up close with this model which will be displayed in KLIMS 2018.
7. "FRONTIER OF INNOVATION" SENSORY ROOM
Honda Malaysia has also created a SENSORY Room for visitors to experience Honda's advanced technologies of VTEC Turbocharged, Sport Hybrid and Honda SENSING. This special area reenacts the Customer Journey Experience using digital dimensions for public to visualize the Advanced Technologies that will enrich the lives of everyone.

*Not available in Accord & Odyssey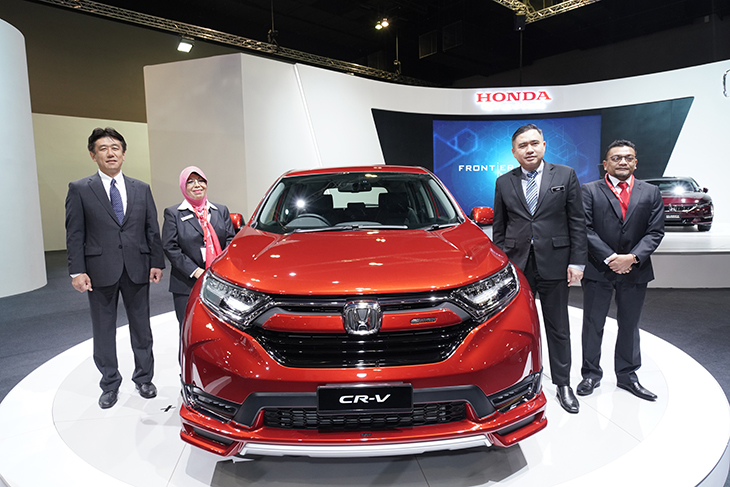 Minister of Transport YB Loke Siew Fook gracing the Honda booth in KLIMS 2018 by unveiling the CR-V in Mugen concept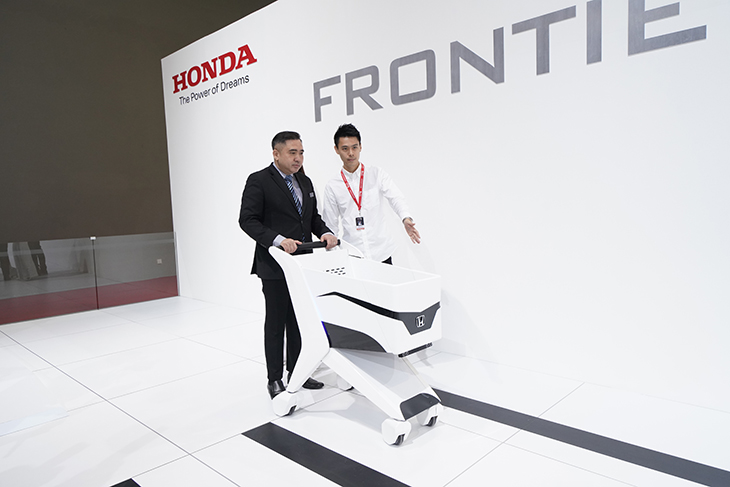 YB Loke Siew Fook having a personal experience with the Honda SENSING Cart at the Honda booth in KLIMS 2018
Amongst the available models at the Honda booth in KLIMS 2018 are the CR-V and Jazz in Mugen concept and Clarity Fuel Cell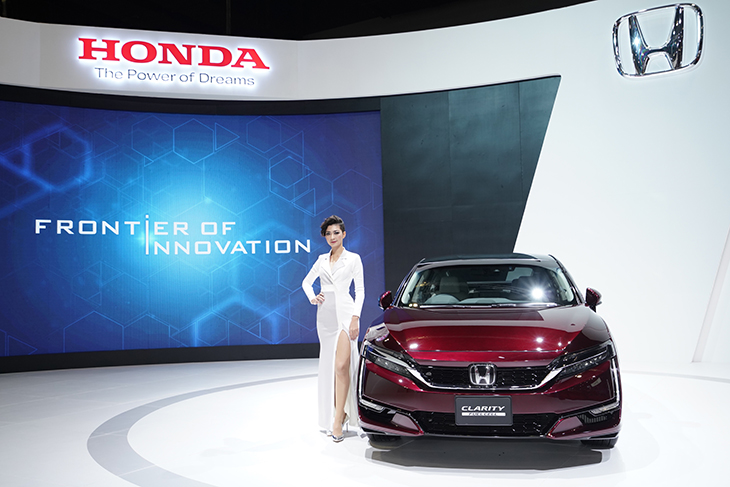 Clarity Fuel Cell making a debut in Malaysia at the Honda booth in KLIMS 2018.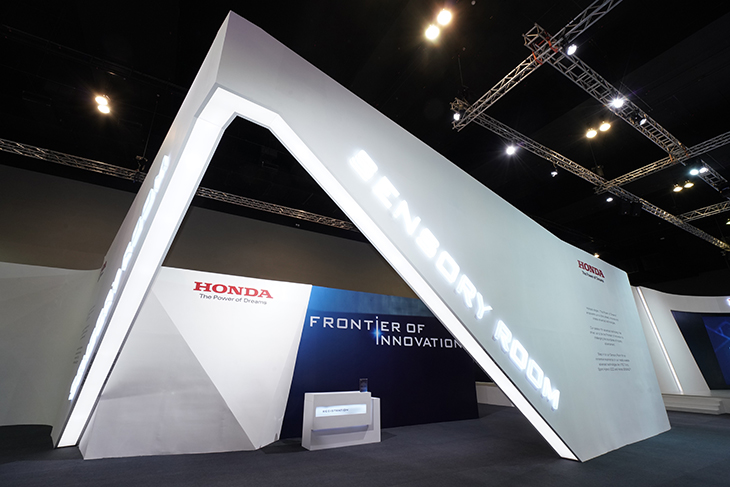 Honda offering an immersive experience at its SENSING Room that is specially prepared for visitors in KLIMS 2018