Shah Alam, 09 July 2013 – Honda Malaysia today officially opened its 9th 4S centre with the official opening of HZN Cars Sdn. Bhd. new Body and Paint (B&P) facility.
The new Honda Body and Paint Centre continues Honda's pioneering spirit by pushing the green envelope in the automotive industry - eco-friendly waterborne paint will be used at this new Centre. Honda Malaysia is the first car company in Malaysia to use waterborne paint, which is a revolutionary green product that uses water as the main component in its formulation, instead of harmful solvent. With this natural composition, there will be a drastic reduction of pungent odours and detrimental Volatile Organic Compounds (VOC). The quality of the waterborne paint provides better colour accuracy compared to solvent-based paints, through a unique anti-setting technology. Workplace safety is also improved through the use of this waterborne paint as it does not emit toxic fumes and reduces fire hazard.
Honda Malaysia Managing Director and Chief Executive Officer, Mr. Yoichiro Ueno said, "Honda is constantly exploring processes and opportunities that can reduce the environmental impact of our activities. HZN introduced a waterborne paint in their Painting Centre. This eco-friendly facility reduces smells and fire hazard with its waterborne formulation. It also improves the safety, comfort and health for their associates. We expect that this facility would contribute to preserve good environment for the local community.
To maintain the optimum quality of the Body and Paint Centre, Honda's qualified technicians with expert skills are commissioned to perform accurate body or paint repair as per manufacturer's recommendations. Besides that, Honda's Body and Paint Centre offers genuine part replacements to determine the quality of the repair with a warranty provided with terms and conditions applied.
The facilities of the Body and Paint Centre at HZN Cars also achieved a first within Honda Malaysia's family by being the first Honda dealership to adopt Honda's new Corporate Identity (CI), which was introduced in February this year. The comprehensive new guideline includes a fresh signage with a new colour scheme, contemporary furniture and fittings, together with a concierge for reception and cashier, customers' lounge, operation bays, store rooms, paint mixing room, spray booth, training room for staff, discussion rooms, staff pantry and rest area. All these details are redesigned to provide more comfort and convenience to customers, and increase efficiency of Honda associates.
Developed at a cost of RM13 million, the HZN Cars Honda Body and Paint Centre enhances the spirit of providing more integrated services to Honda customers. The investment amount covers land acquisition, building, facilities and equipment for a state-of-the art Body and Paint Centre located at No. 13, Jalan Majistret U1/26, Section U1, Hicom Glenmarie Industrial Park, 40150 Shah Alam, Selangor. The Body and Paint Centre sits on 3,026 square metres of land, of which the build-up occupies 1,887 square metres. It is housed in a new building located about 5 minutes away from its main 3S Centre.
"The Klang Valley is Honda's biggest market and this Shah Alam area is one of the fastest growing and most promising areas. With their enhancement to a 4S centre, we believe that they can provide more convenient and reliable after sales services to their customers better. This new Body and Paint facility will provide more integrated services to all HZN Cars' customers," Ueno added.
Honda Malaysia set a sales target of 60,000 units or to achieve 9% of the market share. The Central region comprising Kuala Lumpur and Selangor accounts for the biggest sales contribution to the target, with Selangor recording total sales of 5,741 units while sales of Honda cars in Kuala Lumpur was at 5,016 units as at June 2013. Honda Malaysia is planning to ramp up its total dealerships to 90 by 2016.
Honda Malaysia has been working closely with its dealers to improve their services by acquiring a 3S or 4S status that offers a total package of service and convenience to customers nationwide. Currently, there are 64 Honda dealerships nationwide, of which 3 are 1S centres, 52 operate as Honda 3S Centres while 9 are 4S Centre
Speaking at the opening ceremony, Dealer Owner and Managing Director of HZN Cars Sdn. Bhd., Dato' Mahpoz Bin Hamid said, "Body & Paint should be an integral part of the Honda Auto Community. Irrespective of the market condition that we are in, it is our desire and commitment to provide a high standard of service in terms of convenience and experience to the customers. It is our ambition and commitment to be transparent with integrity of the highest order to the customers, insurance companies and other service providers. We shall endeavour to be the drivers to set a new bench mark in B & P activities."
Honda Malaysia believes that a life-long customer relationship is an essential basis for its business. Keeping true to that, Honda strives to implement improved policies of prioritising customer satisfaction and ownership experiences.
To make an appointment or to find out more about the services and facilities, customers can contact HZN Cars at 03-5569 5259 (Original Centre) and 03-7880 0138 (Body and Paint Centre) or log on to www.honda.com.my for more information.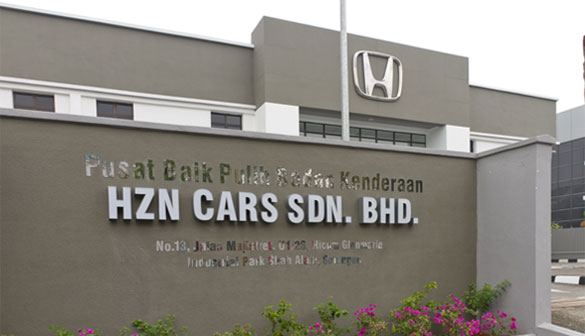 HZN Body and Paint Centre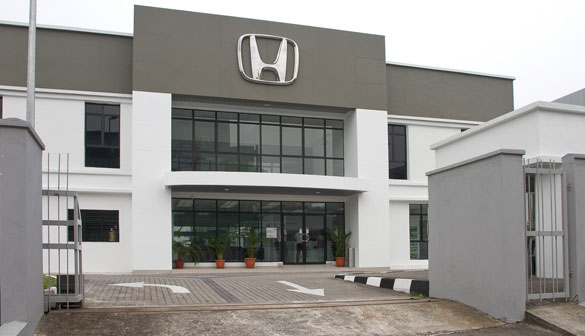 HZN Body and Paint Centre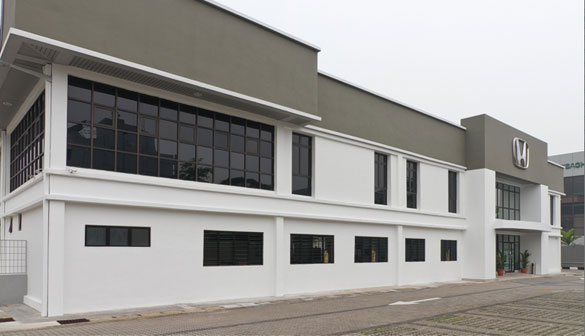 HZN Body and Paint Centre



HZN BP Centre associates with Dato' Mahpoz Bin Hamid (standing 5th from left), Dealer Owner & Managing Director and Ms. Zurida Binti Mahpoz (standing 4th from left), Director of HZN Cars Sdn Bhd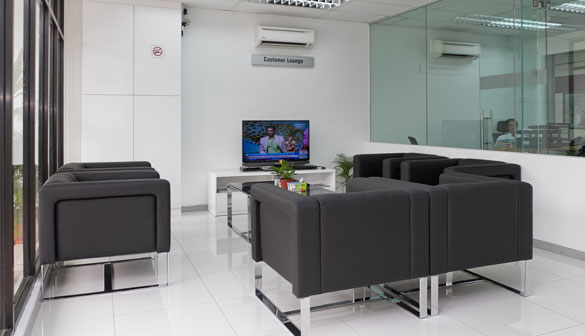 Customer lounge with new facilities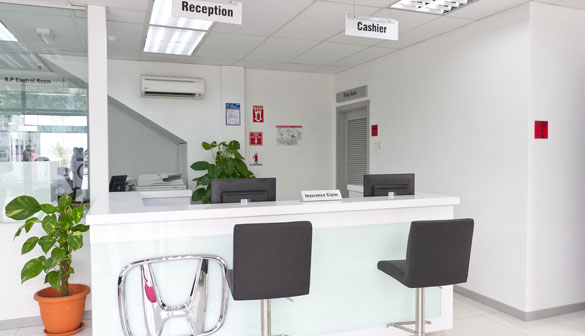 New concierge and cashier counter at the HZN BP Centre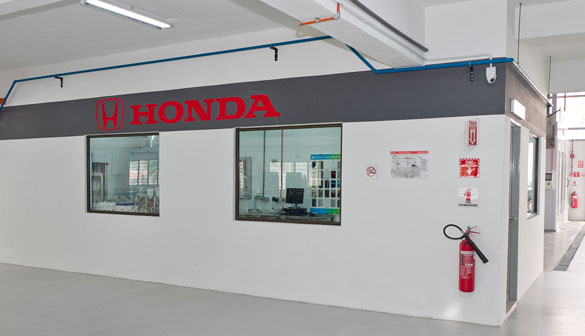 Paint Mixing Room at the HZN BP Centre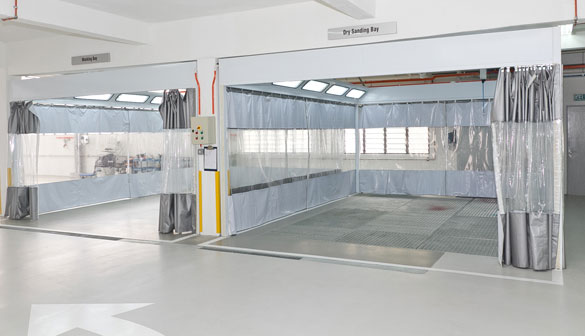 Masking and dry sanding bay at the HZN BP Centre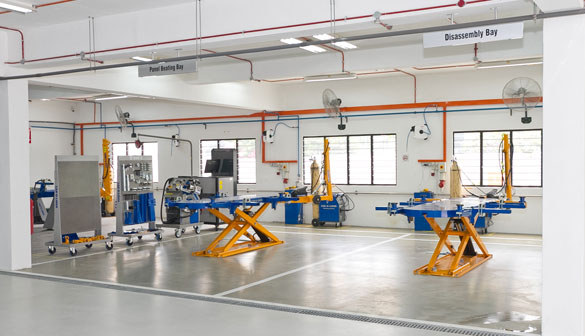 Panel beating and disassembly bay at the HZN BP Centre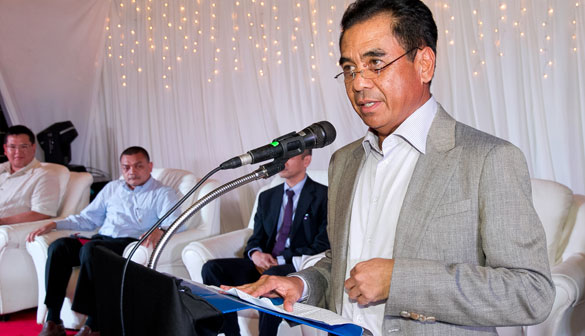 Dealer owner & MD of HZN Cars Sdn. Bhd., Dato' Mahpoz Bin Hamid delivering his speech at the Grand Opening of HZN Body & Paint Centre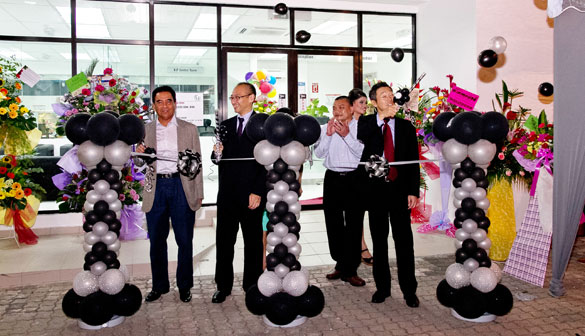 Grand Opening Ceremony (from left to right) Dato' Mahpoz, Mr. Yoichiro Ueno, En. Roslan and Mr.Hiroshi Yamamoto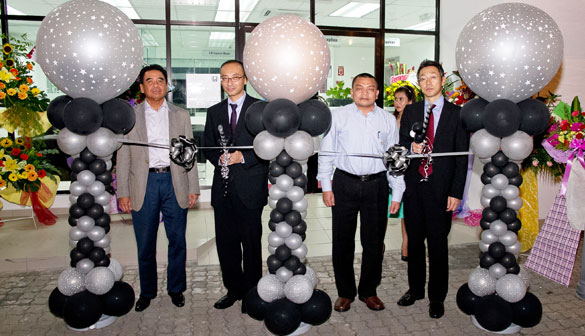 Grand Opening Ceremony of HZN Body & Paint Centre



HMSB MD and CEO, Mr. Yoichiro Ueno delivering his speech at the Grand Opening of HZN Body & Paint Centre