Shah Alam, 21 February 2013 – Honda Malaysia Sdn Bhd today unveiled the highly anticipated New CR-Z which features a host of enhancements. The world's first sport hybrid vehicle is now sportier looking with enhanced styling in exterior and interior design. With its distinctive shape and looks, the CR-Z has received numerous recognitions locally last year,including the Autocar ASEAN Car of the Year, Autoworld Judge's Choice, and Best Hybrid Model Awards for both publications.
The New CR-Z is the first new model that the company launched in 2013.
Speaking at the launch of the New CR-Z, Mr. Yoichiro Ueno, Managing Director and Chief Executive Officer of Honda Malaysia said, "The New CR-Z is an ideal balance of technology, performance and design. With its enhanced features and styling, it is noweven sportier in looks, truly embodying the concept of a "Sport Hybrid". The New CR-Z is acar that draws attention with its outstanding body lines with upgraded styling of new colours,new materials and beautiful finishes in interior as well as exterior that further enhance its emotional appearance."
"The New CR-Z will give an ultimate joy of driving experience to Malaysian car enthusiasts.It is the ideal car for those who recognize the value of advanced technology, desire aneye-catching car and care for the environment," said Mr. Ueno.
Providing premium sporty comfort to both driver and passenger, the New CR-Z is finished with a sharp-looking and luxe interior. The red stitching on the new semi leather seats, steering wheel and gear knob have made the New CR-Z even more emotionally appealing. Exterior-wise, the New CR-Z is furnished with a new front and rear bumper which increasesits sense of streamlined speed and beauty. The new HID head lights and the rear LED lights with blue clearcoat decoration add an exclusive and stylish appearance to this hot hatch hybrid.
The CR-Z is well-known for its versatile 3-Mode Drive System, which allows the driver to switch the mode toNORMAL, ECON and SPORT depending on their driving style and road situation. The 3-mode alters the responses of the throttle, steering, idle stop timing, climate control and the level of assistance provided by the IMA Hybrid System. To improve the excitement of driving a sport hybrid, the New CR-Z comes with a 1.5L i-VTEC engine that is connected with an enhanced and more powerful electric motor. Central to the Integrated Motor Assist (IMA) Hybrid System is the new lithium-ion battery which helps preserve additional electricity in its compact and durable cells. This high performance lithium-ionbattery is able to increase 2 times the energy capacity output compared to the previous battery. With this boost, the New CR-Z gives a more dynamic and energetic driving experience.
To extend the joy of the sporty performance and fun driving, the New CR-Z is equipped with the Plus Sport System, which gives a better acceleration feeling. This system is perfect for over taking and it can be used in the 3 different driving modes of NORMAL, ECON and SPORT.
Other new features of the New CR-Z are as follows:
EXTERIOR

INTERIOR

PERFORMANCE

New HID Lights
New Front Grille &Bumper
Enhanced Daytime Running Lights
Blue Clearcoat Lens Decoration Rear LED Lights
New Rear Diffuser

Semi Leather Seats with Red Stitching
Red Stitching Steering Wheel & Gear Knob
New Interior Sporty Colour in Red and Black

Higher Engine Horsepower
Improved Transmission
New Lithium-Ion Battery
Plus Sport System
The uniqueness of the ambient meter in Honda's hybrid vehicles is that it changes colour constantly depending on the driving style. While driving in NORMAL and ECON mode, the ambient meter changes colour from Blue to Blue-Green and Green, providing immediate feedback to the driver and coaching them to drive efficiently. Bluerepresents uneconomical driving, Blue-Green symbolises moderately fuel efficient, where as Green is fuel efficient driving.
In terms of the safety standard, the New CR-Z is equipped with Dual Front SRS Airbags, Side Curtain & Side Airbags with Occupant Position Detection System (OPDS), G-Force Control Technology (G-CON), Vehicle Stability Assist (VSA), Anti-lock Braking System (ABS), Brake Assist (BA), Electronic Brake Force Distribution (EBD) and Advanced Compatibility Engineering (ACE).
"Since its launch in November 2011, the CR-Z has received extraordinary success in the Malaysian market. We expected the market might be limited for this model due to its niche concept of sport hatch with hybrid power train. However, we sold over 2,500 units in 2012 which far exceeded our expectation and it became the best selling hybrid models for Honda Malaysia," said Mr. Ueno.
Mr Ueno continued, "With our broadest range of hybrid vehicles, Honda has retained the No. 1 position in hybrid segment last year. As of January 2013, more than 14,600 units of Honda Hybrid vehicles are on Malaysian roads and out of these, nearly 20% are CR-Z."
In view of the good market acceptance, Honda Malaysia targets to sell 300 units of the New CR-Z a month this year.
The New CR-Z is available in both 6-speed Manual Transmission and Continuous Variable Transmission (CVT) with 7-speed paddle shift and comes in four exciting colours - Premium Northern Lights Violet Pearl, Premium White Pearl, Polished Metal Metallic and Milano Red.
To provide the best ownership experience for the New CR-Z, Honda Malaysia extended the warranty and is now offering a 5-year warranty with unlimited mileage, including the IMA Battery. As encouragement to customers to maintain their vehicles according to schedule, a new free service package comprising up to six free labour services alternating with paid services until 100,000 km is offered to all owners of the New CR-Z.
Starting today, customer can test drive and place their booking for the New CR-Z at anyauthorised Honda dealers nationwide. For more information, please call Honda Toll Freenumber at 1800-88-2020, or log on to www.honda.com.my
CR-Z LPL Norio Tomobe explaining the design concept before unveiling the New CR-Z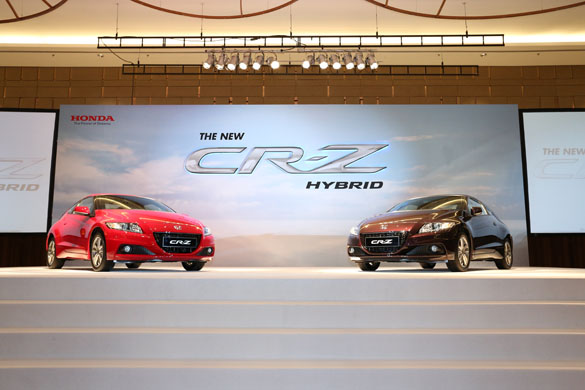 The New CR-Z in Milano Red and Premium Northern Lights Violet Pearl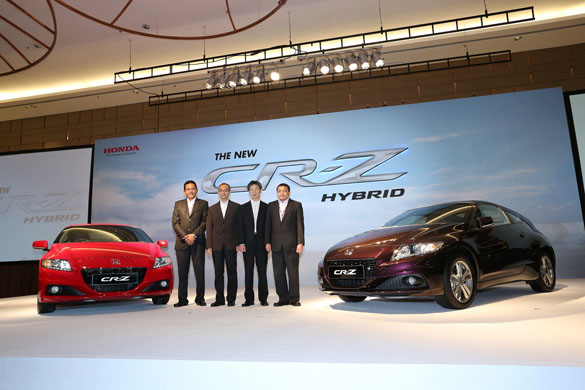 (L-R) YBhg Dato Abdul Harith Abdullah, DRB Hicom Group Director of Automotive and Defence, Mr Yoichiro Ueno, HMSB Managing Director and Chief Executive Officer, Mr Norio Tomobe, CR-Z LPL, En. Roslan Abdullah, HMSB President and Chief Operating Officer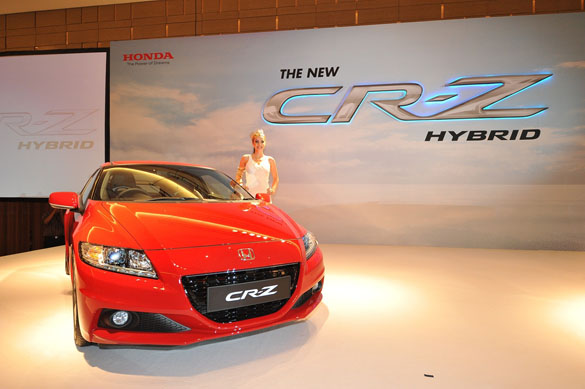 Model posing with the New CR-Z in Milano Red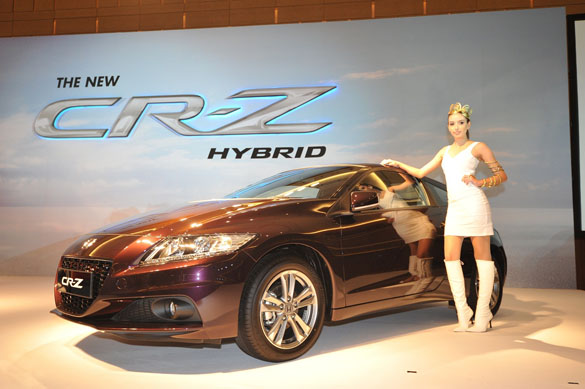 Model posing with the New CR-Z in Premium Northern Lights Violet Pearl