Kuala Lumpur, 2nd December 2010 – Honda Malaysia Sdn. Bhd., ("Honda Malaysia" or the "Company") today announced its showcase and concept models in the 7th presentation of Kuala Lumpur International Motor Show ("KLIMS") with the theme: Innovation in Motion in an official media launch. Considering the foundation of engineering lies in Honda Advanced Technology, Honda Malaysia is featuring an array of products in three (3) zones namely Excitement, Urban and Environment in Putra World Trade Centre ("PWTC") that will be open to the public from 3rd December until 12th December.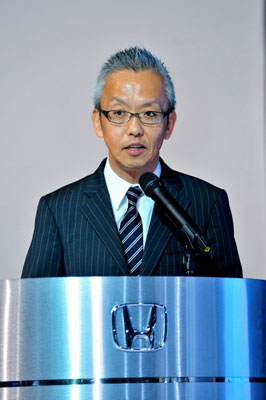 Mr. Shigeru Yamazaki addresses members of the media at KLIMS Press Day as well as the official launch of Honda's Booth: Innovation in Motion.
Through the theme, Innovation in Motion, Honda seeks to communicate to the visiting public the Company's fundamentals in engineering, proposing the brand's consistency in providing advanced mobility that is beyond the market's expectation. The showcase is accompanied by a series of eye opening innovations that truly identify with Excitement, Urban and Environment at the display zones, which give purpose to the innovations.
Speaking at the KLIMS was Mr. Shigeru Yamazaki, who is also one of the directors of Honda Malaysia and General Manager of Automobile Business Division, Asian Honda, Thailand, "Honda Advanced Technology is part of Honda's long-standing research and development in building new models for our automotive products as well as technology solutions for advanced mobility that eases life."

He later added that, "By focusing on engineering mobility solutions based on Honda Advanced Technology, we have presented to the world with countless innovations that are truly breakthrough inventions in the field of advanced mobility."
U3-X
Introduced as personal mobility device, one of the stars within Honda's exhibition is the U3-X. A one-wheel-drive mobility device that pursues the idea of "harmony with people", the U3-X is a compact experimental device that fits comfortably between the rider's legs. With Honda's balance control technology that was developed through the robotics research of ASIMO, world's first humanoid robot, this new personal mobility device makes it possible to adjust speed and move, turn and stop in all directions when the rider leans the upper body to shift body weight. Besides the balance control technology, the U3-X also runs on Honda's bipedal humanoid robot, and the world's first* omni-directional driving wheel system (Honda Omni Traction Drive System, or HOT Drive System), the results from the creation of ASIMO.
*Based on Honda's internal research

This compact personal mobility device is a friendly device for both the user as well as the people around it. For the rider, it is easy to reach the ground with the footrest. Furthermore, the rider seating position is roughly at the same eye level with the people and pedestrians around it, which makes a comfortable distance in between them. Honda will continue to conduct necessary research and development to verify its practicality of the device in real life environment.
U3-X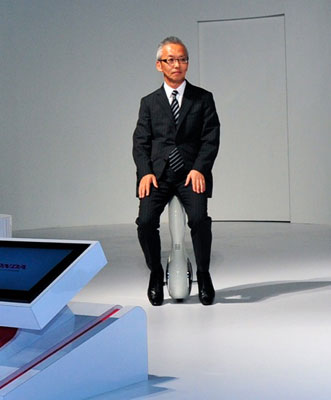 Mr. Shigeru Yamazaki presents the U3-X, a one-wheel-drive personality mobility device that is a standalone showcase in Honda's showcase in KLIMS 2010.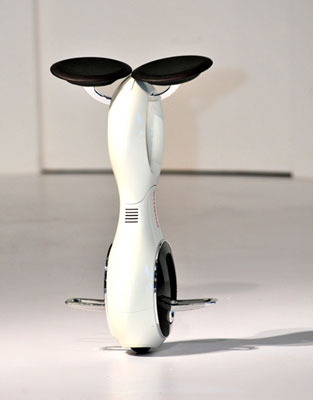 The U3-X up-close
Excitement zone
At the booth dedicated to display Honda's automotive innovations that offer superb and exhilarating driving performance, CR-Z and Civic Type R Euro take centre stage at Excitement Zone.

CR-Z
Based on Honda's passion to broaden the potential for a hybrid vehicle and enable customers to experience a new kind of excitement with all of their senses, CR-Z was developed offering three core values - Emotional (emotional look and feel), Exciting (make people want to enjoy driving) and Smart (environmentally responsible, useful and liberating). To achieve these three values in all areas of this vehicle, including design, packaging and performance, Honda applied its most advanced technologies.

CR-Z's styling is formed around a "one-motion wedge" concept with a low bonnet line and a wide stance in an all-new, sporty, aerodynamic, 2+2 coupe. Poised as the world's first 6-speed manual sport hybrid, CR-Z stands for "Compact Renaissance Zero," that represents Honda's commitment to go back to the point of origin (zero) and take on the challenge to create a new compact car without being bound by the values of traditional coupes.

Recently awarded the Japan Car of the Year 2010 / 2011 by the Japan Car of the Year Executive Committee, CR-Z is indeed a revolutionary sport hybrid model that is accessible, enjoyable and exciting. The sporty CR-Z hybrid brings together a 1.5 liter i-VTEC engine and Honda's original Integrated Motor Assist™ (IMA) system into a progressive and dynamic design that fuses agile, exhilarating driving with outstanding fuel efficiency of 25.0 km/l*.

* Figures for CVT version, based on results of 10-15 mode fuel-efficiency testing by the Japanese Ministry of Land, Infrastructure, Transport and Tourism.

CR-Z




CR-Z strikes a pose at the Excitement Zone.
Civic Type R Euro
Displayed along side with CR-Z is Civic Type R Euro, a premium sports model built for customers who enjoy a refined ride with exciting driving performance. The 2.0L naturally aspirated engine delivers supple handling and exhilarating, prodigious output of 148 kW or 201PS at 7,800 rpm, paired with a responsive, 6-speed manual transmission. A lighter, more rigid body shell, specially tuned suspension and 18-inch wheels contribute to the Civic Type R Euro's ability to push the performance envelope.

Custom aerodynamic components enhance the body's already outstanding aerodynamic form, while interior features including a custom 3-spoke, small-diameter, leather-wrapped steering wheel, aluminum ball-type shift knob, and Honda R spec seats enhance the driver's sense of connection with the vehicle.

Civic Type-R Euro




Civic Type R Euro stuns the crowd in dazzling red at the Excitement Zone.
Urban zone
A zone dedicated to fulfilling today's urban living mobility requirement through advanced technology, Urban zone presents products that go beyond the day-to-day needs with a greater package and style. Prominently featured at the Urban zone are City Concept and Freed Concept.
The concept is fundamentally inspired by customer feedback. We have put together a new look with that customers would appreciate in both the models. While not all the add-ons are meant for the shelf, some of this concept features will be made available in the market, a move to provide customers with more choices.
City Concept
Besides its superb package of Practicality and Performance in Style, the best-in-class Honda City is fully bolted with Modulo Kit along with 17" wheels. Finished with Taffeta White and a black color rooftop, the Concept City is now more sexy and bolder than ever.

Honda City Concept




The stunning Honda City in Taffeta White presents a new look, specially designed by Honda Malaysia at the Urban zone.
Freed Concept
The Freed Concept on the other hand clearly redefines the image of a compact MPV with its Modulo add-ons such as the front fog lights, spoiler and the 16" wheels. The plush leather interior along with a DVD navigation system and a rooftop-mounted DVD player certainly add a premium finishing to the multipurpose ride.

Honda Freed Concept




Sharing the limelight with City is Freed who also strikes a chord with the visitors with its modulo dressing and a new dashing color at the Urban zone.
Environment zone
Fully aware of its role to reduce its carbon footprint on the environment, Honda continues to introduce products that ease people's life and reducing harm for the environment. The core of the Environment zone is the All-New Insight that is set to change the local perception about hybrid vehicle. The showcase in the seventh KLIMS in Malaysia also marks the official arrival of the All-New Insight into the Malaysian market that makes hybrid vehicle more attainable.
All-New Insight
Poised to be an entry hybrid model in the market, the All-New Insight proposes an attractive package that is highly attainable, stylish and fun-to-drive. Under the hood, Insight is powered by an improved 1.3-liter SOHC i-VTEC engine that improves combustion and fuel efficiency with high torque. Along with a new generation of Honda's Integrated Motor Assist (IMA) system, the overall engine performance caters for exceptional fuel economy and fun-to-drive performance. Introduced as the second hybrid model in Honda Malaysia's line up, the All-New Insight is expected to have a positive impact on the local automotive industry.

All-New Insight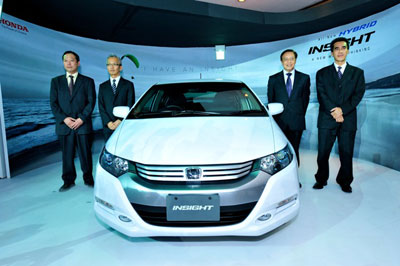 The prestigious KLIMS also marks the official arrival of the All-New Insight, the country's first entry-level model hybrid. (Left to right) Mr. Tsuyoshi Ohkubo, Chief Engineer; Mr. Shigeru Yamazaki, General Manager of Automobile Business Division, Asian Honda, Thailand, also a Director of Honda Malaysia; Dato Syed Mohamad Syed Murtaza, Chairman of Honda Malaysia.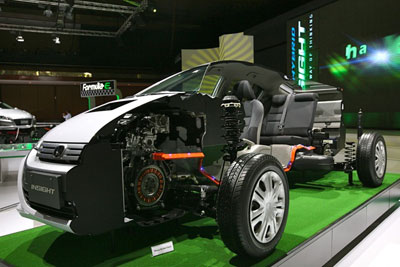 The muscles under the hood of the All-New Insight: The 1.3-liter SOHC i-VTEC along with a
new generation of Honda's Integrated Motor Assist (IMA) system.