Petaling Jaya, 28 February 2013 - Honda Malaysia announced that the All-New Honda CR-V will be arriving on Malaysian shores in early March this year. The completely redesigned from front to back, 4th GenerationComfortable Runabout Vehicle represents a high grade appearance with its bold and premium design, class-leading spaciousness, innovative features and functionality, improved fuel efficiency, and enhanced safety.
The All-New CR-V sets the benchmark for usability and premium comfort with its sedan like driving experience.
Under the hood, providing the acceleration rush is a 2.0-liter SOHC i-VTEC that offers a balance of performance and greater fuel economy with lower exhaust emissions. The All-New CR-V generates up to 155 horsepower at 6,500 rpm, an increase of 5 horsepower as compared to its predecessor. Torque is rated at 190 Nm at 4,300 rpm.
Pushing the green envelop, the All-New CR-V is fitted with ECON Mode that adjusts the vehicle's operating characteristics for a more intelligent fuel consumption drive when the system is activated. Supporting better fuel usage is the Eco Assist that guides the driver on their driving style to encourage fuel efficient driving.
Its electronically controlled 5-speed automatic transmission provides smoother acceleration and gear changes. Meanwhile, the Hill Start Assist maintains brake pressure briefly after the brake pedal is released when uphill. This gives the driver the gap to accelerate, smoothly resuming motion.
The All-New CR-V is equipped with an intuitive, full-TFT intelligent Multi-Information Display (i-MID) that provides a multitude of information conveniently at line-of-sight for the driver. It communicates data such as audio information and user support information such as fuel consumption, response display, clock, wallpaper, customization settings, and the reverse camera guidelines on its five inch TFT display. The Switch Control of i-MID and Audio are placed on the steering wheel together with Cruise Control System to enhance driver's convenience and safety as the controls are literally at their fingertips. Meanwhile, the steering can be tilted and adjusted telescopically for better comfort for driver.
Improved interior comfort is what greets the driver and passengers in this All-New CR-V. Rear air conditioner vents are now features of the All-New CR-V. The front door pockets have been thoughtfully designed to keep things handily reachable for driver and front seat passenger. All these interior designs focus on the convenience and comfort of driver and passengers.
Reinforcing Honda's class-leading interior spaciousness and practicality in all its models, is the outstanding and versatile cargo area. The All-New CR-V extends this Honda uniqueness with an increase in roominess of its cargo area. Emphasizing the utilitarian feature of the All-New CR-V is the 60/40 rear seats redesign and lower cargo floor height for easy loading and unloading. The 60/40 rear seats have a one-motion fold, smart design to enable each rear seat to fold nearly flat into the front of the cargo space with each single pull of the release lever inside the cargo area. It is simple and easy to use and provides larger storage area.
Size-wise, the All-New CR-V measures 4,545 mm in length and 1,685 mm in height. Its wheelbase remained at 2,620 mm. Honda has managed to extend the interior space through clever reengineering and packaging to maintain its design philosophy of Man Maximum, Machine Minimum.
The All-New CR-V comes with a comprehensive set of safety features including a feature new to this CR-V - the Motion Adaptive Electronic Power Steering (MA-EPS) that works with Vehicle Stability Assist (VSA) to help minimize under steering and over steering while at the same time enhance stability during driving. The All-New CR-V is equipped with Electronic Brake Force Distribution (EBD), Anti-lock Braking System (ABS), Dual SRS airbags and side airbags with OPDS. In the event of an accident, G-Force Control Technology (G-CON) will distribute impact away from cabin while Advanced Compatibility Engineering (ACE) absorbs the impact. The car comes with Front Pre-Tensioner Seatbelts with Load Limiters, 3-Point Rear Seatbelt for 3 persons and Immobilizer System.
Honda Malaysia Sdn Bhd Managing Director and Chief Executive Officer, Mr. Yoichiro Ueno said, "With this fourth generation CR-V, we have created a model that is bolder in looks, versatile in its practicality and innovative in its features. It is a well-balanced combination of comfort and efficiency of a car and the functionality of an SUV."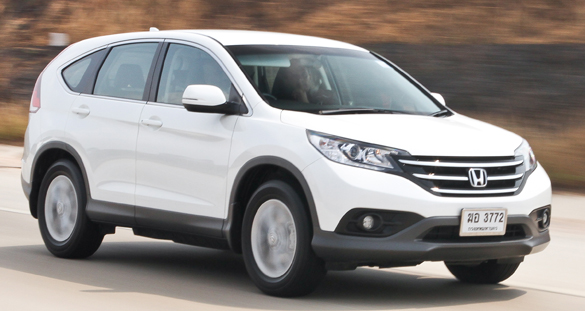 The All-New Honda CR-V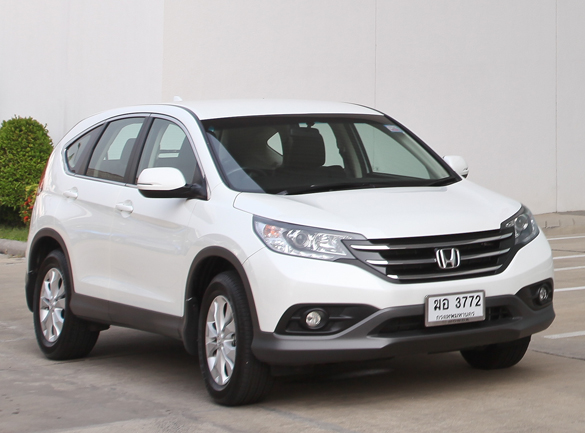 The All-New Honda CR-V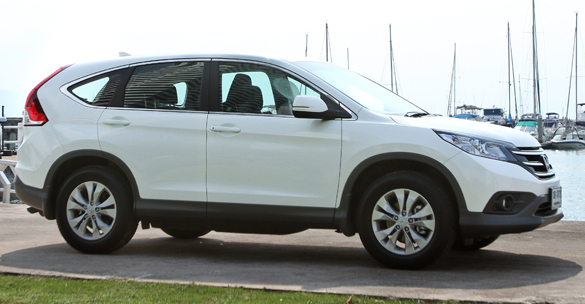 The All-New Honda CR-V_Side View