Petaling Jaya, 5 March 2013 - The 4th generation Comfortable Runabout Vehicle, the All-New CR-V has arrived on Malaysian shores! Honda Malaysia unveiled the award-winning SUV and noted that it has received close to 1,000 bookings before the All-New CR-V was even launched.
This 4th generation CR-V is the first CKD model launch for Honda Malaysia in 2013. The event also marked the 10th anniversary milestone for Honda CKD vehicles in Malaysia - the CR-V was the first model to roll out from its Melaka factory.
This global SUV has been consistently well received since its debut to the world in 1995. Today, this vehicle which started as an ambitious project to combine the best elements of a sedan car and a SUV, has come a long way, scooping up about 130 awards worldwide and chalking up more than 5 million in vehicle sales in 160 countries.
Honda Malaysia Managing Director and Chief Executive Office, Mr. Yoichiro Ueno said, "In Malaysia, the CR-V is just as popular as in other countries! Even at its initial introduction, the CR-V received good market acceptance. To-date, there are close to 34,000 units of CR-Vs on Malaysian roads."
"The All-New CR-V that we are introducing to you today is believed to set another new benchmark for SUVs, with its bold design, classy interior and enhanced practicality that are combined with fuel efficiency, performance and comfort of a sedan-like drivability. The All-New CR-V is more aerodynamic in shape and its elegant appearance is an expression of the evolution of the 4th generation CR-V," added Mr. Ueno.
The 4th generation CR-V is conceptualized as a "Premium Smart SUV" and powered by an improved 2.0-L i-VTEC engine matched with 5-speed Automatic Transmission for well-balanced performance and fuel efficiency. Encouraging economical fuel consumption driving is the ECON button and Eco Assist system which are now part of the features of the All-New CR-V. The ECON button promotes fuel efficient driving with the push of a button. The Eco Assist guides the driver on efficient driving styles through the illuminated ring color on the meter cluster that changes from white to green for uneconomical driving to fuel efficient driving respectively. The All-New CR-V also provides a smoother and quieter experience with improvements in its reduction in noise, vibration and harshness (NVH).
The All-New CR-V is slightly smaller in size compared to its predecessor and sports 17-inch alloy wheels, adding to its more aggressive stance. The bolder look is also courtesy of deeper sculpting of body lines and highlighted front grille.
The class-leading interior of this SUV has been extended in the All-New CR-V through smart reengineering of the seat configuration. The big classy cabin is even more spacious with better legroom now while giving driver and passengers a high view point. Enhancing comfort for rear passengers is the new Rear Air Conditioner Vent. The cargo area can be increased dramatically from 589 liters to 1,146 liters and is able to fit two mountain bikes side by side, through the One-Motion Rear Foldable Seats.
The All-New CR-V epitomizes Honda's engineering and design philosophy of Man Maximum, Machine Minimum. It is a well-balanced synergy of efficiency, functionality and confidence that comes from combining upscale sedan-like drive and fuel economy of a car, with the practicality and sense of security of a SUV.
The All-New CR-V is available in 5 colours of Twilight Blue Metallic, Taffeta White, Alabaster Silver Metallic, Crystal Black Pearl and Polished Metal Metallic.
Built on an impeccable pedigree and already receiving rave reviews, Honda Malaysia targets to sell 7,000 units of the All-New CR-V in 2013.
Mr. Ueno continued, "In responding to customer feedback who requested for a higher performance version, we will be offering the 2.4L variant in June of this year."
Honda Malaysia is confident that the All-New CR-V will continue to retain its leading position in the SUV market segment.
Honda Malaysia offers a 5-year warranty with unlimited mileage and a new service interval of 10,000 km to provide the best ownership experience for the 4th generation CR-V. In addition, All-New CR-V owners are entitled to 6 times free labour services alternating with paid services. Supporting this new service package are 62 Honda dealerships nationwide.
For more information on the All-New CR-V, please visit a Honda showroom or call Honda Toll Free number at 1-800-88-2020, or log on to www.honda.com.my.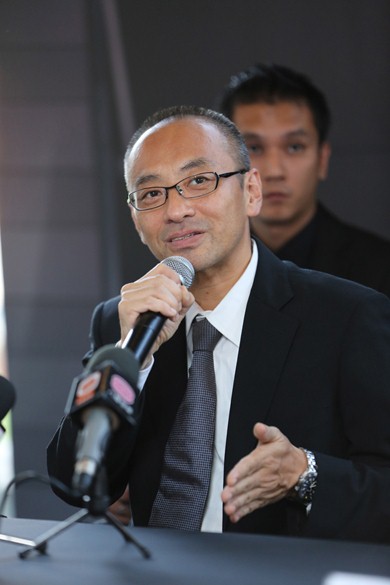 HMSB MD and CEO, Mr. Yoichiro Ueno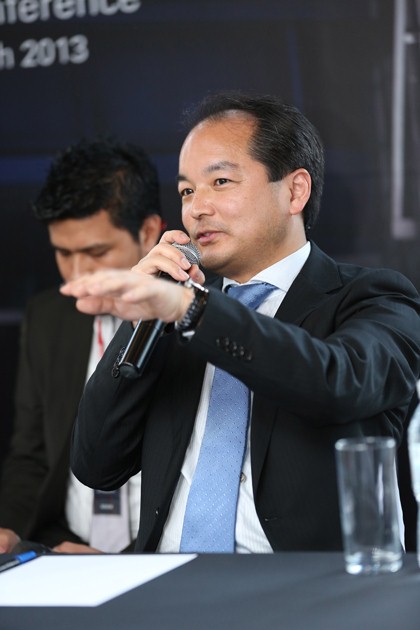 All-New CR-V LPL, Mr. Ryouji Nakagawa explaining during the press conference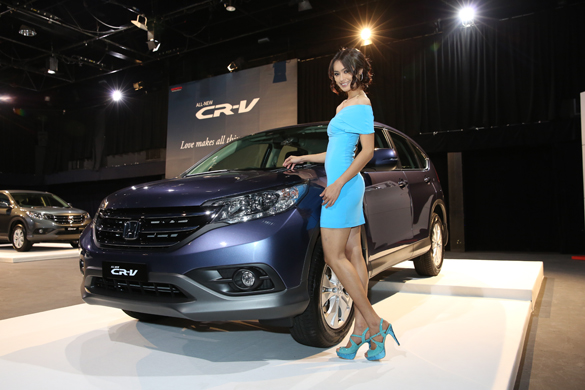 Models posing with the All-New CR-V
The newly launch All-New CR-V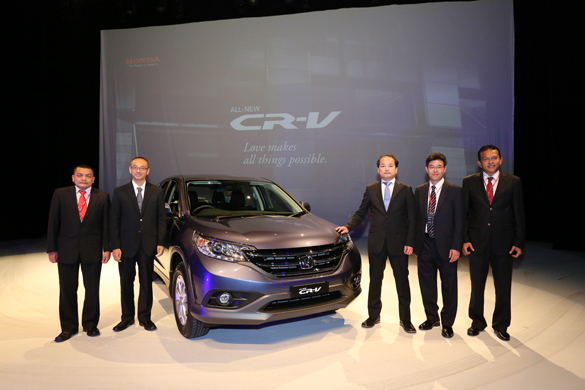 Key management of HMSB and DRB-Hicom posing with the All-New CR-V (L-R), En. Roslan Abdullah, President & Chief Operating Officer of Honda Malaysia Sdn Bhd, Mr. Yoichiro Ueno, Managing Director & Chief Executive Officer of Honda Malaysia Sdn Bhd, Mr. Ryouji Nakagawa, Large Project Leader of CR-V, Mr. Katsunori Ishii, Vice President of Honda Malaysia Sdn Bhd, YBhg Dato Abdul Harith Abdullah, DRB-HICOM Group Director of Automotive and Defence
All-New CR-V with COO, CEO, LPL and VP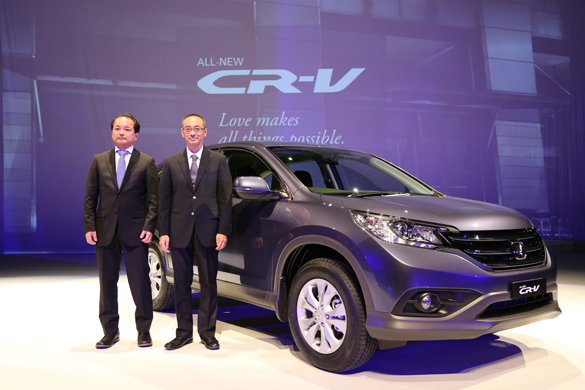 All-New CR-V with LPL, Mr. Ryouji Nakagawa and MD and CEO, Mr. Yoichiro Ueno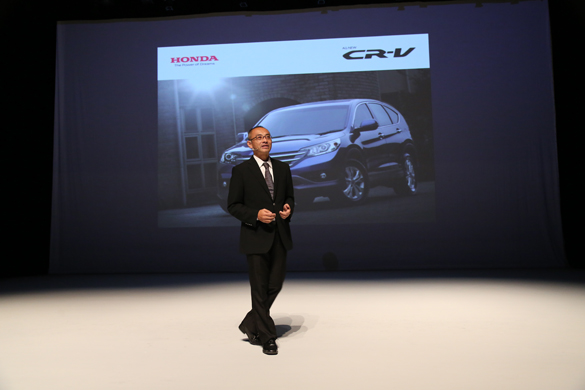 HMSB MD and CEO, Mr. Yoichiro Ueno delivering his speech at the All-New CR-V launch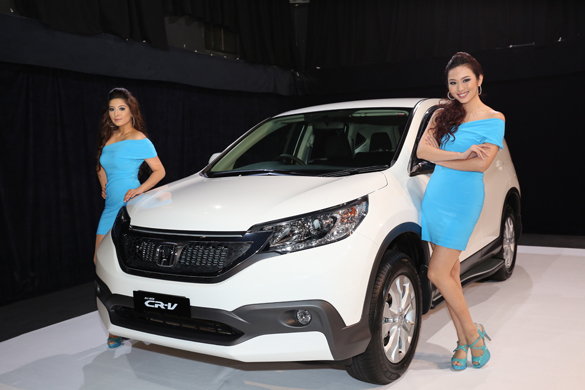 Modulo kitted All-New CR-V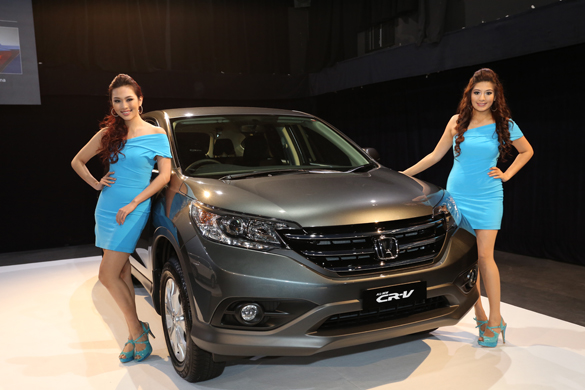 All-New CR-V in Polished Metal Metallic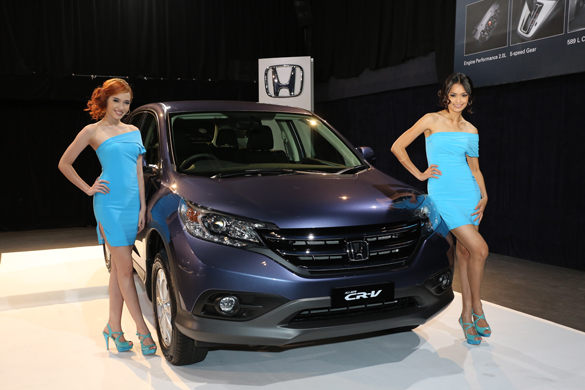 All-New CR-V in Twilight Blue Metallic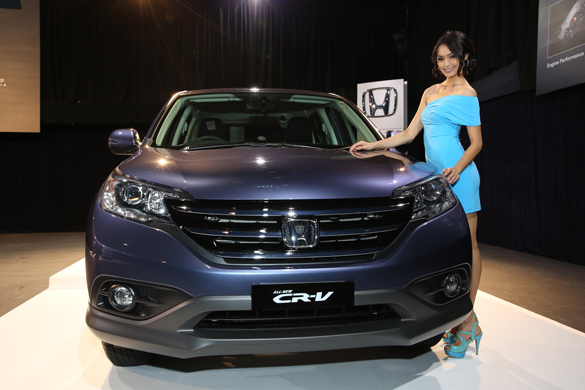 Bolder and aggressive looking All-New CR-V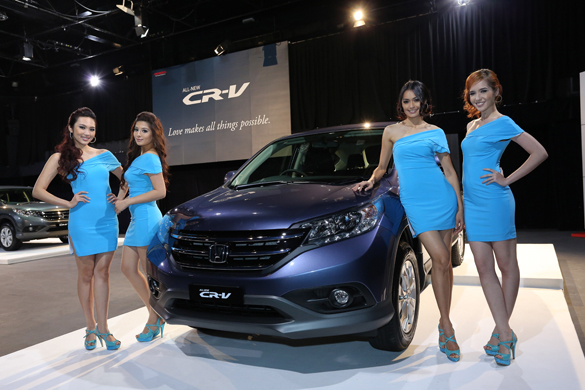 Model posing with the All-New CR-V