Perlis, 28 February 2013 – Vimal Auto-Liner Sdn Bhd, the first Honda 3S Centre in Perlis today held a grand opening for its authorized Honda dealership which offers Sales, Service and Spare Parts under one roof. Vimal Auto-Liner invested RM10 million into its brand new Honda service centre with the aim of providing efficient and professional services to its customers in the northern most state.
Honda Malaysia Managing Director and Chief Executive Officer, Mr. Yoichiro Ueno was present to officiate and celebrate this significant milestone. With this new Honda 3S Centre in Perlis, Honda Malaysia now has established dealers in all states in the country.
Perlis is a growing market with great potential for Honda Malaysia. Close to 200 units of Honda cars were sold here in the last 6 months of 2012, whereby the City and Civic were the best selling models.
In his congratulatory speech, Mr. Ueno said, "The four northern states of Perlis, Kedah, Penang and Perak contribute about 20% to Honda Malaysia's annual sales and these states have been growing at an average annual rate of 6% for the past 5 years."
The site in Kangar was chosen for the new Honda 3S Centre as it is strategically located with excellent accessibility.
"Honda Malaysia is always aiming to achieve No.1 Customer Satisfaction and Lifetime Ownership Loyalty and we believe that 3S Centre can provide excellent services through its facilities and multiple functions. Honda will continue to develop this market and look for more opportunities to serve our customers better. Customers expect more convenience and efficient services from auto dealers currently," Mr Ueno continued. The new dealership is part of Honda Malaysia's blueprint to support the aggressive increase in sales that it is targeting - 64,000 units in 2013 or about 10% of market share. Honda Malaysia targets to increase its 3S network from current 62 to 90 dealerships within 3 years.
"Although we are totally new in the Honda family, we are proud to be a member of this family which always ventures and believes in new innovation and technology that enhances human mobility and benefitting society. We look forward to challenging ourselves in this 3S Centre to bring value to our customers and society. We will work closely with Honda Malaysia to attain Honda's high standards," said Mr. Yudish G. Dorai, Managing Director of Vimal Auto-Liner Sdn Bhd.
"Our main aim is to provide the best customer service and satisfaction. One of the services that we provide is the shuttle service within Kangar for customers who service their cars here," Mr. Yudish explained. Among the many facilities provided by Vimal Auto-Liner Honda 3S Centre are ample service bays, kids corner, free WIFI, variety of complimentary drinks and snacks, car parks for disabled persons, road tax renewal and insurance services, and SMS and calls for car collection.
The new Honda 3S Centre sits on 55,060 square feet of land of which the build up occupies 17,605 square feet.
Honda believes that a life-long relationship with the customer is forged when a purchase is made. Hence, it is of utmost importance for Honda to develop these relationships by consistently providing excellent services that are of the highest quality. Since its establishment, Honda Malaysia has been working closely with its dealers to improve their services by acquiring a 3S or 4S status that provides a total package of service and convenience to customers nationwide.
For appointment and operating hours, customers can contact Vimal Auto-Liner Sdn Bhd at 04–977 5766 and 04–977 8766 (Sales) and 04–977 8766 (Service) or log on to www.honda.com.my for more information.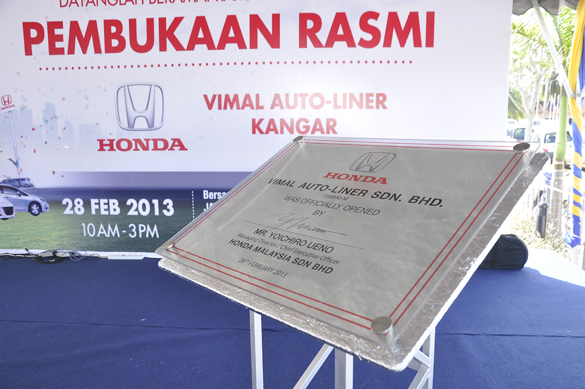 Vimal Auto-Liner Honda 3S Center is officially opened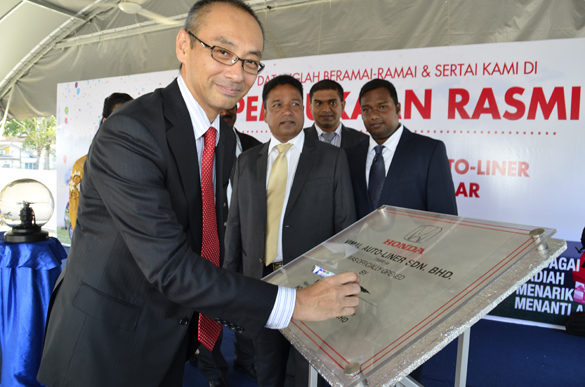 HMSB MD & CEO Yoichiro Ueno signing plaque watched by Dato' Sugumaran, Yudish G Dorai and S Vimal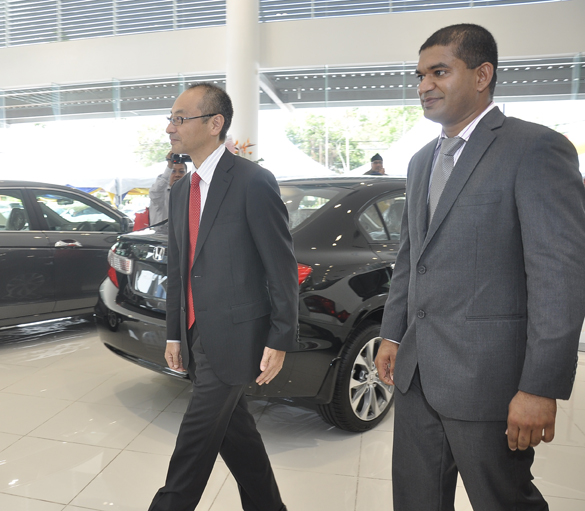 HMSB MD & CEO Yoichiro Ueno touring the new 3S Center led by Vimal Auto-Liner MD, Mr. Yudish G Dorai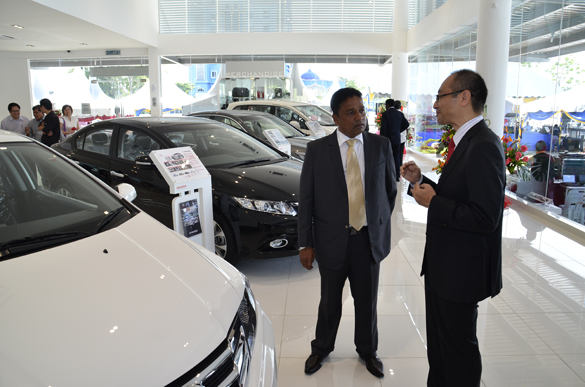 Vimal Auto-Liner Dealer Owner, Dato' Sugumaran and HMSB MD & CEO Yoichiro Ueno in the showroom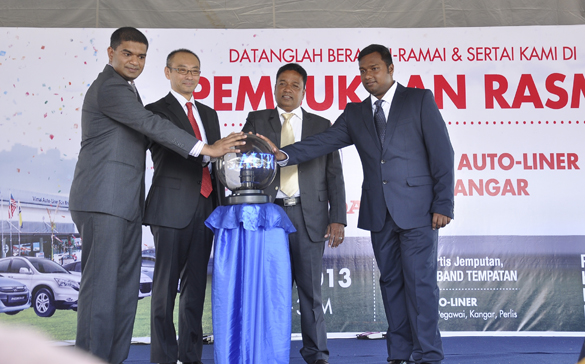 Guests officiating the opening (L-R): Mr. Yudish G Dorai, Vimal Auto-Liner Managing Director, Mr. Yoichiro Ueno, HMSB Managing Director & Chief Executive Officer, Dato' Sugumaran, Vimal Auto-Liner Dealer Owner,Mr. S. Vimal, Vimal Auto-Liner Director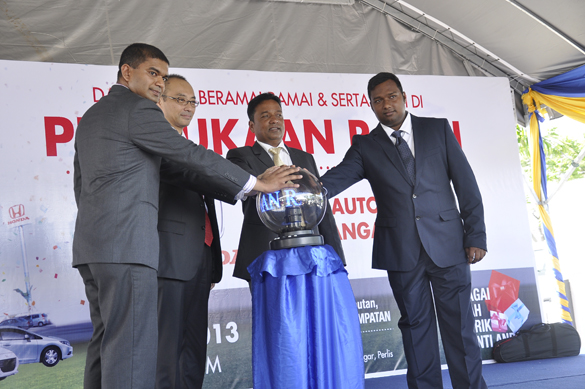 Guests officiating the opening (L-R): Mr. Yudish G Dorai, Vimal Auto-Liner Managing Director, Mr. Yoichiro Ueno, HMSB Managing Director & Chief Executive Officer, Dato' Sugumaran, Vimal Auto-Liner Dealer Owner,Mr. S. Vimal, Vimal Auto-Liner Director