Petaling Jaya,1 April 2009 - Honda Malaysia Sdn Bhd today announced the appointment of Toru Takahashi as Managing Director and Chief Executive Officer with immediate effect.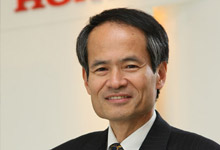 Honda Malaysia's New MD & CEO,
Mr. Toru Takahashi.
Takahashi, 55, previously a Manager in the Automobile Department, Overseas Operation at Honda Motor Co.,Ltd. Tokyo, Japan, will succeed Atsushi Fujimoto, 46, who will assume the post of Managing Director of Honda Automobile Thailand Co.,Ltd.
"I am very happy and excited to be posted in Malaysia and I look forward to work closely with our business partners here in Malaysia to achieve Honda's principle of providing products at the highest quality with a reasonable price; to achieve Customer Satisfaction No.1 in Malaysia." said the cheerful new Managing Director and Chief Executive Officer, Mr. Toru Takahashi.
The versatile and accomplished Takahashi has more than 30 years of experience in Honda ever since 1977. His distinctive and diversified portfolios within Honda made him a solid Honda personage.
Takahashi played vital roles in the Sales and Marketing department of different businesses such as automobiles, motorcycles and power products across various regions.
Takahashi also brings with him a wealth of experience in the global automotive industry, having served markets outside Japan like Asia Oceania, North America, The Middle East and Africa. He was also posted to assume key positions in United States and Vietnam.