Malacca, 19 July 2012 – Honda Malaysia Sdn Bhd today announced that it would be producing hybrid vehicles locally. The announcement was made by Mr. Hiroshi Kobayashi, President and Chief Executive Officer of Asian Honda Motor Co., Ltd. at the Foundation Stone Laying Ceremony of its No. 2 Line at Honda's Pegoh Plant in Alor Gajah, Malacca. When the first hybrid rolls out of its plant later this year, Honda will become the first non-national automotive manufacturer in Malaysia to locally produce hybrid vehicles. Currently, Honda produces its hybrid vehicles only in Japan and the US.
The historic ceremony was graced by guests-of-honour, Datuk Seri Haji Mohd Ali bin Mohd Rustam, Chief Minister of Malacca and Dato' Sri Mustapa bin Mohamed, Minister of International Trade and Industry (MITI).
In his welcome speech, Mr. Yoichiro Ueno, Managing Director and Chief Executive Officer of Honda Malaysia lauded the support by the Malaysian government in promoting green technology among industry players. "Honda's growth and strong presence here in Malaysia would not have been possible without the partnership and support of the government and people of Malaysia. We have nurtured a strong working relationship with the government, our suppliers, dealers and customers. I would like to reiterate our firm commitment towards our business here in Malaysia as we strive to become a company that Malaysians would be proud to have in this country."
Honda Malaysia has been manufacturing vehicles locally since 2003. The expansion of its production line to manufacture hybrid models is a natural progression in line with the increasing demand for advanced, clean and fuel-efficient vehicles in Malaysia.
Mr. Kobayashi shared his joy to be able to participate in this significant event. "We will start local production of the Jazz Hybrid at the Malacca Plant by the end of this year. Due to Asia's fast growth and diverse markets, Honda will accelerate efforts throughout our regional operations to achieve Honda's 2020 vision. Southeast Asia in particular holds a very important position for Honda's global business. With a huge population, strong GDP growth and spending power, the demand for passenger vehicles in this region has grown tremendously in the past 10 years. We want to keep on creating products that maximize the joy of our customers, with speed, affordability and low CO2 emissions in these markets."
Honda is the pioneer in bringing hybrid technology to Malaysia, introducing the first hybrid vehicle to Malaysians back in 2007. With the move to produce hybrid vehicles locally, Honda is once again leading the way in the introduction of higher value technologies to Malaysians.
Honda Malaysia is investing RM350 million for the expansion, which includes building, equipment and facilities. The new No.2 Line is scheduled to begin operations by the fourth quarter of 2013 and will be able to produce 100,000 units annually. When both the production lines are up and running, Honda Malaysia will be able to produce up to 800 vehicles per day, double its current output.
Hybrid vehicles will be produced at its No. 1 Line while the new No. 2 Line is specially built to increase Honda's ability to meet the Malaysian market demand for compact vehicles. Both the current and the new No. 2 Line will have the capability to produce multiple models and to quickly and efficiently shift production as required. In pursuit of Honda's "Green Factory" concept, the No.2 line will continue to adopt a more efficient and environment friendly manufacturing operation.
The expanded factory will occupy a total space of 8.48 million square metres when it is completed; almost double the 4.32 million square metres of its current size. Mr. Ueno continued, "With this expanded factory, we are making investments to bring in state-of-the-art technologies as well as other investments. There will also be a transferring of technology such as with the installation of the latest state-of-the-art General Welding equipment. This is a demonstration of our commitment to continue providing products of the highest quality to our customers in Malaysia, which is reflected in our achievement of the No.1 ranking in the Initial Quality Study (IQS) award for the past 5 consecutive years."
Mr. Ueno added that this investment would also be able to create more jobs for Malaysians. When the expansion at the Malacca Plant is completed and begins full operations next year, Honda Malaysia expects to employ 700 new associates.
Honda Malaysia believes that cost competitiveness is critical to success in this country. Together with its plant expansion, it is also widening its local supplier network to increase the parts content sourced in Malaysia. Currently, Honda Malaysia sources about 40% of the completely knocked-down (CKD) vehicles components locally and plan to further increase the local content.
The expanded Pegoh Plant in Malacca will assemble (CKD) models such as the City, Civic, Accord, CR-V and the first hybrid model, the Jazz Hybrid.
The expanded factory is complemented by the recently built RM40 million Pre-Delivery Inspection Centre (PDI) and Vehicle Quality Test Course which was commissioned on 7 July 2012. The new Vehicle Quality Test Course is designed with different dynamic testing zones and road conditions, which will be able to fully test two new vehicles per session. Earlier this year, Honda Malaysia officially opened their new warehouse to provide better support to its dealers.
Mr. Ueno added that parallel to the expansion and introduction of new models, Honda Malaysia is also looking to increase its dealer network throughout Malaysia, to up to 90 dealers by the end of 2015.
With the newly expanded factory, Honda Malaysia reaffirms its commitment to deliver its products on time and continue to excite Malaysians with an exciting line up of advanced models, for both the petrol and hybrid range.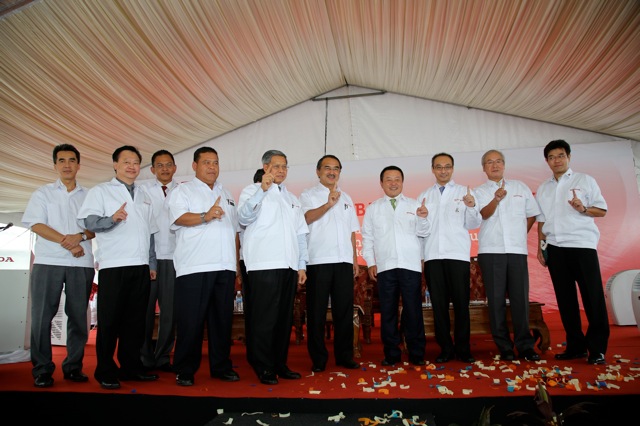 Group photo of VIPs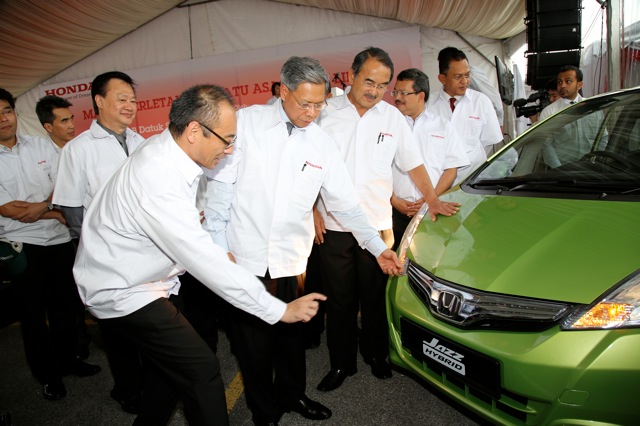 Ueno explaning the hybrid technology to the guests-of-honour
(From Left) Mr. Yoichiro Ueno, Managing Director & Chief Executive Officer of Honda Malaysia;
Dato Sri Mustapa Mohamed, Minister of International Trade & Industry (MITI);
Datuk Seri Hj. Mohd Ali Bin Mohd Rustam, Chief Minister of Melaka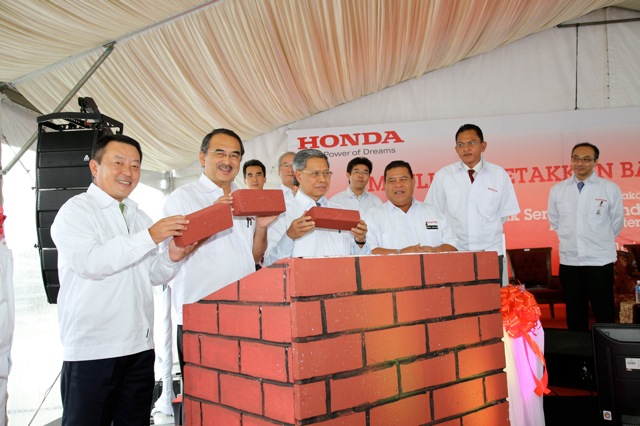 Foundation stone laying ceremony for No.2 Line by VIPs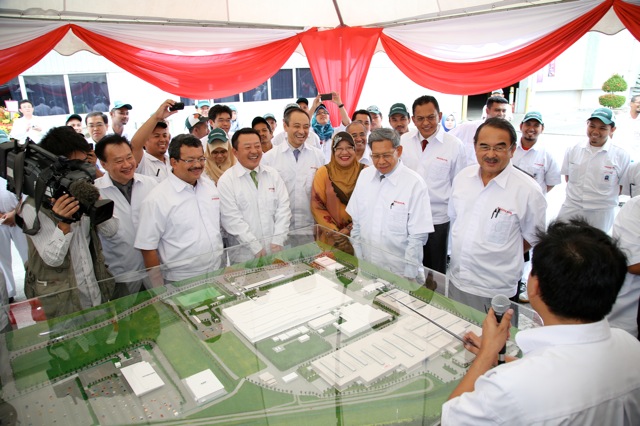 VIPs being briefed by a Honda associate on the Pegoh Plant expansion plan