Petaling Jaya, 28 September 2012 – Tenaga Setia Resources Sdn. Bhd., a Honda 3S dealership established in 2002 and previously located at Jalan 222 has today upgraded to a full-fledge 4S Centre offering Sales, Services, Spare Parts and Spray Painting under one roof. Tenaga Setia Resources invested RM28.5 million into its expansion and relocation at Seksyen 51 with the aim to continue providing more efficient and effective services to its customers.
"The upgraded and expanded Honda 4S centre is truly a one-stop centre. Our aim is to provide quality services and products to our customers. We also want to ensure that our customers are happy, comfortable and satisfied when they visit our centre every time. The new building now has a bigger area for operations and customers parking. With this new 115,853 square feet 4S Centre, our customers can look forward to an improved Honda experience," said Mr. Yeap Swee Chuan, Managing Director of Tenaga Setia Resources Sdn. Bhd.
The official opening ceremony was attended by Honda Malaysia Managing Director and Chief Executive Officer, Mr. Yoichiro Ueno who was the guest-of-honour, and also many working partners and long-time customers of Tenaga Setia Resources Sdn. Bhd.
In his congratulatory speech, Mr. Ueno said, "The upgrade, expansion and relocation of Tenaga Setia Resources to this new, spacious and strategic location shows their dedication to constantly improve in order to better serve their customers in the Klang Valley. I commend Tenaga Setia Resources for the efforts that have been put to improve the facilities and to incorporate a body and paint centre. On behalf of Honda Malaysia, I would like to thank Tenaga Setia Resources for their commitment towards Honda."
Selangor and Kuala Lumpur are the biggest market for the Honda brand. In the recent record breaking sales for the month of July 2012, Kuala Lumpur and Selangor accounted for 50% of the overall sales. Mr. Ueno attributed the achievement to contributions and hard work from successful dealerships such as Tenaga Setia Resources.
"Honda Malaysia is also looking to increase more 4S dealerships in Malaysia to serve our customers efficiently and effectively. Our goal is to attain Lifetime Ownership Loyalty (LOL) with every Honda customer by providing them the most excellent customer service in a consistent manner and to keep on improving our service level. I believe that the persistent efforts from Tenaga Setia Resources to improve will help to achieve this shared goal," Mr. Ueno added.
The 4S concept includes Sales, Services, Spare Parts and Spray Painting. It is an essential component of Honda Malaysia's policy of prioritising customer satisfaction while creating an enjoyable ownership experience for customers. Honda believes that a life-long relationship with the customer is forged when a purchase is made. Hence, it is of utmost importance for Honda to develop these relationships by consistently providing excellent services that are of the highest quality.
Since its establishment, Honda Malaysia has been working closely with its dealers to improve their services by acquiring a 3S or 4S status that provides a total package of service and convenience to customers nationwide. To date, there are a total of 61 Honda Dealers around Malaysia, 56 of which operate as Honda 3S Centres while 5 of them have been upgraded to 4S Centres.
For appointment and operating hours, customers can contact Tenaga Setia Resources at 03–7784 8211 (Sales), 03-7784 8311 (Service) and 03-7784 8511 (Body and Painting) or log on to www.honda.com.my for more information.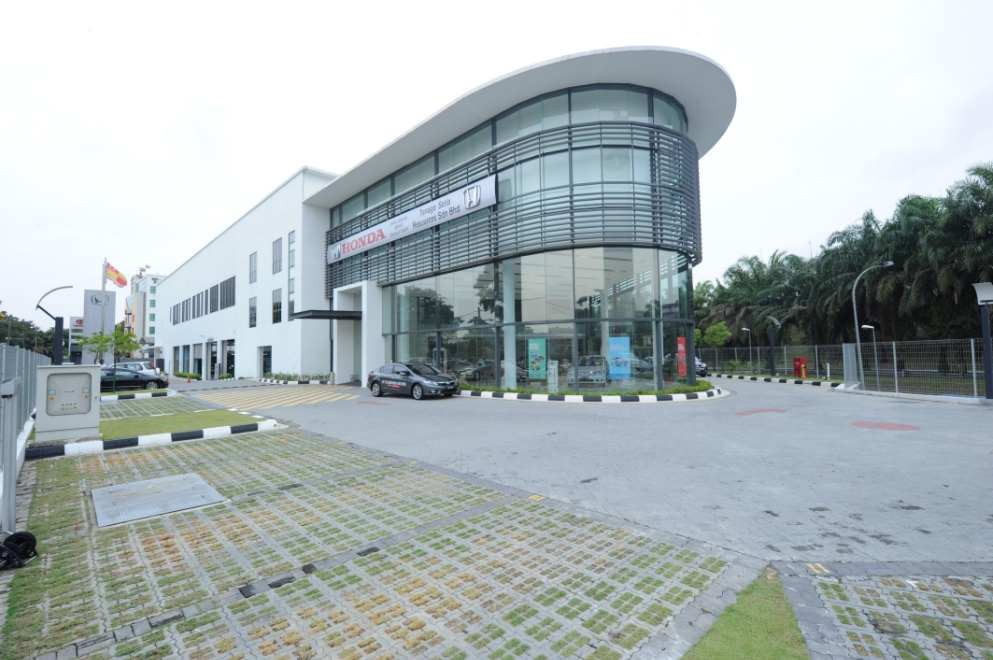 The latest Honda 4S Centre in Section 51, Petaling Jaya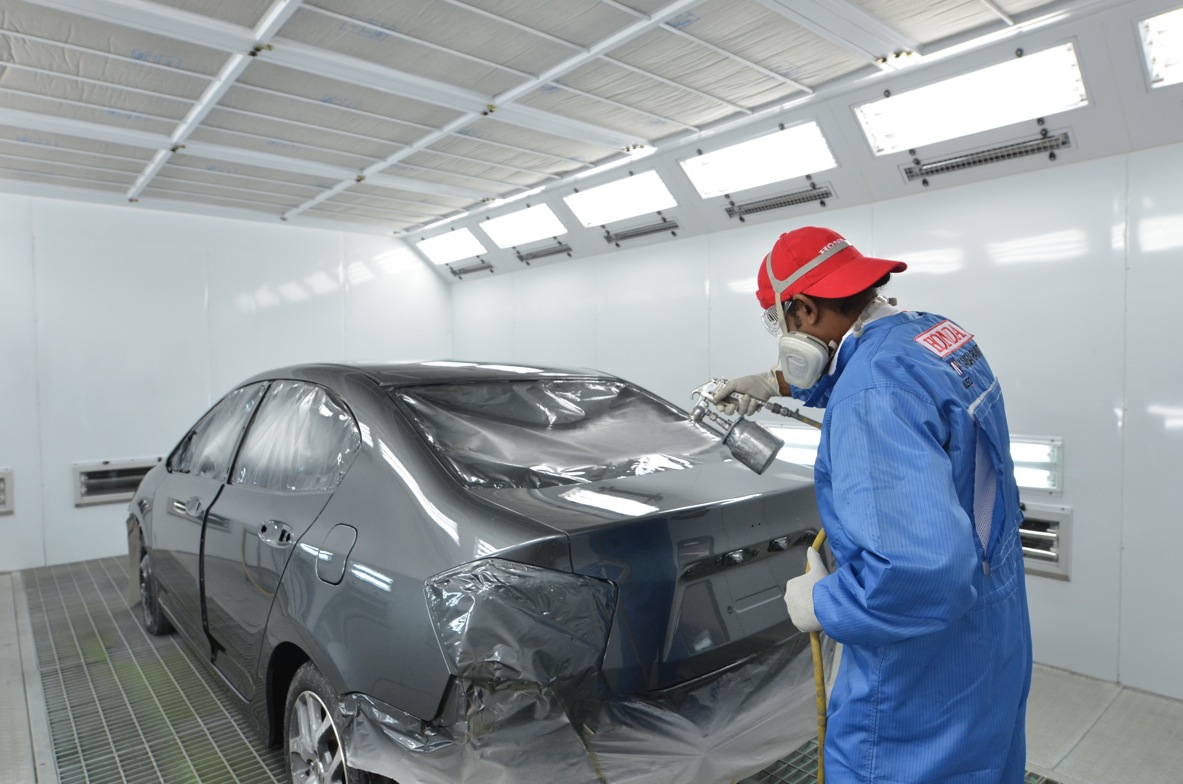 Technician at work at the new Body and Paint centre at Tenaga Setia Resources Honda 4S Centre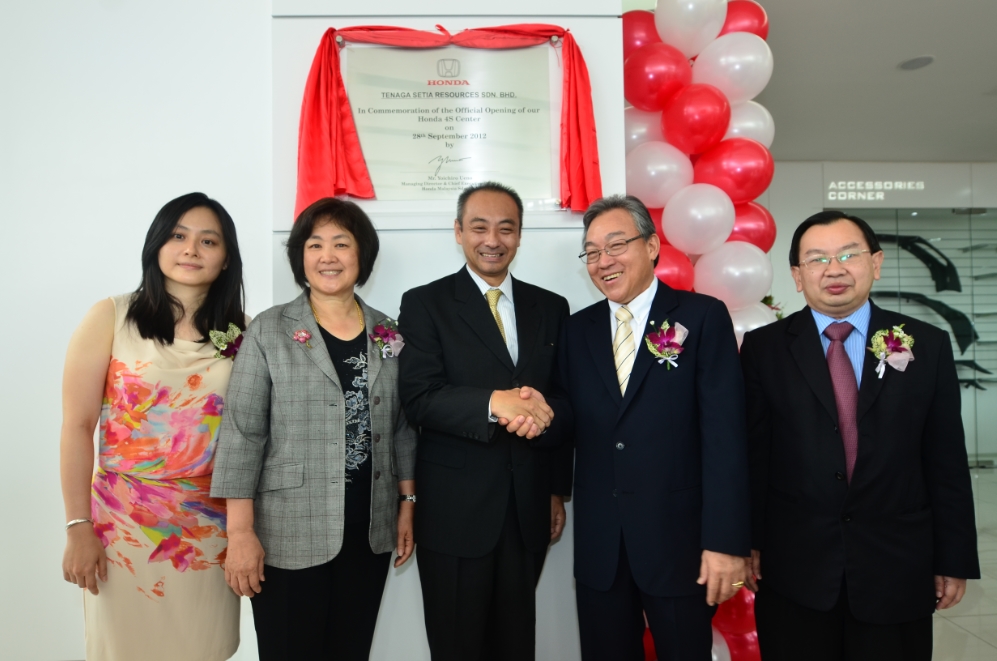 Mr. Yoichiro Ueno, MD & CEO of Honda Malaysia congratulating Mr Yeap Swee Chuan, MD of Tenaga Setia Resources Sdn Bhd during the group photo.
(L-R) GM of Tenaga Setia Resources Ms. Koh Tang Kim, Executive Director of Tenaga Setia Resources Madam Teo Lee Ngo and Thailand's Minister and Deputy Head of Mission to Malaysia Mr. Songsak Saicheua