Petaling Jaya, 1 July 2010 - It is time to "Experience Honda 3S Campaign" again! Honda Malaysia today announced the start of its three (3) months customer reward campaign for this year effective from 1 July until 30 September 2010. The campaign, which is participated by all authorised Honda dealers aims at rewarding existing Honda owners and potential customers from routine maintenance, test-drive to sales and after-sales experience.
"Honda's 3S Campaign is part of our continuous effort in striving to achieve Customer Satisfaction No. 1. In line with Honda's commitment in providing customers with products and services of highest quality yet at reasonable prices, the campaign is about rewarding our customers, while enhancing their experiences when they visit any authorised Honda dealers," said Mr. Toru Takahashi, Managing Director and Chief Executive Officer of Honda Malaysia.
During the campaign period, buyers of Accord 2.0 VTi and 2.4 VTi-L will be offered one of the two (2) package options: free extended service and maintenance (for the first 30,000km or 18 months, whichever comes first), or a free navigation system (Garmin GPS).
On top of that, existing customers will also enjoy 25% savings on spare parts. Those who spend more than RM300.00 and above in a single bill at the Service Centre will be given service vouchers.
Car accessories enthusiasts will also get their hands on Connex SVR (Stolen Vehicle Recovery System) that is compatible with City, Civic, CR-V and Accord with first year subscription fee waived. The subscription fee is worth RM 360.
Throughout the three months campaign, exclusive Honda merchandise will be given away to those who test-drive or service their vehicles at any authorised Honda dealers.
The 3S (short for Sales, Service and Spare Parts) concept is known to be a constituent part of Honda Malaysia's commitment towards achieving Customers Satisfaction No.1. High importance has been placed in not just sales but also after sales services as Honda believes that when a customer purchases a Honda car, a life-long relationship is forged.
Everyone is invited to visit any authorised Honda dealer nationwide today to check out the exciting offers. For more information, please call Honda's toll free number at 1800-88-2020 or log on to www.honda.com.my.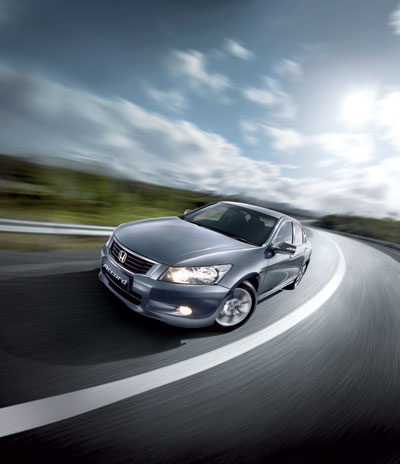 Potential Accord owner may opt for an extended maintenance service
or a Garmin GPS during Honda 3S Campaign period