Pegoh, Melaka, 26th May 2010 - Honda Malaysia Sdn. Bhd. (Honda Malaysia or the Company) recently presented 1 unit of 8th Generation Accord 2.0 VTi to Advanced Technology Training Centre in Alor Gajah, Melaka (ADTEC Melaka), for training purposes. The gesture was marked by a modest handover ceremony that signified the Company's dedication to help nurturing future talents for the automotive industry.
"Automotive manufacturing is mainly an experiential engineering. One cannot make cars referring to only theory or what is written in the book. Technological innovation never stops evolving. It is our passion to help expand the spectrum of automotive education among younger generation with real-life technology. That is why we continuously work with institutes of higher automotive learning to better equip our younger generation with the necessary technical know-how," highlighted En. Azhar Abdul Wahab, Senior General Manager of Manufacturing in Honda Malaysia.
He also added that "The Accord 2.0 VTi presented to ADTEC Melaka by Honda Malaysia is mostly an aid for the students in their practical training. Through closed-up examinations, they will be able to acquire knowledge about the technology of the car, especially its advanced safety features."
ADTEC Melaka or also known as Pusat Latihan Teknologi Tinggi Melaka is a technical skills training centre. Fully governed by the Department of Manpower under the Minisitry of Human Resources, ADTEC provides 70% hands on training and 30% theoretical education for its trainees.
Focusing on providing formal technical training for SPM/SPMV and SKM students, ADTEC Melaka provides an avenue for those who aspire to become qualified skilled workers in fields that involve the use of advanced technology, which is mushrooming alongside global modernisation and technological revolution.
Representing ADTEC was En. Mohd Zabidin Bin Abd Samad, Director of ADTEC acknowledged the generosity shown by Honda Malaysia while remarked that Accord would be a useful tool to help upgrade knowledge and skills of the students and lecturers in the institution.
Honda Malaysia had previously donated one unit of 1st Generation Civic Hybrid to The Otomotif College in Petaling Jaya.
About Honda Malaysia
Established in Malaysia in 2001, Honda Malaysia has since been serving the Malaysian market faithfully. Offering an array of admirable product, Honda now offers 9 models in its admirable product line-up, which includes City, Civic, Civic Type R, Civic Hybrid, Accord, CR-V, Stream, Jazz and Odyssey. Supported by 58 authorised Honda dealers, the Company is set to deliver customers in Malaysia with products, sales and after sales service of the highest quality. Honda Malaysia has served more than 200,000 customers since inception.
About ADTEC Melaka
Advanced Technology Training Center or ADTEC Melaka is one the vocational training institutes under Human Resource Department, Ministry Of Human Resources. ADTEC was established with the mission to provide a formal vocational training to SPM/SPMV holders as well as Malaysian Vocational Certificate (SKM) holders. We provide vocational training in 5 technical courses, which include Diploma in Computer Technology (System), Diploma in Mechatronic Technology, Diploma in Production Technology, Diploma in Telecommunication Technology and Diploma in Automotive Technology.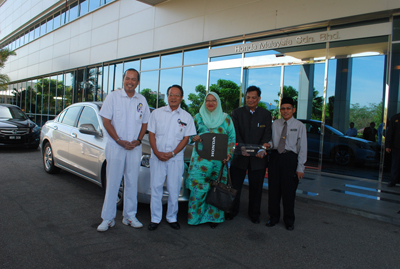 From left, En.Azhar Abd Wahab (SGM of Honda Malaysia), Mr.Ikuo Kanazawa (former VP of Honda Malaysia), Y.B Datuk Latipah Omar (Adun Taboh, Naning), Mr.Zabidin Abd Samad (Director of ADTEC) and Haji Zulkifli Mohd Tahir (Penghulu Taboh, Naning) during the handover ceremony.