• Honda Malaysia heads to 4 primary schools in Kedah from 25th to 28th April 2010 to educate more than 850 students on the urgency of environmental conservation.
• Honda Malaysia hopes to instil the love for Mother Nature in our future generations.
• To date, Honda Malaysia has reached out to more than 8,800 primary school students in 8 states all over Malaysia.
Kedah, 27 April 2010 - The red warning signal for Mother Earth is flashing urgently! Global warming is a reality facing humankind. Honda knows very well that developing simple and seemingly small habits such as turning off the tap when brushing teeth, using less paper and recycling means a lot to the Earth. These actions will help to ensure that the variety of life on Earth have a better place to live in.
This is the reason why Honda Malaysia continues its crusade to raise awareness on caring for the environment and living in harmony with Mother Nature. One of the species that is fast losing its home and is critically endangered is the shy Sumatran Rhino. We are racing against time to save these animals and prevent them from losing their homes forever.
Using the critically endangered gentle giant which is unique to Malaysia and Borneo, Honda Malaysia is once again travelling to 4 schools to increase the awareness amongst students regarding environmental conservation and Sumatran Rhinos via school talks. More than 850 students from SK Jalan Datuk Kumbar, SK Langgar, SRJK (C) Sin Kwang and SK Sungai Petani are expected to attend this educational and informative environmental talk.
At the school talks, Honda organised exciting and interactive activities that involved visual presentations, footages of Sumatran Rhinos and on-the-spot quizzes. The quizzes focus on what students can do to help the environment in their daily lives and to instil in them the desire to be more proactive in doing their part in improving and conserving the environment.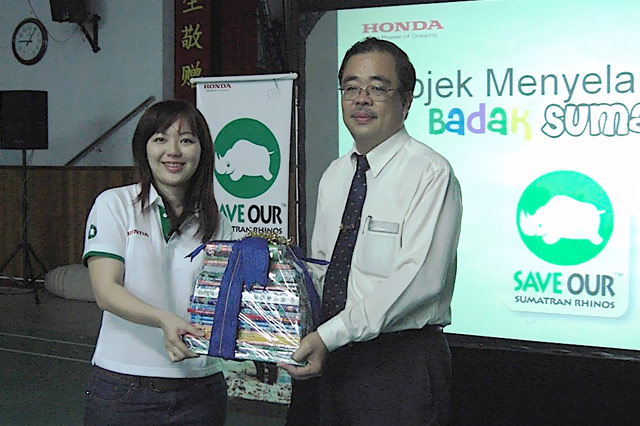 A token of appreciation presented by Josephine Teoh, Advertising & Promotion Executive of Honda Malaysia to the Headmaster of SRJK (C) Sin Kwang.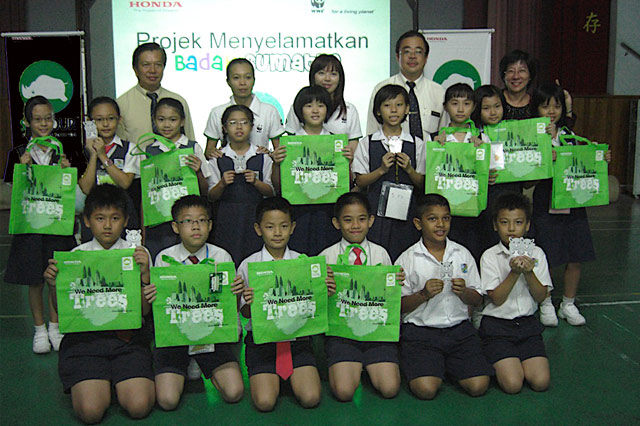 Students and teachers of SRJK (C) Sin Kwang with the team from Honda Malaysia.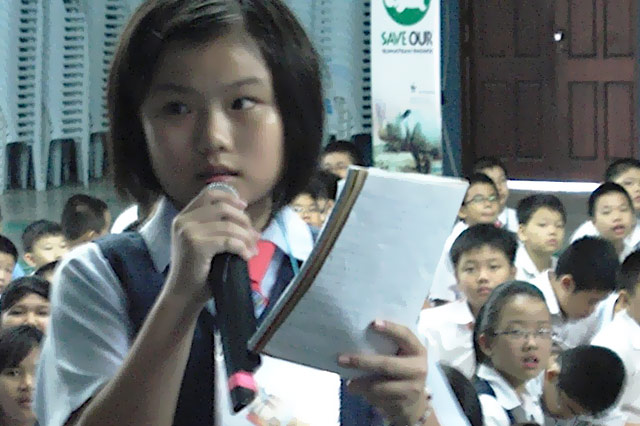 A student giving her thoughts on conserving the environment during the quiz session.
Honda Malaysia Managing Director and Chief Executive Officer, Mr. Toru Takahashi said, "This is the 5th year since Honda Malaysia embarked on this project. We are committed to the caring and preservation of the environment, and will continue to nurture the younger generation's love for the environment. These students are our future leaders and will inherit the Earth. It is our responsibility to educate and encourage them to be more environmental friendly at a young age."
Since the beginning of 2007, Honda Malaysia has made it a point to spread awareness and educate the young generation through school talks. The team has visited 48 schools in Klang Valley, Penang, Johor, Malacca, Kuantan, Ipoh, Perlis and Kedah under this project. Just one week before reaching Kedah, the team was in Perlis, talking to nearly 550 students from 4 schools. To date, Honda Malaysia has reached out to more than 8,800 Standard 4 and 5 students with the simple message that they too can play an important role to help preserve the environment.
In addition to this ongoing effort, the company also organised an Essay and Photo Contest titled "Environment & I" in year 2008, which received overwhelming support with almost 620 entries from the schools. Besides, many fun interactive games such as, Save the Sumatran Rhino roadshows, "Nature Quest" online game contest and "Save the Rhino's Home" nationwide on-ground contest were held to motivate our children to learn more and be aware of our environment. More information can be found at Honda's website, www.honda.com.my/rhino
This project is part of Honda's long-term commitment to the environment as it strives to become a company that society wants to exist. Another Honda's corporate social responsibility programme is the Honda Dreams Fund, which is a non-binding scholarship to support underprivileged students to pursue a higher education and skills training.
About Honda's Involvement in Save Our Sumatran Rhino Project
Honda together with WWF-Malaysia has initiated and committed to a 5-year project to save the Sumatran rhinos, the nation's most endangered animal. Honda Malaysia has pledged a contribution of RM5 million to WWF-Malaysia to enable WWF-Malaysia to further strengthen the Sumatran Rhino conservation efforts. The project also aims to raise awareness and educate the future generation and Malaysian public on environmental and conservation issues through various activities.