Kuala Lumpur, 22 April 2010 - The much-awaited premium compact MPV (multipurpose vehicle) has finally reached Malaysian shores after it hit the Japanese market with great success on its debut. Proudly presented by Honda Malaysia Sdn. Bhd. (Honda Malaysia or the Company), the All-New Freed seeks to add greater value to the Malaysian market in this new market segment categorised as premium compact MPV.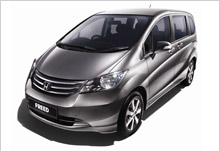 All-New Freed in Polished Metal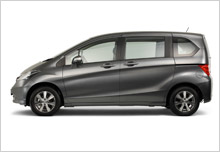 Side view of the All-New Freed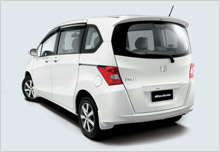 All-New Freed with Modulo
Unveiled by Managing Director and Chief Executive Officer of Honda Malaysia, Mr. Toru Takahashi, the launch was also witnessed by Mr. Yukihiro Aoshima, President Director of Honda Prospect Motor (HPM), Jakarta, Indonesia, where the All-New Freed is manufactured, as well as Mr. Isao Ando, Project Leader of the All-New Freed of Honda R&D Co., Ltd.
Poised to be a smart choice that is complete with practicality, performance and style, the Freed particularly appeals to professional urbanites with young families.
"An MPV no longer serves functional purposes alone. Car owners, especially young parents today expect an MPV of their choice to be a complete package of practicality, performance and style. The All-New Freed would suit them to a tee." said Mr. Toru Takahashi in his address.
He added, "Driven by its marketing theme of 4 SEATER + IDEAS, the All-New Freed is a premium compact MPV that offers a comfortable ride for 7 passengers. As versatile as it is, the third row of passenger seats can be converted into additional cargo space to meet endless possibilities and needs of its occupants. In fact, the All-New Freed expounds more ideas for owners on how they could make the most out of their ride, be it for a family day out on the beach or a round of golf."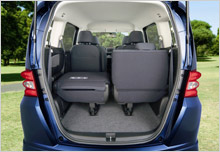 3rd Row Foldable Seats for extra passengers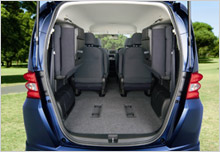 3rd Row Foldable Seats for extra cargo space
Cargo space for all your recreational needs
When expounding on the exterior design, Mr. Isao Ando, the Project Leader from Honda R&D Co. Ltd. explained in his speech, "Developed based on the triangle-square form concept, the All-New Freed features an aerodynamic triangle-shaped front, a powerful one-motion silhouette that highlights an energetic sharp character line. The square-shaped cabin maximises the use of space for greater comfort."
An urban mover, the premium compact MPV exceeds customers' expectations with a string of notable and unprecedented features. The All-New Freed incorporates some of the best-in-class specifications including dual automatic sliding doors, flat floor design and a walkthrough cabin; the stylish carrier is clearly distinguished from its peers in the market.
The dual automatic sliding doors are designed for easy access in tight parking lots. The sliding doors are also equipped with anti-pinch sensors that reverse the closing process when an obstacle is detected.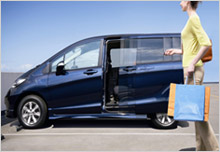 Automatic sliding doors with remote control
The roomy cabin features a low flat floor design and a high flat roof, a great way to maximise space and headroom for higher comfort level, while the theatrical seating position increases visibility for all passengers.
The ingenious walkthrough cabin design makes it easier for passengers to manoeuvre from the first row to the third row. During a long journey, such convenience and comfort is necessary, especially for the little ones.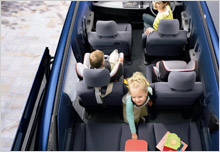 4 SEATER + SPACE
Walkthrough cabin top view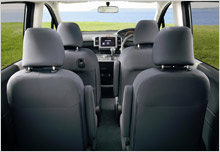 Walkthrough cabin with tiered theatrical seats
The one step low floor and grip assist would help the elderly and children step up and down easily.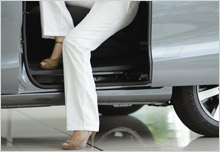 One step low floor
In terms of practicality, the seats on the third row are foldable for extra loading capacity when needed. A flexible and accommodating ride, the Freed can seat up to 7 people comfortably. For smaller families, the All-New Freed would be a joy ride for 4 people, along with 4 golf bags, or equipments and rations for an outdoor trip, or even 3 pieces of large baggage in the 3rd row. The low tailgate opening makes loading and unloading cargo a breeze.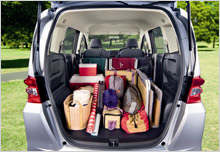 Cargo space enough for an outdoor trip...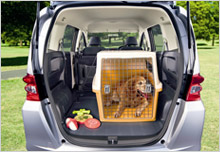 ...or to fit your beloved pet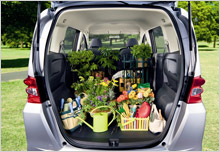 Perfect for every hobbyist
There is ample storage space, including centre tray, glove compartment, door pockets, backseat hook and seven (7) cup holders spread out conveniently in easy-to-locate places.
Cup holders on the dashboard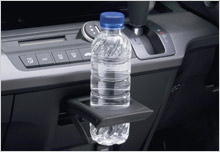 Cup holder on the centre console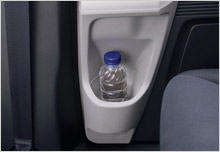 Cup holders on the sliding doors
This stylish and contemporary looking compact MPV houses the renowned 1.5L i-VTEC engine under its hood. Capable of producing 118PS at 6600rpm for maximum power and 146 Nm at 4800rpm for maximum torque, the 4-cylinder, 16-valve SOHC engine is one of the better-known technologies in the industry. The i-VTEC engine is known to produce a perfect balance between power and fuel economy.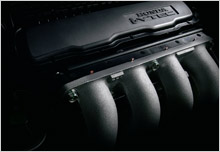 1.5L i-VTEC engine
The engine is also fitted with ecological solutions that include an airflow meter and linear air fuel ratio sensor as part of the Honda's mission to reduce its product's impact on the environment. It also meets the EURO 4 emission standards.
The All-New Freed engages a 5-Speed Automatic Transmission (5AT) and a Drive-By-Wire (DBW) torque control system, which guarantees a smoother ride.
In the safety aspect, the All-New Freed scores 6 stars in the JNCAP crash tests for both the driver and passengers. The proprietary G-Force Control Technology (G-CON) helps disperse the crash impact across the body frame while the advanced compatibility engineering (ACE) gives better crash compatibility with other cars, thus minimising injury.
Other safety features available on the All-New Freed are ABS (Anti-lock Braking System), EBD (Electrical Brakeforce Distribution), BA (Brake Assist) and Grade Logic Control embedded in the Shift Hold Control. The latter reduces the shift of extra transmission during cornering.
Available in Brilliant White, Polished Metal and Crystal Black, the different colours of the All-New Freed exude a universal confidence and vibrancy.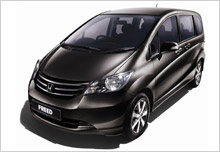 All-New Freed in Crystal Black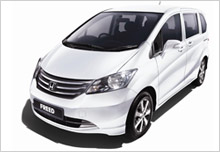 All-New Freed in Brilliant White
Looking for more cargo space without having to compromise your requirement for style? Sleek and stylish, the All-New Freed is poised to be one of the smartest choices among other compact MPVs available in the market. Test drive the premium compact MPV now at your nearest authorised Honda dealer and you will get practicality, performance and style, all in one package.
For more information, please call 1800-88-2020 or visit www.honda.com.my or www.4plusideas.com