Petaling Jaya, April 19, 2010 – Honda Malaysia Sdn. Bhd. (Honda Malaysia or the Company) today announced that the Company will end sales of the popular 4-Door Civic Type R following the announcement from Honda Motor Co., Ltd, Japan.
Honda Motor Co., Ltd. will discontinue production of the 4-door Civic Type R at the end of August, 2010. Malaysia is the only country outside of Japan to make available the 4-Door Civic Type R.
Mr. Toru Takahashi, Managing Director and Chief Executive Officer of Honda Malaysia said, "We are proud that the Civic Type R has fulfilled its mission of providing the joy of driving and joy of ownership to its many customers in Malaysia. However, having evaluated the model based on environmental performance, which is the new method of calculating emissions in JC08 mode, as well as current market demands, we believe that the time has come for us to discontinue production of the 4-Door Civic Type R."
The 4-Door Civic Type R was introduced to the Malaysian market in August 2007 to fulfil the demands of the market. The Type R is in a class of its own, having achieved cult status with a huge following in Malaysia, whether directly or indirectly.
Since its introduction, close to 12,000 units have been sold in both Japan and Malaysia. To date, Honda Malaysia have sold 234 units of the 4-Door Civic Type R (August 2007 – March 2010).
At this moment, customers in Malaysia can still place orders for the Civic Type R at any authorised Honda dealer. The 4-Door Civic Type R is priced at RM199,800.

Going forward, Honda remains committed to performance cars which provide the joy of driving to its customers. The benchmark has been brought a notch higher now as Honda seeks to produce cars that not only meet the demand for performance, but also environmental responsibility.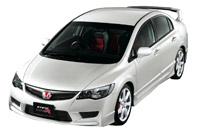 4-Door Civic Type R.