Putrajaya, 11 March 2010 - Honda Malaysia Sdn. Bhd. (Honda Malaysia or the Company) today unveiled the new CR-V with a refreshing makeover. Designed for drivers with urban active lifestyles, males and females alike, the new CR-V has been meticulously upgraded to reveal the fun and functions of a sport utility vehicle (SUV).
"When CR-V first made its debut in 1995, it created a new market segment, a niche that was unheard of. Breaking through the market acceptance with a vehicle that is good for both professionals as well as outdoor enthusiasts, the CR-V has gone through three full cycles of revolution," said Mr. Toru Takahashi, Managing Director and Chief Executive Officer of Honda Malaysia.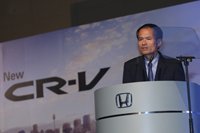 He further added that: "Since its launch in 2007 in Malaysia, the 3rd Generation CR-V has sold more than 13,000 units. It has since been a leading model in the SUV market segment commanding approximately 30% of market share."
In addition to the much appreciated practicality and cargo space of a SUV, the premium sporty ride is known to offer sedan-like driving dynamics and comfort. The CR-V promises drivers with total control when manoeuvring from its high viewpoint driving position.
Powered by 150-horsepower 2.0-litre i-VTEC (Intelligent Variable Valve Timing and Lift Electronic Control), and coupled with a 5-speed automatic transmission, the new CR-V now covers advanced safety features, newly styled exterior as well as refined driving comfort.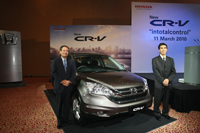 The new CR-V now comes with side airbags with OPDS (Occupant Position Detective System) for driver and front passenger, the first SUV in its class to introduce such addition, elevating the safety standard of SUVs in this segment one notch higher.
Further equipped with Vehicle Stability Assist (VSA), CR-V now offers a more stable and sturdier drive.
Unleashing a more sharply defined exterior, the new CR-V now has a redesigned hood, upper and lower front bumper, revealing a new urban taste. While the more refined curves and lines aim to improve the overall aerodynamics of the vehicle, which result in greater fuel efficiency, the newly designed fog lights improve night illumination better.
Looking edgier than ever, the refitted front grille, redesigned alloy rims as well as a restructured bumper, uncover a deeper streak of vigour and charisma. Now, fitted with a new lens reflector, the overall visibility of the driver has been greatly enhanced.
In the rear, the CR-V now comes with four (4) sensors, offering greater sensitivity in obstacle detection, thus making reversing more secure and safe.
Stylish on the outside, comfortably finished on the inside, the interior of the new CR-V is now adorned with new fabric along with a wider armrest. It now has a USB port too!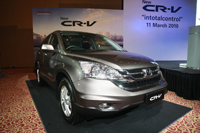 Urban Titanium, a new colour in the colour choice, definitely captures a tint of rugged sportiness in the sporty ride. The rest of the colours available are Alabaster Silver, Polished Metal, Crystal Black and Taffeta White.
For those who have been seeking for a ride that blends well with their charisma and fun-filled nature, head over to the nearest Honda authorised showroom for a test drive. Booking starts today.
For more information, please call 1800-88-2020