Petaling Jaya, 12 April 2010 - Honda Malaysia Sdn Bhd ("Honda Malaysia" or the "Company") announces bouyant month as its March sales hit 4,041 units, the highest monthly record in the Company's history. Merely three months into the new year, Honda Malaysia has already hit 25% of the annual target of 40,000 units.

"It is indeed a pleasure for us to be reporting good news to the public. Thanks to our customers, Honda products remain a choice of great value. Such encouraging sales record would surely drive us harder in providing the best for our customers," remarked Mr. Toru Takahashi, Managing Director and Chief Executive Officer of Honda Malaysia.

He further added, "We would like to assure our customers that we will do everything we can to keep our vibrancy in the market, and to give our best, despite the adverse situation. Honda will continue to excite the market whenever possible."

The catalyst for the good performance was said to be the well received City, which recorded 43% of the total sales, with more than 4,000 units of booking locked in. It has only been a month since its unveiling in March, the newly facelifted CR-V has already made an impression in the market. It has sold 556 units, 59% more than its preliminary sales target of 350 units, while 1,600 of bookings are in the line.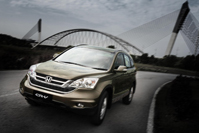 The new CR-V has sold more than 556 units in its first month, approx. 60% beyond its monthly target.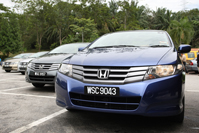 City has been well received ever since for its best-in-class practicality, performance and style.
The ever charming Accord and Civic have also respectively contributed 19% and 18% to the total sales. CBUs models such as Jazz and Stream's sales stood at 6%.

The Company is looking forward to expanding its existing line-up to include the All-New Freed, a new compact premium MPV. Expected to hit the Malaysian shores on 22 April, the new addition would create a brand new segment - premium compact MPV.

Introducing the All-New Freed is Honda Malaysia's effort to provide more options for its customers, while adding greater value to the Malaysian market.
| | |
| --- | --- |
| Model | Sales in March 2010 (unit) |
| City | 1,752 |
| Civic | 718 |
| Accord | 766 |
| CR-V | 556 |
| Jazz | 110 |
| Stream | 103 |
| Civic Hybrid | 18 |
| Civic Type R | 18 |
| TOTAL | 4,041 |
Figure 1: Total sales breakdown by models for the month of March, 2010.

Following the great head start marked in first quarter, the Company is confident that it will achieve its annual sales target of 40,000 units.