Kuala Lumpur, 4 November 2009 - Honda Malaysia Sdn Bhd today unveiled its facelifted Stream RSZ, which flaunts vigorous yet practical exterior refinements, as well as some aesthetic finishing in the interior. Built for families and styled for singles, the sporty multipurpose gevehicle (MPV) has gone through a meticulous refinement.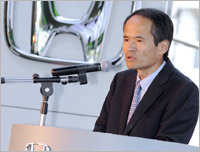 Toru Takahashi
Toru Takahashi and Rohime Shafie, President & Chief Operating Officer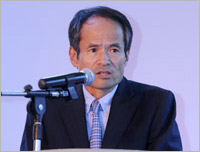 Toru Takahashi speaking at the launch
Stream RSZ is well known for its performance and drivability, versatility as well as dynamic exterior design. Built for families, styled for singles, Stream RSZ has since expounded the subliminal meaning of MPV ownership.
Since its official launch in November 2007, Honda Malaysia has sold more than 2,000 units of the 2nd Generation Stream, of which 352 units were Stream RSZ.
Runs on a 1.8 i-VTEC engine with Drive-by-Wire (DBW) and a 5-speed automatic transmission (5AT), the new Stream RSZ guarantees a powerful and smooth driving performance, which gives responsive acceleration and low fuel consumption.
Speaking at the launch, Mr. Toru Takahashi, Managing Director and Chief Executive Officer of Honda Malaysia remarked that: "Contrary to public perception, the 7-seater is not only made for families who desire the extra space and practicality. The sporty curves, the superb driving performance are meant to define singles, whose outward sporty character is their second nature."
"Stylised with a string of bold and dynamic designs on the body, the refined 7-seater now presents a fresh façade that is sporty, bold, and energetic," he added.
Now fitted with Vehicle Stability Assist (VSA), the new Stream RSZ offers better stability, thus improving the overall safety of the car. With the enhanced safety feature, drivers are able to drive more confidently in any weather condition.
On the exterior, the new Stream RSZ presents a new honeycomb front grille (with chrome floating garnish), a newly designed bumper and side skirts, thus unveiling a bolder and more dynamic appearance.
Now fitted with a rear bumper with rear diffuser and a tailgate spoiler, the overall aerodynamics of the car is improved. With the new 17-inch alloy wheels design, the sporty look is now more edgy and energetic than before.
The tail light design with black garnish is added to improve driver's visibility for tailing motorist. The side mirror with turn light and new fog lamps design have been added to improve the car's illumination, especially during night driving.
In the interior, the refinements incorporated include a leather gearknob, leather steering wheel that is now with audio control, as well as sporty alloy pedals. The leather gearknob and steering wheel are with red stitching.
The strokes of red added across the entire instrument panel, cup holders, and upholstery in the interior, give a distinctive racing feel.
In conclusion, the overall refinement clearly resembles a new urbane and stylish façade. Appealed aptly to both singles and families, the new Stream RSZ aspires to satiate their appetite for design, space, practicality and a characteristical drive.
The new Stream RSZ comes with 4 trendy shades: Premium White Pearl, Crystal Black Pearl, Polished Metal Metallic and New Passion Red Pearl.
Families and singles alike, the new Stream RSZ is here to give you a more characteristic drive. Everyone is welcome to check out the new introduction at any authorised Honda dealer. For more information, please call Honda Toll Free number at 1-800-88-2020, or log on to www.honda.com.my for more details.