Petaling Jaya, 19 October 2009 - Honda Malaysia Sdn. Bhd. today announced the introduction of the Taffeta White colour variant for the 8th Generation Civic, adding into the list of vibrant colors currently available. The well received model has recently crossed the mark of 30,000 units in Malaysia.
The 8th Generation Civic 1.8L and Civic 2.0L were given a facelift in March 2009 which now comes with an edgier look to cater to the high demands of Malaysians. The Taffeta White color, which received overwhelming response when it was introduced for the Accord and CR-V model recently is added into the colour variant for the Civic to continue captivating more Civic fans in Malaysia.
With this new addition, Honda Malaysia aims to sell 600 units of Civic per month, with the Taffeta White colour comprising 30% of the sales. Capturing 40% market share in the non-national mid-size sedan segment year-to-date, this ever-popular model continues to maintain No.1 position in its segment for the 3rd consecutive years.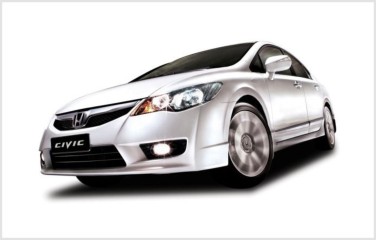 Honda Malaysia also forecasts that the 8th Generation Civic model will contribute close to 20% of total sales for 2009, having recently achieved accumulated sales of 30,000 units in Malaysia. With this achievement, there are now more than 40,000 units of Honda Civic (7th & 8th Generation) sold by Honda Malaysia since 2001.
Mr. Toru Takahashi, Managing Director and Chief Executive Officer of Honda Malaysia remarked about the new colour variant, "After conducting research and analyzing customer feedback, coupled with the positive response from the introduction of the colour for Honda Accord and Honda CR-V, we decided to incorporate the Taffeta White in the Honda Civic 1.8L and 2.0L as well. At Honda, we constantly seek to understand and meet the expectations of our customers wherever we operate in our aim to achieve Customer Satisfaction No.1".
"On a separate note, I am also pleased to announce that the other two siblings of the 8th Generation Civic, the Civic Hybrid and Civic Type-R has recently surpassed the sales of 200 units each in Malaysia," added Mr. Takahashi.
"Through the years, the Honda Civic is known for its performance as well as advanced and dynamic appearance. We are confident that this iconic model will continue to appeal to people who constantly seek for progression and is passionate about life. These people are in search of a vehicle that enhances their image and reflects their personality. I am delighted at this achievement and this is largely attributed to the support and confidence our customers have in our products and services", Mr. Takahashi stated while commenting on the achievement.
Since its introduction, the Honda Civic has been well received with acknowledgements in multiple awards and categories. The Civic was named Car of the Year by NST Ambank Group year 2006 in the Overall Car and Family Car category and Car of the Year award by Autocar Asean year 2005/2006 in the Overall and Midsize Sedan / Hatchback. The Honda Civic has also won many other awards for its stylishness, performance and fuel efficiency.
The new Taffeta White variant joins the color line-up already available for the Civic, which includes the Crystal Black Pearl, Alabaster Silver Metallic, Sparkle Gray Pearl and Bold Beige Metallic.
Check out the 8th Generation Honda Civic in its new Taffeta White colour at any authorised Honda Dealers nationwide! For more information, please call Honda Toll Free number at 1-800-88-2020 or visit www.passionforlife.com.my.