Toc students given rare opportunity to view HMRT Race Car 27 and interact with HMRT members.
Malacca, 4 August 2009 - 40 The Otomotif College (TOC) students and lecturers received a rare opportunity yesterday to visit the Honda Malaysia Racing Team (HMRT) in action working on their MME 2009 Race Car 27. They were also given an additional guided tour of Honda Malaysia's Alor Gajah manufacturing plant.
Upon arrival, En. Rosidan Haron, HMRT assistant coordinator and tour guide for the day welcomed the group and gave them a quick presentation and pointers on HMRT. After sharing some information on the team and how it functions, six HMRT senior members were invited to share their experiences and job scope in the team.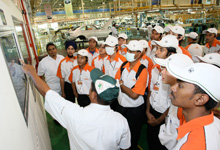 Listening attentively to an explaination on the painting process in Honda's manufacturing plant.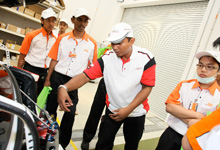 HMRT Member, Mohd Faizul, Chief Fuel Man of HMRT explaining about HMRT Race Car 27 to TOC students.
Let's listen to the sound of the engine
Commenting on the students' visit, Managing Director and Chief Executive Officer of Honda Malaysia Mr. Toru Takahashi said, "It is exciting and encouraging to see their passion and interest in motorsports. Just like HMRT, passion is our fuel towards overcoming all obstacles and our motivation to continue working hard. Through this visit, we hope to further inspire them to pursue their interest for motorsports."
Brimming with curiosity and excitement, the TOC students had a lively interaction with the HMRT members who were equally delighted to answer all of their questions. Indeed, the students went home with a greater understanding in the development of a race car and the management of a race team.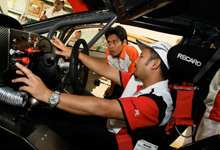 Understanding the process behind building a race car fit for a 12-hour endurance race.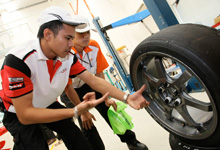 Answering a question about the car tires.
Group photo at Honda's Manufacturing Plant in Alor Gajah.
But without any doubt, the highlight of the day for the TOC students was being able to witness how the Honda Malaysia Racing Team (HMRT) personnel check and tweak their race car for the upcoming Merdeka Millenium Endurance race on 8 August this year.
Besides the excitement of witnessing the 'behind the scenes' preparations of a race team, these future race engineers and aspiring automotive engineers also had the chance to see and experience how an automotive manufacturing plant functions. Students were able to experience how a well managed plant operates like a well-oiled clock. They had the privilege to see how a quality car is born, from the first parts in the engine to the finishing coat of paint on its chassis.
Speaking excitedly about the visit, 20 year old Fernandez Francis Zavier said, "One of my dreams is to see how a car manufacturing plant functions and what are the steps taken to build a great car. I also felt very fortunate to be able to view the HMRT Race Car 27. I learnt a lot especially from the interaction with HMRT members while viewing the race car. As a student in the automotive field, I definitely need to increase my knowledge in cars and to obtain tips from the experienced people on how to excel in this industry."
"Honda is pleased to be able to host this group of young, energetic and enthusiastic youths. We continuously seek to play a role in educating the younger generation via knowledge sharing. Hence, we are glad to have been able to show them the ins and outs of how a Honda car is produced. We hope that we've imparted in them the values of excellence in every small detail of work in order to produce a product of the highest quality. Who knows, a few years down the road, one of these bright young lads may be Malaysia's top automotive designer or engineer!" added Mr. Takahashi.
Feeling inspired and motivated after the visit, Ms. Adelaine Foo, Chief Executive Officer and founder of The Otomotif College (TOC) said, "I am very honoured to have this opportunity for our students and lecturers to visit HMRT and meet the members behind this great racing team. The exclusive session gave us many useful insights in terms of the successful factors of HMRT as well as tips and advices about mistakes to avoid and technical aspects to look out for in the MME race."
"HMRT has demonstrated that they have accomplished many great achievements and milestones through quality processes. And we at TOC are committed to do the same as it is our mission to be at the top of the ladder - as the preferred automotive education provider in Asia."