Petaling Jaya, 7th August 2009 - Honda Malaysia today introduced the popular Taffeta White colour to fans of Honda's sporty and stylish SUV, the 3rd generation CR-V. This sophisticated colour is set to enhance the premium sedan-driving SUV's sporty look.
The new colour in the CR-V is a welcomed addition to the other 4 exciting colours of Alabaster Silver Metallic, Crystal Black Pearl, Sparkle Gray Pearl and Polished Metal Metallic.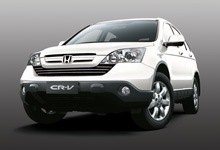 Honda's premium sedan-driving SUV in a new sophisticated colour - Taffeta White.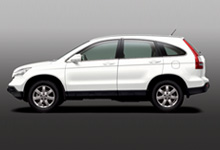 Side view of New Taffeta White CR-V.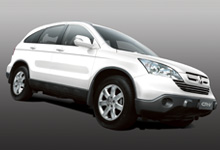 The sporty and stylish 3rd Generation CR-V in new Taffeta White colour.
Having set industry benchmarks and raise standards of SUV in Malaysia, the CR-V has gained a strong foothold in the SUV segment in Malaysia since its launch in March 2007. Since its launch, the 3rd generation CR-V gained mass acceptance and rave reviews. Sales of the CR-V has reached 11,617 units as at July 2009. Today, the CR-V remains popular and still holds the No. 1 position in the non-national SUV segment, capturing 39.7% market share (January to June 2009). This attest to the premium sedan driving appeal of the sports utility vehicle (SUV).
Some of the awards and recognition that the 3rd generation CR-V achieved in Malaysia was the prestigious Autocar ASEAN Overall Car of the Year 2006/2007 Award.
Since its launch, the CR-V has created feelings of instant attraction amongst Malaysians with its emotional design. This versatile vehicle is perceived as an elegant and comfortable SUV as it incorporates features that offer SUV practicality and more car-like driving dynamics with greater comfort in a luxurious interior and a bolder, emotional exterior. The new CR-V has attracted the attention of demanding professionals who appreciate a fuel efficient SUV that accords comfortable driving experience and can stylishly function as a daily vehicle, a family car or a vehicle that complements an active outdoor lifestyle.
The new colour has also recently been introduced to the Accord 2.0L and 2.4L and received very good response. Since its introduction in mid-July, close to 400 owners have opted for this eye-catching colour, which translates to 30% of the total Accord sales.
The public can now book the new Taffeta White 3rd Generation CR-V at any authorised Honda dealers nationwide. For more information, please call Honda Toll Free number at 1-800-88-2020, or log on to Honda Malaysia's website at www.honda.com.my for more details.