Petaling Jaya, 9 July 2009 - Honda Malaysia Sdn Bhd yesterday threw a celebration for Ms Phua Bong Chin, as the auspicious 10,000th All-New City owner. Surprised by the celebration, Ms Phua received a token of appreciation from Mr. Toru Takahashi, Managing Director and Chief Executive Officer of Honda Malaysia at the Honda showroom where she purchased her car, Sumber Auto Sdn Bhd.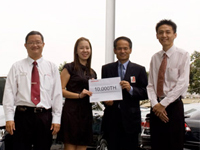 Mr. KK Yap, Sales Advisor; Ms. Phua Bong Chin, Mr. Toru Takahashi, Managing Director and Chief Executive Officer of Honda Malaysia and Mr. Daryl Tan, Sales Manager of Sumber Auto.
Phua was pleased to walk away with a 3-day 2-night island escapade in serene Pangkor Laut Resort over a 2-year free preventive maintenance service.
"I've not been lucky in my entire life, not even in lucky draw and I'm really happy to be the 10,000th City owner," Phua was quoted as saying after receiving her token. Phua, 31, received her City less than 2 weeks ago. "I will enjoy the holiday courtesy of Honda Malaysia with my hubby," she said with a beaming smile.
"Honda is pleased to be a well accepted brand in the country. In response to the overwhelming support, we constantly innovate ways to show appreciation towards our customers. This is but a humble initiative for us to express our gratitude to their support." Mr. Toru Takahashi explained at the miniscule celebration.
Despite the declining market, Honda Malaysia still managed to record a growth of 22% from January to June year on year. As of 30th June 2009, the company registered a total sales of 20,479 units.
Ever since the mark of 10,000th is crossed, there are close to 11,000 units 3rd Generation City on the road to date. Honda attributed the achievement to its supportive customers as well as its business associates. The staple model has over 4,000 units of backorder currently.
Launched to wide acclaim last year December, the 3rd Generation City received praises among the new owners who are particularly pleased with its improved dynamic exterior that is upgraded with i-VTEC engine, 5-Speed Auto Transmission for pleasant driving performance. Complete with practicality and economical features such as easy-to-manoeuvre size, spacious cabin, fuel efficiency and affordable price point, the 3rd Generation City is recognised to be a car that is value for money.
"We thank all our customers for their continuing support and most importantly, their faith and trust in Honda. We hope to be celebrating with our 20,000th Honda City owner soon and perhaps even 30,000th . And thank you to all our business associates for bringing out the best of Honda to the customers." Mr. Takahashi remarked cheerfully.
Everyone is invited to test drive the promising sedan at any authorised Honda dealer. For more information, please log on to www.honda.com.my,or call Honda Toll-free number at 1800-88-2020.