Petaling Jaya, 24 July 2009 - Honda Malaysia today reports 20,479 units of sales in its first half of the year ending 30 June 2009. As the market poses mixed sentiments about the economic recovery, Honda Malaysia managed to record a growth of 22% year-on-year.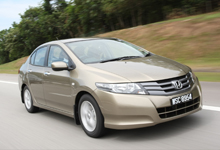 Honda City continues to be the favourite choice of the market.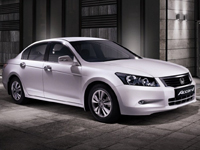 The newly launched Accord 2.0 VTi-L was added into the Accord lineup to provide more option for the customer.
Following a report released by Malaysia Automotive Association (MAA) yesterday, Honda is still standing firm by capturing 8.2% of the Total Industry Volume (TIV) market shares and 36.4% in the non-national passenger car segment, a jump from previous year's 6% and 25.2% respectively.
"It is indeed another exciting moment for Honda to wrap up the first half of 2009 with flying results although the market was reported to have shrunk by 9.7%. As the market is having mixed sentiments about the overall economic recovery, customers are still cautious in making their choices. They are constantly on the look out for products that are value for money. With that in mind, our products are always relevant to the market as we strive to provide products and services of highest quality at reasonable prices," Mr. Toru Takahashi, Managing Director and Chief Executive Officer was quoted as saying.
Honda Malaysia attributes the encouraging sales result to the All-New City, which at the close of the first half, has sold 10,868 units that accounts for 53% of the total sales. As of 23 July, the staple model has crossed the mark of 11,857 units. Currently, the model has a backorder of close to 4,000 units.
Civic on the other hand has been increasingly sought after, more so after the introduction of the enhanced 8th Generation model in March 2009. Similarly, Civic's sales closed at 3,463 units in the first half of the year. The stylish and sporty sedan contributed approximately 17% to the company's overall sales. As of 23 July, the sales marked at 3,989 units, with a backorder of close to 1,200 units.
Honda Malaysia continues to produce at full capacity especially to meet the overwhelming demand for City and Civic. This move is aimed at shortening the customers' waiting period, which is part of Honda's continuous effort to achieve Customer Satisfaction No.1.
| | | |
| --- | --- | --- |
| Model | Sales from Jan - June 2009 (units) | Sales from Jan - June 2008 (units) |
| City | 10,868 | 5,841 |
| Civic | 3,463 | 4,516 |
| Accord | 3,062 | 2,862 |
| CR-V | 1,824 | 2,309 |
| Jazz | 615 | 301 |
| Stream | 496 | 831 |
| Civic Hybrid | 110 | 6 |
| Civic Type R | 36 | 75 |
| Odyssey | 5 | 25 |
| TOTAL | 20,479 | 16,766 |