Kuala Lumpur, 15 July 2009 - Honda Malaysia announced today that the Accord 2.0 VTi-L, a new variant of the 8th generation Accord is now available at all authorised Honda dealers nationwide. In addition to this, the colours in the existing Accord line-up has been expanded to now include prestigious Taffeta White.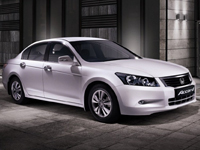 Honda Accord 2.0 VTi-L Front View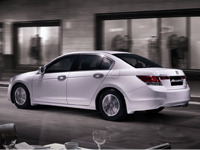 Honda Accord 2.0 VTi-L Side and Rear View
The Accord 2.0 VTi-L is fitted with value added features and improved styling such as plush leather interior, functional cruise control, fully automated 8-way driver seat, leather seats with power lumbar support, well located arm rests, leather shift knob, leather door lining and door mirrors with side turn signals.
Targeted to sell 200 units per month (40% of total Accord sales), the new variant priced at RM 149,800 (on the road inclusive of insurance) supplements the other variants in the Accord range. These include the 2.0-liter SOHC i-VTEC and 2.4-liter DOHC i-VTEC engines that balance performance and fuel economy, and the first ever and most powerful V6 3.5-liter i-VTEC VCM engine in the Accord line-up with 275 ps.
All models in the Accord line-up will also be presented in prestigious Taffeta White. The spectacular lines of the Accord are flaunted in this new eye-catching hue.
An optional extra accessory, the 'Connex' Stolen Vehicle Recovery (SVR) is also now available for the Accord line up. The state-of-the-art GPS-based security system tracks stolen cars and alerts the owner and Secure Operating Center (SOC) via GSM network. Priced at RM 3,660, it includes installation and first year annual service fee. A Compensation Guarantee is also provided free for the first year.
Honda Malaysia's Managing Director Toru Takahashi explained, "The additional options of new variant, color and security system are in response to customer feedback. We believe our sophisticated customers would appreciate greater value and luxury. It is Honda's commitment to continually strive to uphold our Customer Satisfaction No.1 policy, meeting needs and providing more options."
The 8th Generation Accord, launched April 2008 is a revolutionary vehicle with an upscale shift to a significantly more refined, dynamic and sophisticated direction.
To date, close to 9,900 units of the 8th generation Accord have been sold in Malaysia and there are almost 600 units of confirmed orders to be delivered. The Accord appeals to those who aspire to make a refined and sophisticated statement and enjoy pure luxury and performance.
The Accord is well recognized among its customers for its attractive exterior styling characterised by proportionately sharp and strong designs, its high engine technology as well as great value for money. These distinguishing traits are supplemented by Honda's trusted brand image.
The 8th generation Accord is positioned as an aspiring symbol of ambition and success, as reflected in its maxim "Ambition Has No Limits." In line with this and in conjunction with the introduction of the Accord 2.0 VTi-L and a new color, Taffeta White, to its existing Accord line up, Honda Malaysia has rolled out The Perfectionist - Presented Exclusively by Accord. This campaign aims to cultivate aspirations and ambitions through six personas via fine art photography. Fine Art photography is used because it enables us to see certain elements and beauty that may not be immediately apparent at first glance.
The campaign will culminate in an exciting 5-day photography exhibition on 29 July in One Utama Shopping Center in Petaling Jaya before touring in Johor Bahru and Penang. A commemorative book compiling the best photographs of the Honda Accord, along with the success stories of the personas will be unveiled. The new variant Accord 2.0 VTi-L will also be showcased along with other variants. Get involved in defining ambition with Honda Malaysia at the exhibition.
Starting today, you are invited to visit all authorised Honda dealers nearby to view the enhanced Accord 2.0 VTi-L. Get behind the wheels of any Honda models. For more information, please call Honda Toll Free number at 1-800-88-2020, or log on to Honda Malaysia's website at www.honda.com.my for more details.