Petaling Jaya, 19 June 2008 - The Super GT fever was high at the Honda Super GT party held at a club in the run up to the race this weekend. Honda Malaysia brought in all five Honda-NSX Teams to party along with the media, business partners and Honda customers.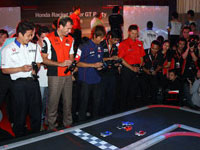 (From Left) Mr. Katsuyuki Hiranaka, race driver from Nakajima Racing, Mr. Ralph Firman, race driver of Autobac Racing Team Aguri, Mr. Yuji Ide from Team Kunimitsu and Mr. Toshihiro Kanieshi, race driver from Real Racing with Leon challenging each other in a game of remote-controlled cars.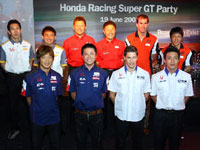 5 Honda-NSX Team Drivers.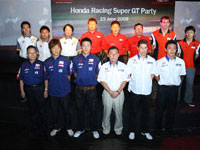 5 Honda-NSX Teams Principals and drivers.
The five Honda-NSX Teams are Autobacs Racing Team Aguri who is also the 2007 Super GT Series Champion, Real Racing with Leon, Dome Racing Team, Epson Nakajima Racing and Team Kunimitsu.
In his welcoming speech, Mr. Atsushi Fujimoto, Managing Director and Chief Executive Officer of Honda Malaysia Sdn Bhd said, "Honda has come a long way since our first participation in the Japan GT race in 1997. Through the years, we worked hard in developing the skills, the teams and the technologies. Today, we have 5 Honda-NSX Teams with us as we continue our challenge in the Super GT."
"Racing and motorsports are deeply rooted in Honda's DNA. It is Honda's Reason to Exist. Motorsports is not only about racing, it is rising above the challenge and pushing beyond our limits. More so for Super GT as it is not just a battle of speed, but also a battle of minds. It requires a lot of thinking ahead and strategising on the part of the team members. Honda thrives on these challenges in various levels of motorsports in order to elevate our skills, racing ambitions and technologies as it has been a philosophy of our founder Mr. Soichiro Honda since the 1950s." added Mr. Fujimoto.
5 Honda-NSX teams with Mr. Atsushi Fujimoto, CEO and Managing Director of Honda Malaysia, En. Azman, President and COO, Mr. Ikuo Kanazawa, Vic.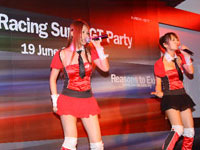 GT Girls perfoming at the party.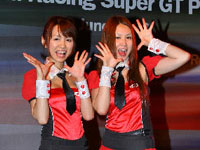 GT Girls Photo Opp.
At the party, the five Honda-NSX Teams shared their experience, challenges and targets for Super GT 2008. To the delight of the guests, the Honda-NSX drivers also challenged some of the media and Honda's customers to a game of remote-controlled cars. Lucky guests walked away with autographed prizes given by the Teams during a lucky draw session. But, the highlight of the night must be the performance by the GT Girls, who entertained the audience with their talented singing and dancing.
The Super GT race machine, the NSX, is itself an embodiment of Honda's DNA. Honda's team of engineers officially launched the Honda NSX at the 81st Chicago Auto Show in February 1989. Its launch heralded a new dawn for sportscars. Honda entered the NSX in the Japan GT race just 7 years after its birth in 1990. In 1998, Honda clinched its first victory in the race. Today, all 5 Honda-NSX race cars, namely, ARTA NSX, REAL NSX, TAKATA DOME NSX, EPSON NSX and RAYBRIG NSX are a reflection of Honda's engineering capabilities in developing its very own sportscar, which can be owned by fans.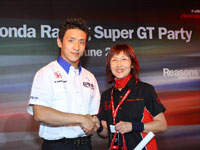 Mr. Katsuyuki Hiranaka from Nakajima Racing presenting a prize to a lucky draw winner.
Representative from 5 Honda NSX Teams with Mr. Atsushi Fujimoto, CEO & Managing Director of Honda Malaysia during the memento presentation.
In Super GT, the challenge of is not just a battle of speed, but it is also a battle of minds! Honda will continue to rise above the challenges and to share its excitement with people around the world.