Kuala Lumpur, 22 April 2008 - Honda Malaysia announced today that the eighth generation of the Accord luxury sedan is now available at all authorised dealers nationwide.
The Accord has an illustrious history that spans across more than 30 years, during which it has grown into a global car with a legacy of awards and innovations. Currently sold in 160 countries, its cumulative sales totalled 16 million units from 1976 to 2007.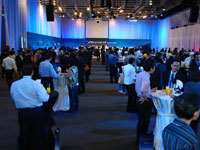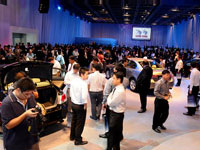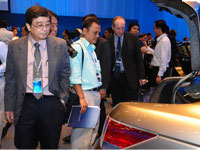 In his speech at the launch ceremony, Mr. Atsushi Fujimoto, Honda Malaysia Managing Director and Chief Executive Officer, emphasised that the 8th Generation Accord is not just a facelift or a further enhanced version of the previous generation - it is a revolutionary vehicle with an upscale shift to a significantly more refined, dynamic and sophisticated direction.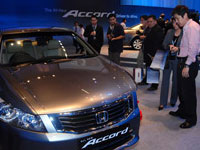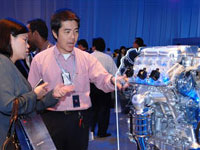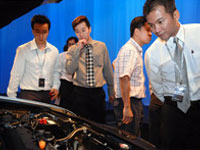 "The All New Accord evokes an all new emotion that makes a refined and sophisticated statement with pure luxury and performance for the Accord owner, like never before!" he said.
Mr. Fujimoto added that the All New Accord will appeal to those who aspire to succeed in life, appreciate the finer things, carry a discerned image and enjoy a high performance drive.
Mr. Kenzo Suzuki, Executive Chief Engineer from Honda R&D in Japan who is responsible for the development of the 8th Generation Accord was also at the launch ceremony, told media and guests that he and his team travelled around the world including Asia to conduct market research on what customers expect in a luxury sedan.
"Through our study, we learnt that luxury class sedans like the Accord cater for both personal and business usages. We also learnt that our customers expect luxury sedans to be both fun to drive and proud to own," said Mr Suzuki. As such, Honda's intention for the development of the new vehicle was "to add more luxury and comfort" and "to enhance Honda's renowned 'Quality Driving' characters," he added.
The result is a sophisticated performance sedan developed based on four concepts - a car that is Powerful and Fun to Drive; provides Comfort; meets World Safety Standards; and attains maximum Fuel Efficiency.
Key highlights of the 8th Generation Accord includes an all new, sophisticated styling, dynamic features and advanced performance - built purely to provide customers the joy of possessing a luxurious and performing sedan.
The car's exterior is distinctly characterised by proportionately sharp and strong designs. The car front features a powerful forward-thrusting nose, a larger six point grille and long, sharply cut headlights to add an aggressive yet elegant appearance. The car's side views were shaped like muscular shoulders with an intense character line to emphasise strength and road presence. The rear view's 3-D shape cabin provides a compact and sporty look. Sturdy alloy wheel arches and chrome-based trimmings complemented the car with a smarter and more prestige feel.
It is also notable that the All New Accord features the most spacious ever cabin in the Accord line-up. The cabin dimension was expanded to offer a 3.2% increase in passenger volume; distance between driver and front passenger was expanded up to 40mm; and an increase in rear knee space delivers more leg room for passengers in the rear seats. Overall, the cabin room is the largest amongst cars of its class, including those of continental make - this provides a comfortable and luxurious feel and ride for both driver and passengers.
The All New Accord is available in three engine variants: firstly, the enhanced 2.0-liter SOHC and 2.4-liter DOHC i-VTEC engines which provide balance between performance and fuel economy, with the 2.4-liter model boasting the highest engine power of its class at 180 ps; and the first ever and most powerful V6 3.5-liter i-VTEC VCM engine in the Accord line-up with 275 ps.
Accord drivers will also be delighted by the enhanced driving experience with Variable Gear Ratio or VGR Steering, a mechanism that gives better stability, smoother and more responsive handling, and smaller turning radius; the Shift Hold Control, which reduces gear shift during cornering and supplies acceleration after a turn; and 5-Speed Automatic Transmission, which offers a smoother drive.
These and other advanced technologies make the All New Accord a Fun to Drive luxury sedan that delivers precise manoeuvring with a linear feel and agile driving with powerful acceleration and handling-responsive performance. The new luxurious sedan also provides a strong and solid ride with a quieter cabin and more stability, thereby creating a secure and comfort feel of the car.
Through a comprehensive and evolving approach to vehicle occupant and pedestrian safety, Honda took a step further by incorporating all new Accord models with the revolutionary Advanced Compatibility Engineering or ACE body structure, which is an extension of Honda's G-Force Control (G-Con) advanced technology. It is designed to spread out and disperse front collision impact over a larger surface, so as to limit cabin intrusion to effectively minimise driver and passengers injuries.
In addition to all the above advanced technologies, the All New Accord 2.0-liter and 2.4-liter models also feature the two and four Airbags Systems respectively.
The V6 3.5-liter i-VTEC model incorporates the Honda developed Variable Cylinder Management (VCM) technology, which enables optimal balance between fuel efficiency and power by switching between six, four or three cylinders combustion based on driving needs and situations. In terms of safety features, it has an Advanced 6 Airbag System with two side curtain airbags, two sets of front dual stage airbags and two side airbags with Occupant Position Detection System (OPDS). Both 2.4-liter and 3.5-liter engine models also come with Vehicle Stability Assist or VSA, which prevents lateral skidding and stabilises cornering.
The 8th Generation Accord is an environment-friendly vehicle. It meets the Euro 4 standard in terms of emission, and it uses more environment-friendly materials -- such as materials with reduced Volatile Organic Compounds (VOC) and Polyvinyl Chloride (PVC) contents in the car interior fittings and body undercoating.
The All New Honda Accord is available in five colors: Polished Metal Metallic; Bold Beige Metallic; Nighthawk Black Pearl; Sparkle Gray Pearl; and Alabaster Silver Metallic.
Honda Malaysia is making test drive units available at all authorised dealers simultaneously at the time of launch. Starting today, customers can visit all authorised Honda showrooms nearby to view and test-drive the All New Accord. For more information, please call Honda Toll Free number at 1-800-88-2020, or log on to Honda Malaysia's website at www.honda.com.my for more details.