Petaling Jaya, 1 April 2008 - Honda Malaysia Sdn Bhd today announced two new appointments - 40-year old Encik Azman bin Idris as its new President and Chief Operating Officer (COO) and 52-year old Mr Ikuo Kanazawa as its new Vice President. Both Encik Azman and Mr Ikuo's appointments take effect immediately (1st April 2008).
A Chemical Engineering graduate of Indiana State University in the USA, Encik Azman started his career in the banking industry. After spending five years in one of the country's premier bank, Encik Azman made his foray into the automotive industry in 1995 with Usahasama Proton & Diversified Resources Bhd (USPD).
Two years later, he moved on to Perodua. After working his way up in his ten years in the Sales Department of Perodua, Encik Azman was enticed to join DRB-Hicom as its COO for Auto Solutions Sdn. Bhd in 2006.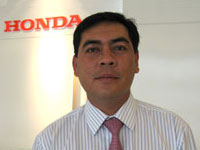 Encik Azman Idris - President and Chief Operating Officer (COO)
Mr Ikuo Kanazawa - Vice President
His appointment as the new President and COO of Honda Malaysia is a natural progression for such a talented manager who is very excited at joining the management of a global brand.
"I have always had high regards for Honda as they are the epitome of a well organized and structured company and personally, I believe they excel in grooming personnel for success," said Encik Azman, who hails from Maran, Pahang.
Meanwhile, Mr Ikuo Kanazawa will take over the position of Mr Kenji Tanaka, 56, who will be returning to Japan. Mr Tanaka will be attached to Honda Automobile Production Planning Office in Honda Motor Japan upon his return. Mr Kanazawa's career spans 33 years in the production department, of which, 5 years were spent as the Chief Engineer at Honda's Head Office in Japan.
Prior to Malaysia, Mr Kanazawa pioneered the setting up of the production line in Honda Vietnam Co., Ltd. He was in Honda Vietnam Co., Ltd. for two years as the Automobile Production Director.