Petaling Jaya, 27 March 2008 - Honda Malaysia Sdn Bhd's Honda Dreams Fund (HDF) is currently into its second year and to reach out to youths who are truly deserving, Honda recently organised a roadshow which took them to Sarawak, Sabah, Perak and Pahang.
The Honda associates and representatives from the United Nations Development Programme (UNDP) who went on the roadshow were joined by Honda Malaysia Managing Director and Chief Executive Officer, Mr Atsushi Fujimoto for the Miri, Sarawak and Sabah leg.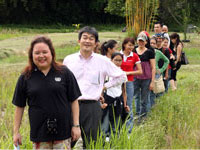 Honda & UNDP associates walking across the fields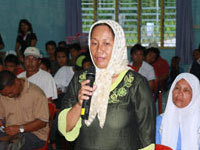 A Mother's Hope - Sukau, Kinabatangan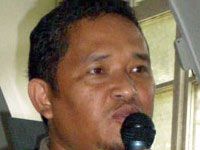 Encik Eduan Bah Chimpok - Pastor in Gopeng
The team visited Miri and Bario on February 25 - 28, 2008, sharing the opportunities available through the Honda Dreams Fund to 170 youths and representatives from the indigenous groups of Sarawak. Amongst the audience of the roadshow were representatives of the Kelabit, Orang Ulu, Kenyah, Kayan, Bidayuh and Penans.
Two weeks later, the Honda-UNDP team went on to Sabah to explain the non-binding, full scholarship offered under Honda Dreams Fund. Talks were held in Penampang, Tambunan and Sukau, Kinabatangan. More than 130 youths, parents, school teachers and representatives of villages from more than 14 districts in Sabah, some from as far as Kudat and Tawau, attended the talk in Penampang.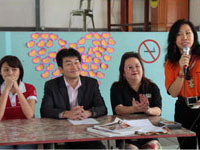 Talk at Tambunan - Fujimoto flanked by Shiao Fong and Laura Lee (UNDP)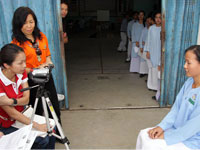 Tambunan - Video Application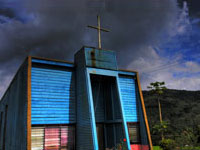 St Martin School
The talk in Tambunan drew about 70 students while the one in Sukau was attended by about 85 people from 7 villages. Sukau which is located about 150km from Sandakan is an area accessible by water transportation or a dusty ride in a hired van through stretches of paved road, pothole-filled semi-tarred road and gravel. Majority of the population are the Orang Sungai, who live below the poverty line in Sabah of about RM700. And dreams of further education after their Sijil Pelajaran Malaysia or Sijil Tinggi Pelajaran Malaysia, remain dreams for the youths.
View from St Martin School
However, Honda Malaysia in collaboration with UNDP is hoping to turn their dreams in reality via education through Honda Dreams Fund.
Honda associates went an extra mile to even set up the handycam to take video applications for the scholarship, especially for youths who are not so proficient in penning down their dreams and thoughts.
Most of the audience in Sarawak and Sabah roadshows had traveled in from other villages or settlements. Some of the attendees were parents who came with their children, while some were headmen of villages and schoolteachers who came to get the information for their communities.
The last leg of the Honda Dreams Fund on March 18-19, 2008, took the Honda associates and UNDP representatives to Kampung Jelintuh in Gopeng and Cameron Highlands to reach out to indigenous groups in Peninsular Malaysia.
Those who attended the talk were impressed with Honda Malaysia's commitment to ensuring that news of the scholarship reaches the groups that need it the most.
Encik Eduan Bah Chimpok, a pastor who gathered the Orang Asli for the talk in Gopeng said, "This is a golden opportunity for the Orang Asli. Most of them receive no education and for those who did, they cannot afford to further their studies. The way that Honda and UNDP have put together this scholarship and the campaign they undertook to inform these indigenous groups is refreshing. It is a real opportunity for the Orang Asli youths to realize their dreams which had seemed impossible. It is now possible, all thanks to Honda and UNDP."
According to Encik Eduan, this is the first time a corporation had gone through such lengths to talk about a scholarship to the Orang Asli.
Regardless whether in Sabah, Sarawak or in Peninsular Malaysia, the story of poverty, lack of opportunity, awareness and financial means to realize dreams amongst youths are the same.
The Honda Dreams Fund (HDF) is birthed from a vision passed on by Honda's founder, Mr. Soichiro Honda. He believed in the "Power of Dreams". Much of Honda's achievements today stems from simple dreams that materlalized into real life accomplishments. This is also the vision behind the Honda Dreams Fund - giving underprivileged young Malaysians who dare to dream, a chance to fulfill their dreams and achieve a better future through education.
For Honda, the roadshow was merely an outward manifestation of their commitment in giving back to the society. Honda's ultimate goal is to become a company that society wants to exist.
Twenty young Malaysians who were the inaugural batch of HDF scholars are already on their way to realizing their dreams last year. This year, twenty more will be selected from the shortlisted list of 60 candidates. The selection process will be via an all expense-paid workshop. In the meantime, the task of short-listing these candidates fall on HDF's independent Advisory Panel which comprises members from Human Rights Commission (SUHAKAM), All Women's Action Society (AWAM), Malaysian Youth Council (MYC) as well as UNDP and Honda Malaysia.
The Honda Dreams Fund covers tertiary education fees and provides for allowances to meet living expenses for the duration of their courses. It is open to Malaysians aged between 17 - 24 years of age who have at least completed and passed the Sijil Pelajaran Malaysia (SPM) or Sijil Tinggi Pelajaran Malaysia (STPM) examination.
Candidates must not be receiving any bursaries or financial aid from other organizations, agencies or government. To apply, candidates are required to write an essay on their aspirations in realizing their dreams on A4 size paper in not more than 500 words. Closing date for entries is 31 March 2008.