Petaling Jaya, 1 February 2008 - Honda Malaysia Sdn. Bhd. today announced that its passenger car sales in 2007 reached the highest record in terms of sales volume and market share. This positive performance is achieved on the back of a 0.7% decline in Total Industry Volume as reported by Malaysia Automotive Association recently. The total sales volume of 28,479 units exceeded targets the company had set for the year with an increase of 7% as compared to the corresponding 12 months in 2006. This translates to a market share of 5.8%, which was beyond the targeted 28,000 units or 5.5% share.
Honda Malaysia attributed the good performance to the all-new CR-V; the 8th Gen Civic with value added features and the City enhanced model, which all met their individual targets for 2007. These top-selling models were part of the total of eight Honda new cars and special models that were introduced last year, including the Accord VTi-S, special variant; Civic Type R and Hybrid; Jazz in a new striking colour; and the all new Stream.
On the production front, the company achieved a milestone year with the roll-out of its 100,000th car from the Pegoh Plant in Melaka, an achievement made within five years of operation. In the same year, the plant also recorded production of the 1 millionth set of Constant Velocity Joint (CVJ), marking its ability to deliver export standard and quality-consistent automotive parts.
Several accolades were awarded to the Honda brand and new models in 2007. The most significant being the No. 1 awards in the J.D. Power Asia Pacific Malaysia Initial Quality Study (IQS) for the Civic in Midsize segment, and the City in Entry Midsize segment; and the Reader's Digest Asia Gold Trusted Brand Award 2007. Separately, the CR-V, Civic Hybrid, Odyssey and the All-New Stream won individual titles from various awards including the NST-Maybank Car of the Year 2007; Autocar ASEAN Car of the Year 2006/2007; Get @ Car of the Year 2008; CarMag Car Buyers Guide 2007/2008; and Malaysian Women's Weekly Car Awards.
In addition to wining awards, the enhanced model City was proven to be ultra-high fuel efficient in the Fuel Efficiency Automotive Test (FEAT) initiated by Honda Malaysia and verified by Malaysia Automotive Association. Through the assessment, the City with i-DSI engine was ascertained to have a low and efficient fuel consumption level of 26.2 kilometre per litre.
Honda Malaysia continued to fulfill its commitment to the community and society where it operates last year. The Honda-WWF Malaysia Rhino Rescue Project moved into its second year with further education on the preservation of nature through school programmes and public roadshows. Separately in the Honda Dreams Fund programme, non-binding full scholarships were given to 20 deserving youths to support them in realising their dreams and potential for a brighter future.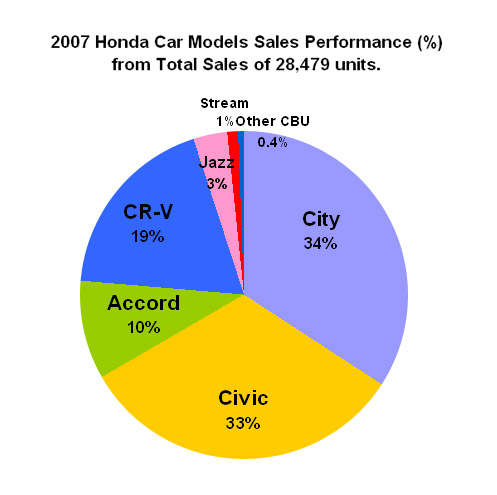 Motorsports wise, Honda continued to share the excitement, passion and challenges with Malaysians through the Formula 1 and Super GT races. In the Merdeka Milennium Endurance 2007, the Honda Malaysia Racing Team (HMRT) did the company proud again by winning the Class-A Championship title for the fifth consecutive year. Noteworthy of a mention is the dedication and Challenging Spirit of 29 Honda associates who took part in the race with a car they built as a team using after-hours at Honda's Pegoh Plant. The all-associate racing team came in a close runner-up to the championship car.
In line with its commitment to achieve No. 1 in Customer Satisfaction, Honda Malaysia continued to provide highest quality products and services at reasonable price through its dealerships. In addition, 5 authorised stockists were appointed last year with the charge to safeguard customers' interest in terms of reasonably priced and genuine spare parts. Efforts were also extended to make driving safe for customers through the Honda Safety Driving Courses, which saw the participation of more than 200 customers last year.
A challenging and exciting year lies ahead for Honda Malaysia in 2008. The company's priority lies in achieving a significant increase in total sales volume from 28,000 to 33,000 units with a 6.5% market share (TIV), and to continue its pursuit of achieving No. 1 in Customer Satisfaction.
A number of new models are in the line-up for launch this year starting with the 8th Gen Honda Accord, which is expected to arrive on Malaysia's shore first half of 2008.
To meet growing market demands, the Pegoh Plant will expand to increase production from 25,000 to 30,000, with capacity to increase further should demand requires.
Honda's commitment in becoming a company that society wants to exist will drive the Malaysia Rhino Rescue Project and Honda Dreams Fund programme into their 3rd and 2nd year respectively.
Motorsports fans can expect more excitement and challenges coming their way from Honda during the F1, Japan GT Championship and Merdeka Millennium Endurance (MME) races this year.
Finally, keep a look out for further advancements in the ASIMO robot this year as he can now RUN!
Stay tuned...