Kuala Lumpur, 4 January - Honda Malaysia Sdn Bhd in partnership with the United Nations Development Programme (UNDP) Malaysia today renewed their pledge to aid underprivileged but meritorious students in Malaysia by announcing this year's call for applications for the Honda Dreams Fund.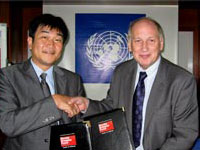 The "Human Resource Development Through Education and Training for Malaysian Youths" project is a Honda-UNDP CSR initiative that aims to provide full and non-binding scholarships to 20 underprivileged, but determined students annually to pursue higher education or skills training.
During the signing ceremony at Wisma UN, Honda announced that it would once again disburse RM 1 million this year through the fund. The company also said that the scholarship process this year would see a greater emphasis on helping deserving youths from the lowermost economic strata of society.
According to Dr. Richard Leete, UNDP Resident Representative for Malaysia, Singapore and Brunei Darussalam, "This initiative is in line with the government's call for the private sector to play a bigger role in addressing national development challenges such as the widening economic and social disparities between the rich and the poor, as well as between the urban and rural populations. Official figures estimate that five percent of the population live in poverty and nearly 25 per cent of the Malaysian youth are deprived of a higher education due to poverty".
"UNDP strongly believes in supporting efforts to help uplift the poorest of the poor in society, namely the indigenous communities, particularly in rural Sabah and Sarawak. Education could be the first biggest step for youths in poverty-affected areas towards a better future," he said.
Mr. Atsushi Fujimoto, Managing Director and Chief Executive Officer of Honda Malaysia Sdn Bhd said that the Honda Dreams Fund, its second year in running, is a reflection of Honda's corporate belief, "Power of Dreams" and a means of giving back to the society.
"Much of our achievements in today's business environment stems from simple dreams that were taken to the drawing board and materialized into real life accomplishments.
"We hope to help the talented and less fortunate youths realize their dreams and achieve a better future through education and at the same time, contribute to the human capital development in Malaysia.
"Our founder, Mr. Soichiro Honda always believed that good education goes a long way in human development and plays an integral part in realizing one's dreams and potential. We believe that everyone deserves an opportunity and we're focusing on the plight of less fortunate youths in Malaysia who do not have the means or the funds to achieve their dreams and aspirations," Mr. Fujimoto said.
The inaugural 20 Honda Dreams Fund scholars who were given the renewed hope in April last year, are today enrolled in the courses of their choice and well on the way towards achieving their dreams.
Apart from financial need, the scholarships will be awarded based on academic and extra-curricular performance as well as leadership potential. Deserving candidates can choose their own institution and courses.
The Fund covers tertiary education fees and provides for allowances to meet living expenses for the duration of their courses.
It is open to Malaysians aged between 17 - 24 years of age who have at least completed and passed the Sijil Pelajaran Malaysia (SPM) or Sijil Tinggi Pelajaran Malaysia (STPM) examination.
Candidates must not be receiving any bursaries or financial aid from other organizations, agencies or government.
To apply, candidates are required to write an essay on their aspirations in realizing their dreams on A4 size paper in not more than 500 words.
Application forms will appear in major newspapers beginning 7 January 2008 and the closing date for entries is 31 March 2008.
Since its inception, UNDP has been involved in the project to manage and oversee the awards of the scholarships. The organization will be working with an independent advisory panel comprising members from various NGOs in the screening and selection processes.
Apart from the Honda Dreams Fund, in its corporate social responsibility efforts towards Malaysia, Honda Malaysia is also sponsoring the "Save the Sumatran Rhino" programme which began in January 2006 where the company pledged RM5 million to WWF-Malaysia for rhino conservation efforts in Malaysia.
For more information on the Honda Dreams Fund, please go to the following link: www.honda.com.my