Kuala Lumpur, 5 March 2009 - Now into its third year since its launch in April 2007, Honda Dreams Fund (HDF), a full and non-binding scholarship by Honda Malaysia Sdn Bhd is extending their commitment by reaching out to deserving youths in rural villages as well as the underprivileged urbanites, a community often neglected.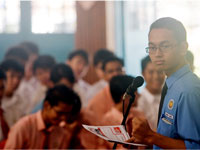 HDF aims to provide to underprivileged but determined students.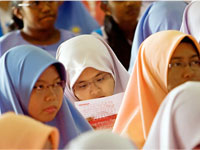 HDF continues its search in reaching out to deserving youths.
Honda associates and representatives from the United Nations Development Programme (UNDP) will be going on talks to villages and schools around Malaysia to reach out to truly deserving youths. Throughout the month of March, leading up to the closing date of the submissions for Honda Dreams Fund 2009, the HDF team will be travelling to rural villages in Kedah, Pahang and Sarawak as well as to schools located in Klang Valley.
"As we approach the closing date for the scholarship application, the team is going out full force to reach out to youths that do not have easy access to the newspapers or internet. Kicking off the rural villages roadshow, we will be going to the outskirts of Alor Setar and to the indigenous groups and villages in Pahang and Sarawak", said Mr Atsushi Fujimoto, Honda Malaysia Managing Director and Chief Executive Officer.
In providing a bigger reach, school-to-school roadshows in the Klang Valley will also be organised to emphasize on the underprivileged urbanites, a society often neglected.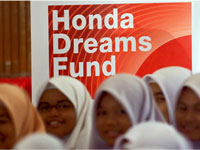 Honda Dreams Fund talk at SMK Darul Ehsan.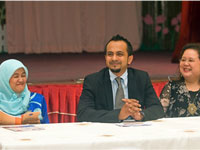 Pn SIti Aishah Ismail, Principle of SMK Darul Ehsan, Mr Akkbar Danial, Marketing Manager of Honda Malaysia & Ms Laura Lee, Programme associate of UNDP.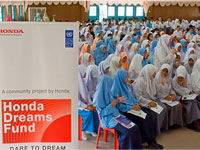 Student Q&A session during the HDF talk at SMK Darul Ehsan.
"While we run around in our daily lives, rushing through traffic and work, there is a society amongst us in the urban settlement that is residing in squatters, long houses and slums that often go unnoticed. They face an even greater challenge in their daily lives as they live in a city where it can be unkind and cost of living is higher than in the smaller towns or villages. At Honda, we believe that everyone has a dream and dreams can come true if we work hard for it. The Honda Dreams Fund aims at providing the means for students to achieve their dreams, regardless of what it may be", said Mr Fujimoto.
Last year, Honda Malaysia travelled into the deep interiors of Sabah and Sarawak to personally give talks and share the opportunities available through HDF to youths and representatives from the indigenous groups of Sarawak such as the Kelabit, Orang Ulu, Kenyah, Kayan, Bidayuh and Penans, to name a few.
Fourty young Malaysians are now already taking the first step in achieving their dreams with a few graduating this year. This year, twenty more will be selected from a shortlisted list of 60 candidates. The selection process will be via an all expense-paid workshop. In the meantime, the task of short-listing these candidates fall on HDF's independent Advisory Panel which comprises members from Human Rights Commission (SUHAKAM), All Women's Action Society (AWAM), Malaysian Youth Council (MYC) as well as UNDP and Honda Malaysia.
Details of the HDF roadshow to rural villages and schools nationwide:
| | |
| --- | --- |
| Date | Roadshow |
| 2 March 2009 | SMK Kepong |
| 4 March 2009 | Kuala Nerang, Alor Setar |
| 5 March 2009 | SMK Darul Ehsan, Selayang |
| 10 March 2009 | SMK Dato Hamzah, Klang |
| 12 March 2009 | Jerantut & Temerloh, Pahang |
| 24 - 26 March 2009 | Batu Niah, Miri, Sarawak |
The Honda Dreams Fund covers tertiary education fees and provides for allowances to meet living expenses for the duration of their courses. It is open to Malaysians aged between 17 - 24 years of age who have at least completed and passed the Sijil Pelajaran Malaysia (SPM) or Sijil Tinggi Pelajaran Malaysia (STPM) examination. Strong academic results are encouraged but are not a deciding factor.
Candidates must not be receiving any bursaries or financial aid from other organizations, agencies or government. To apply, candidates are required to write an essay on their aspirations in realizing their dreams on A4 size paper in not more than 500 words. Closing date for entries is 31 March 2009.
Honda believes that everyone deserves an opportunity and should not allow their dreams to be put aside due to financial instability. The Honda Dreams Fund is part of Honda's commitment in becoming a company that society wants to exist. For more information on the Honda Dreams Fund, please visit the website at www.honda.com.my/hdf