Petaling Jaya, 10 February 2009 - Honda Malaysia Sdn Bhd today introduced an enhanced version of the one and only hybrid vehicle in Malaysia, the Civic Hybrid with a new and even more attractive price tag!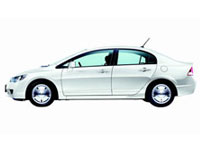 Premium White Pearl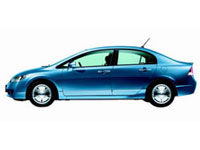 Neutron Blue Metallic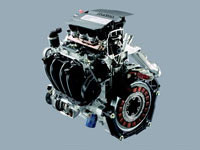 3 Stage i-VTEC Technology + IMA
The new Civic Hybrid will now cost RM129,980, 20% less than the previous pricing, after taking into consideration the tax incentives for hybrid vehicles as announced in the Budget 2009.
With the new price tag, Honda Malaysia targets to sell 300 units of Civic Hybrid this year. Honda Malaysia believes that with the more affordable price tag and enhancements to the already stylish Civic, the Civic Hybrid will receive encouraging response from Malaysians who are environmentally-conscious and appreciate innovation and advanced technology in their choices of vehicles whilst not compromising on design and driving pleasure.
The new Civic Hybrid is now available in 2 new colours: Premium White Pearl and Neutron Blue Metallic.
Since its introduction, the Civic Hybrid has been receiving overwhelming demand globally with accumulative sales of more than 250,000 units.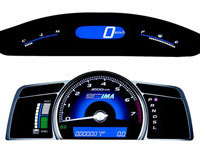 2-tier Multiplex Meter (with IMA + battery status)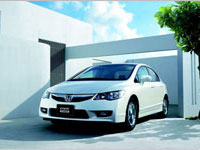 Front view of Hybrid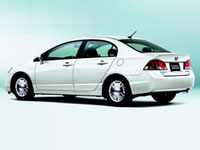 Back view of Hybrid
"With the current global economic uncertainty and rising cost of living, consumers are more sensitive towards the volatility of fuel prices. Besides this, there is also the urgency worldwide to promote advanced environmental technologies that are fuel efficient with lower emissions in order to decelerate climate change. Being a car manufacturer, it is our responsibility to preserve the environment and to leave behind minimal environment footprint." said Mr. Atsushi Fujimoto, Managing Director and Chief Executive Officer of Honda Malaysia.
The hybrid system in the Civic Hybrid draws its power from an engine assisted by an electronic motor which has been made more compact and efficient. It intelligently employs different valve timing through a 3-stage i-VTEC engine and combining it with Honda's 4th generation IMA system. The new Honda Hybrid system, works cohesively with the 1.3 litre engine to give out more power, better fuel-efficiency and lower emissions without compromising on performance. The Civic Hybrid can give up to 31 km/litre fuel consumption, significantly more than most conventional engine vehicles.
The Civic Hybrid was recently recognized in two awards in Malaysia, namely the Innovation Award of the NST-Maybank "Car Of The Year" 2008 Award and Hybrid Cars category of the Asian Auto — Bosch Fuel Efficiency Awards 2008/2009.
The hybrid is a result of Honda's "Environmentology" philosophy, which is Honda's ongoing commitment to create environmentally responsible technology. The results include world-changing advances in fuel economy, low emissions and alternate sources for the future. The Civic Hybrid is built as part of Honda's commitment to the society and towards a sustainable future through developing green vehicles that are gentle on the environment.
"Notwithstanding its advanced technologies, the Civic Hybrid is amazingly simple to drive and maintain. In fact, you use it just like you would any other car. The drive and maintenance of a Hybrid is similar to any other Honda vehicles. In fact, the Civic Hybrid gives an extra feel good boost to drivers knowing that they are contributing to the protection of the environment", said Mr. Fujimoto.
Mr. Fujimoto also hinted that Malaysians could look forward to the new face-lifted 8th Gen Civic which will be launched in mid March 2009.
Check out this latest edition of Civic Hybrid at your nearest authorised Honda Dealers today! You can also log on to www.honda.com.my/models/hnr/hybrid.html to find out more about thetechnology behind the Civic Hybrid through an interactive game. For more information, please call Honda Toll Free number at 1-800-88-2020. The new Civic Hybrid will now cost RM129,980, 20% less than the previous pricing, after taking into consideration the tax incentives for hybrid vehicles as announced in the Budget 2009.