Kuala Lumpur, 25 August 2008 - Honda Malaysia Sdn Bhd today became the first non-national car manufacturer to sign a Memorandum of Understanding (MOU) with Jabatan Keselamatan Jalan Raya (JKJR) in a commitment to support the Government's move for safer roads, safer cars and safer drivers in Malaysia. The MOU covers Honda Malaysia's commitment and support towards the Ministry of Transport's Rear Seat Belt campaign, which is expected to take effect on January 1, 2009, as well as mutual cooperation in promoting road safety in Malaysia.
Atsushi Fujimoto presenting token of appreciation to Dato' Haji Zakaria witnessed by Datuk Suret and Azman.
Datuk Suret Singh exchanging MOU with Atsushi Fujimoto witnessed by Dato' Haji Zakaria and Azman Idris.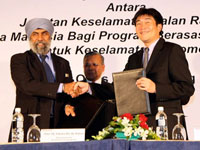 Datuk Suret Singh exchanging MOU with Atsushi Fujimoto witnessed by Dato' Haji Zakaria.
Signing the MOU on behalf of Honda Malaysia was Managing Director and Chief Executive Officer Mr. Atsushi Fujimoto, while Director General Datuk Suret Singh represented JKJR. Yang Berbahagia Dato' Haji Zakaria Haji Bahari, representative of Minister of Transport, YB Datuk Ong Tee Keat and Honda Malaysia President and Chief Operating Officer, Encik Azman Idris were present to witness the MOU signing.
Dato' Haji Zakaria fastening the Honda child seat wtih Atsushi Fujimoto.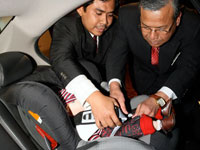 (Mohd Fahrurazi showing Dato' Haji Zakaria the fastening of Honda child seat
Commenting on the MOU, Mr. Atsushi Fujimoto said, "Promoting road safety has always been a commitment of Honda. And here in Malaysia, we seek to partner with the Government in its efforts to promote road safety. Thus, we are very pleased to enter into this MOU today with JKJR, becoming the first non-national car manufacturer in Malaysia to do so. This MOU is a natural response by Honda Malaysia and is part of our commitment to our customers in support of the government's move towards road safety."
In commenting on the installation of Rear Seat Belts for Honda cars, Mr. Fujimoto said that until 2007, Honda Malaysia has sold 132,764 Honda cars of which 25,480 units of them are without Rear Centre Seat Belts. They are the Honda City, which were sold between 2003 to 2005. These cars will receive free installation and the cost will be borne by Honda Malaysia.
The installation of Rear Centre Seat Belts for Honda cars will start in October and will be conducted in batches. Honda Malaysia will inform the owners on further details accordingly. Mr. Fujimoto added, "In driving, there are three critical factors that contribute towards the motorist's safety. The condition of the road is important. Then, there is the vehicle itself; which must be in good condition and have safety features that protect both the passengers in the vehicle as well as external parties in a collision. Every Honda car features international standard safety features such as G-CON technology which is an advanced passive shielding that creates a survival zone within the car for its occupants should a collision be unavoidable.
And the third very important factor is the human factor, the driver itself. Honda's Safety Driving Course was initiated with the aim of addressing the human factor in driving. This again is Honda's commitment as we dream of a day where there will be zero road accidents. For 2008, we are extending our Safety Driving Courses to benefit more than 400 Honda customers and potential customers to raise awareness of the importance of safety driving."
Director General of JKJR, Datuk Suret Singh said, "On behalf of JKJR, I am pleased to find a partner who shares the same vision and dream of zero road accidents in the country. At JKJR, our efforts to reduce and prevent accidents take on the 4 Es approach which are Education, Engineering, Enforcement and Environment. Driving skills and training are important in ensuring safer roads in Malaysia. And I am pleased to work together with Honda Malaysia through their Safety Driving Course."
Signing this MOU with JKJR is part of Honda's commitment in becoming a responsible corporate citizen. In striving to become No.1 in Customer Satisfaction, Honda seeks to contribute back to the society wherever it operates. Therefore, cooperation with the Government's initiatives as well as projects and programmes like the Safety Driving Course are in line with Honda's philosophy of becoming a company that society wants to exist.