Kuala Lumpur, 27 August 2008 - Honda Malaysia today introduced a fully local Honda Malaysia Racing Team (HMRT) with 40 Malaysians and their locally-built Civic Type R race cars numbers 26 and 27 at a party in Kuala Lumpur.
With the motto "Our Challenging Spirit Continues", the 40 HMRT members and 6 Malaysian drivers are all set to carry on Honda's trademark "Challenging Spirit" onto the Sepang race tracks this weekend. Known for having the most professional and swift pit stop among all the other teams, HMRT's aim this year is to capture the Overall Title, in addition to retaining their Class A Title for the 6th consecutive year.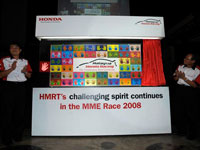 Mr. Atsushi Fujimoto, MD and CEO of Honda Malaysia and Mr. Ikuo Kanazawa, Vice President of Honda Malaysia unveiling the pledge.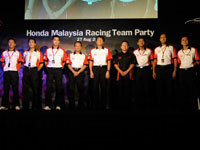 6 HMRT drivers with Mr. Atsushi Fujimoto, CEO and MD of Honda Malaysia, Mr. Ikuo Kanazawa, Vice President of Honda Malaysia and Mr. Tak.
En Shamsul Bin Hassan shares his challenging spirit in HMRT team.
Speaking at the party, HMRT Team Principal Mr. Atsushi Fujimoto, who is also Honda Malaysia Managing Director and Chief Executive Officer said, "MME 2008 is another important milestone for the Honda Malaysia Racing Team. We are very proud to note that this year, we are finally a fully Malaysian team. The HMRT team is independent in building Car 26 and 27 which are both Civic Type R."
"Ever since HMRT participated in MME 2003, we have never looked back. With each passing year, the team continues to improve step by step while allowing the local talents to thrive. Today, after five years of participation and gradual independence, HMRT stands proud of the 'Malaysia Boleh' spirit in all its team members! I commend each and every HMRT member, present and past, for the exemplary teamwork and sharing of knowledge. Indeed, it is your spirit to overcome all obstacles that has brought HMRT to where it is today," added Mr. Fujimoto.
During MME 2007, HMRT members were supervised by Mugen from Japan throughout the whole process. The greatest challenge for HMRT in 2008 is to achieve local competency. In the quest to achieve this and to continue building up new local talents, 7 members from last year returned to HMRT to lead the different divisions and transfer their skills and knowledge to the other HMRT members this year.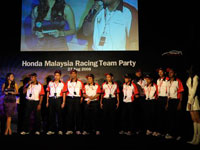 En. Mohd Zaini bin Whori sharing his role as a mechanic.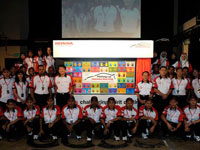 Group photos of HMRT members with Honda Malaysia manangement team.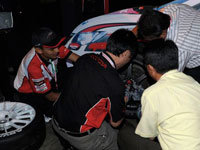 Media and guests participating in the Pit Stop Challenge.
Two new drivers to the team, 24-year old Victor Cheong and 35-year old Faisal Asri, who is the first associate to be MME driver will join four returning drivers, Eddie Lew Kar Wai, Rueben Wong, Fahrizal Hasan and Aaron Lim. All drivers this year are Malaysians.
One of the new drivers for HMRT, Victor Cheong who will be driving Car 27, commented, "The biggest challenge for this year is having more competitors and competitive cars in the race. With Honda's Challenging Spirit, we are motivated to rise above the challenge and we are ready to do our best in the race this weekend. Being new to HMRT, I am thankful for all the HMRT members who have been very helpful. This is possible because everyone in HMRT believes that winning the race is never a one man's effort. It requires a strong team spirit and collaboration within the whole team."
Returning driver for Car 26, Fahrizal Hasan said, "I am glad that this year we are a fully Malaysian team. It shows that Malaysians also can do it. This year's MME race will definitely be more competitive and challenging, but I believe that racing is not all about the machine itself. It works by a set of team which comprises the drivers, the car and the man working behind it. And we've got a good set of team where we understand the needs of each other. This has proved in the past years to be the winning formula for Honda Malaysia Racing Team.
"HMRT is one of the Honda Malaysia's efforts in uplifting the morale and motivating Honda associates in order to cultivate the Challenging Spirit in them. This year, we are giving the opportunity to more new associates to learn new skills and knowledge which can then be applied to their daily jobs", said Mr. Syahril M. Azmi, HMRT Technical Advisor. Syahril is also the Manager in the CVJ Department in Honda.
Racing and motorsports is deeply rooted in Honda's DNA. It is Honda's Reasons to Exist. Honda's Challenging Spirit and racing heritage will ensure that HMRT will go all out in embracing the challenges in MME 2008.
Honda will continue to pursue the ultimate potential of motorsports and share its excitement with Malaysians.