Petaling Jaya, 10 November 2008 - Honda Malaysia brings good news to those who are seeking more than practical values in a small to medium size sedan! The All-New City goes out of its categorical boundaries to change the definition of practicality; and is now complete with an all-new dynamic stylish design and class-leading performance.
In terms of stretching its practicality offerings, the All-New City has added a long list of sensible and useful features, including its enhanced fuel efficiency and power output, made possible by Honda's i-VTEC technology; class-leading interior spaciousness while maintaining an easy-to-manoeuvre size; and utility beyond the expectations of a small to medium size sedan.
The All-New City runs on the newly developed i-VTEC engine, which adopts a more advanced technology as compared to the first two generations of City. As a result, both fuel efficiency and power output have been improved and balanced, without compromising one or the other, to achieve environmental-friendly performance. Fuel efficiency has been pursued from various angles, from improving oil retention, friction reduction, reducing fuel consumption in the high-speed and high-load ranges to reducing the overall weight of the car, thereby contributing to even greater fuel efficiency. Producing 120PS at 6,600 rpm, and 145Nm of torque at 4,800 rpm, the third-generation City is currently one of the most powerful in its segment.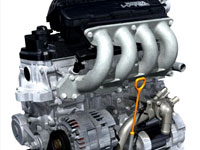 i-VTEC engine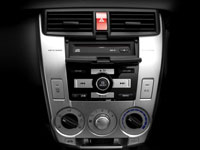 Advanced Audio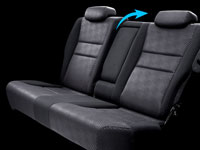 Reclining Rear Seats
Noteworthy of a mention in the All-New City is a new and multi-format compatible entertainment feature. The revolutionary 'Advanced Audio' digital media system was developed to be compatible with iPod, MP3 players and other sources of digital audio sound for the convenience of the driver and passengers. In addition, all major operations, such as song selection and volume adjustment, are controlled using four push buttons and a rotary selector similar to the Jog Dial function on an iPod. The display panel features a large liquid crystal display (LCD) for improved visibility even from the rear seats.
Interior spaciousness and comfort are greatly boosted in the third-generation City with an extended wheelbase, a key to good styling and efficient space usage. To increase seating comfort, special attention has been paid to the shape of the side bolsters and the hardness of the seat cushion padding. The springs and cushion padding were also tuned so that the passenger's lower back sinks into the seat cushion and is held in place.
The rear seat has been designed to be more hospitable and adjustable as well. In addition to the armrest, Honda has formulated a one-step 60/40 folding and reclining back seats. This allows the trunk space to be extended for loading of long or tall items by folding two-thirds of the back seats. The rear headrests have also been integrated into the backseats for better rearward visibility.
Other than greater seat comfort, the All-New City also has a more adjustable and variable driving position and as such, providing better driving comfort, especially during long-distance drives. It comes equipped with a tilt and telescopic steering column and driver seat height adjuster. The tilt and telescopic adjustment ranges are 40 mm for each direction, and the driver's ratchet height can be altered within a 50 mm range. A footrest has been added by shifting the accelerator and brake pedals 15 mm to the right.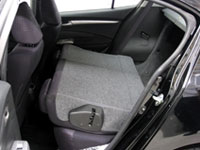 Foldable Rear Seat with 60/40 Split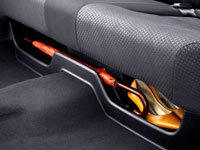 Rear Seat Under Tray
The All-New City is absolutely pleasing in terms of utility features. Developed for the best balance between maximum capacity and practical usage, the vehicle's trunk capacity is at an astonishing 506-liter, providing a lofty carriage space in cars of its segment. Such a spacious trunk is most useful for carrying luggage and bigger household items.
Meeting the demands of practical and convenient multi-purpose storage spaces, the third generation City features unique spaces such as the open-type tray beneath the rear seat. This allows passengers to store their umbrellas and an extra pair of shoes for rainy days. The glove box and coin pocket are now larger, which allows passengers to store more things.
Globally, the practical All-New City has been launched in three countries; namely Thailand, India and Singapore. Over 8,000 units of the All-New City have been booked in Thailand within the first month of its launch in early September. The sales figure for the All-New City broke Honda's all-time record held by the Civic which received more than 6,000 bookings within one month of its debut in the Thai market in 2005.
With its world-class features, All-New City is now complete with stylish design and class-leading performance, making it worth the wait for its arrival in Malaysia this mid-December!
For more information, please call Honda Toll Free number at 1-800-88-2020, or log on to www.excitementinthecity.com.my and stand a chance to win the latest iPod Nano or the invitation to the All-New City launch!